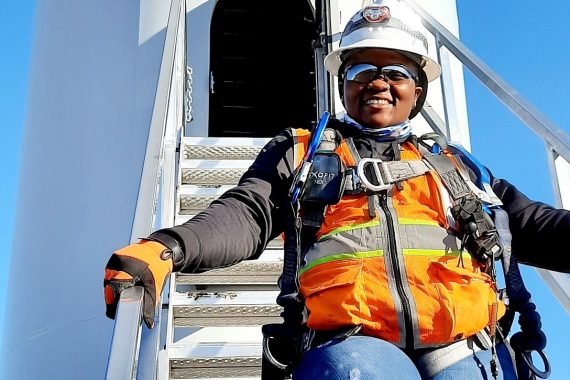 Bemidji, Minn. – Lyliane Tchuamo, from Cameroon, found a home away from home at Bemidji State University.
Tchuamo graduated with a bachelor's degree in applied engineering from Bemidji State in fall 2020 and currently works as a design engineer at Wanzek Construction in Fargo, North Dakota.
"I call Bemidji my home in the U.S.," she said. "I still visit to see friends who became family. My heart has never left Bemidji."
After graduating with her bachelor's degree in plant and animal biology from the University of Buea, in Cameroon, Tchuamo worked for a food processing company. There, she became curious about engineering and spoke to her brother about returning to school to earn another degree.
"Our search criteria was a college with affordable tuition as an international student, good reviews, a small, tight-knit community, and had the program I wanted. We found Bemidji State," she said.
Bemidji's culture, people and language were new for Tchuamo. The International Program Center makes international students transition easier by connecting them to resources at Bemidji State and creating a welcoming community.
"The IPC organized activities to make international students feel at home," she said. "We also shared our cultures with the Bemidji community via Festival of Nations, a yearly feast organized by international students."
Her department also made Tchuamo feel at home on Bemidji's campus, with smaller class sizes strengthening relationships with instructors.
"Faculty made me feel welcome. They knew students by name and where we needed improvements. They were even willing to stay after helping students," Tchuamo said.
In addition to her academic success, she found community through involvement in the numerous clubs and organizations available to BSU students. She joined the Wood Club and Engineering Club during her last two years, and she served as president of BSU's chapter of the National Society of Leadership and Success through 2018–2019.
Tchuamo said the support she received during her time at BSU makes it easy for her to recommend that other international students consider it when exploring their own educational opportunities.
"I recommend BSU to international students looking to study abroad," she said. "Everything is put in place to set you up for success. One of the challenges I had was funding my education, but through my department I had academic scholarships."
Before Tchuamo graduated, she had a job waiting for her at LaValley Industries in Bemidji. A few months later she was offered a position at Wanzek Construction. Tchuamo believes BSU's program put her in position to succeed.
"The applied engineering program prepared me for most entry-level engineering jobs, not just a specific type," she said. "I already had a job secured by graduation, and a few months later I was offered a position within a different company."
In September 2021, Tchuamo was promoted to design engineer, a job which has her designing solar farms. This work can take the team anywhere from two days to two weeks.
"I didn't know I was going to work in renewable energy, I just knew my future job would be in engineering," Tchuamo said. "Even though I had big plans for myself, I've accomplished more than I thought I would at this stage in my life."
Contact
Links