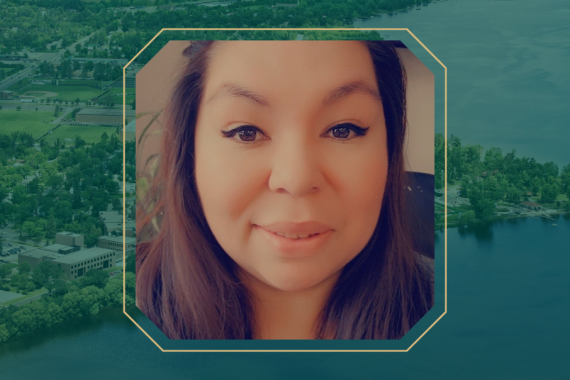 Bemidji State University psychology and social work student Mary Cross wants to help those who are battling addiction.
Born and raised in Cass Lake, Minnesota, Cross is a first-generation college student who graduated from Leech Lake Tribal College in spring 2021 and transferred to Bemidji State to grow her academic credentials. It was not always easy, but Bemidji State helped her overcome the obstacles.
"As a first-generation college student the things I had to overcome were not easy, but I am gaining helpful insight that is preparing me for the rest of my life," Cross said.
Cross was motivated to enroll in Bemidji State's online licensed drug and alcohol counseling program after seeing first-hand what addiction can do to families and communities.
"It's not just the addict that suffers but the whole family as well," she said. "I want to help my community and my people."
Cross chose Bemidji State because it's close to home and offered her and her family the flexibility she needs with online classes.
"I love the schools my children attend in the area, so I chose Bemidji State because it's close. I didn't have to pack up and move my family to some new place," Cross said.
She has recently joined the addictions certification program.
"As a beginner in the program, I want to gain more knowledge to help those that I can," Cross said.
Cross is currently working at Leech Lake Women's Outpatient Program and the Ganawenindiwag Emergency Shelter. She is considering focusing on adolescents and prevention in the future.
"I plan to work in my community, with the people that I love. For me, this is a community-based program to provide community-based services," Cross said. "What we need for healthy communities is to create services that allow people to get the help and resources they need to live a good life."
Bemidji State University's Addictions Certificate Program
In Bemidji State's fully online addictions certificate program, students can complete the coursework required to become a Licensed Alcohol and Drug Counselor as specified by Minnesota statute. Students who complete the addictions certificate plan will be prepared to work in the field of substance and behavioral addictions.
Contact
Link