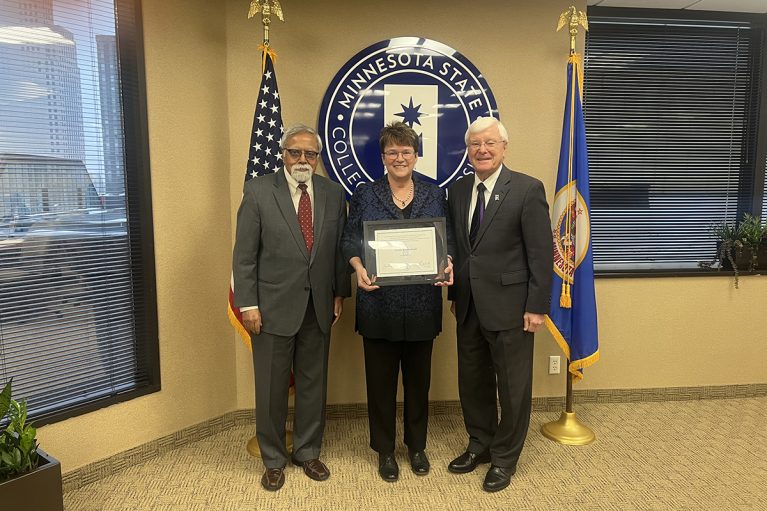 Dr. Faith C. Hensrud, who served six years as president of Bemidji State University and Northwest Technical College between 2016-2022, was granted president emeritus status by the Minnesota State Board of Trustees during its Nov. 15 meeting.
Hensrud's tenure as president of both institutions was defined by extensive strategic planning processes, broad-ranging successes in forging new partnerships in the community and throughout the northern Minnesota region and a diligent emphasis on social justice.
Her efforts to improve the connections between both institutions and the region's Indigenous nations were particularly noteworthy. Hensrud formed American Indian Advisory Councils for both BSU and NTC; signed dual-enrollment agreements with all four Minnesota tribal colleges, creating a model replicated by other Minnesota State universities; and led a process to craft an acknowledgement of BSU's campus location on ancestral homelands of the Ojibwe and Dakota people.
Both BSU and NTC saw extensive renovations under Hensrud's leadership. At Bemidji State, a decade-long dream to replace Hagg-Sauer Hall was realized in 2020. A new building, which has won numerous awards for government construction projects, was dedicated as part of an extensive campus renovation project which re-imagined space in four other academic buildings. At NTC, a brand-new commercial refrigeration lab highlighted significant renovations to labs for the college's automotive, electrical construction and nursing programs.
Hensrud also guided both BSU and NTC safely through the first 18 months of the COVID-19 pandemic thanks in part to their shared pandemic response.
"It is an honor to be recognized alongside such esteemed colleagues across Minnesota State," Hensrud said. "I am proud of what we accomplished together at both BSU and NTC and will always feel a strong connection with the people in the Bemidji community."
Hensrud was recommended for emeritus status by system Chancellor Devinder Malhotra.
"During Faith's time at the helm, she provided stellar leadership for both institutions," said Malhotra. "She approached her work strategically and thoughtfully with long term positioning of the institutions in mind. She had an unwavering commitment to Equity 2030 as well as her engagement with the tribal nations and our state's tribal colleges."