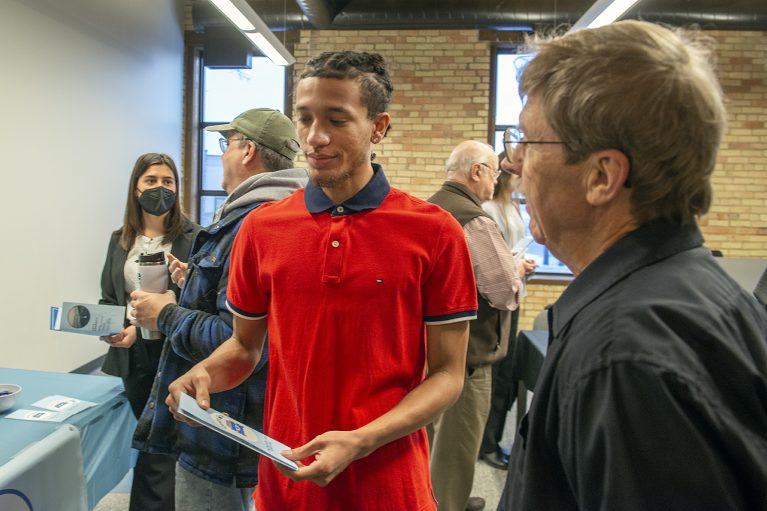 Over 30 Bemidji State University students taking marketing courses from Dr. Angie Kovarik, assistant professor of business administration, flexed their product development, marketing and sales muscles during a mock trade show at downtown Bemidji's Mayflower Building on Nov. 30.
Eight groups of students showcased a semester's worth of academic work behind trade show-style booths where they pitched their products and answered questions from community business leaders and BSU faculty and staff.
In addition to prior classroom presentations, groups were graded on several aspects of their pitches including product knowledge, communications skills and booth appearance.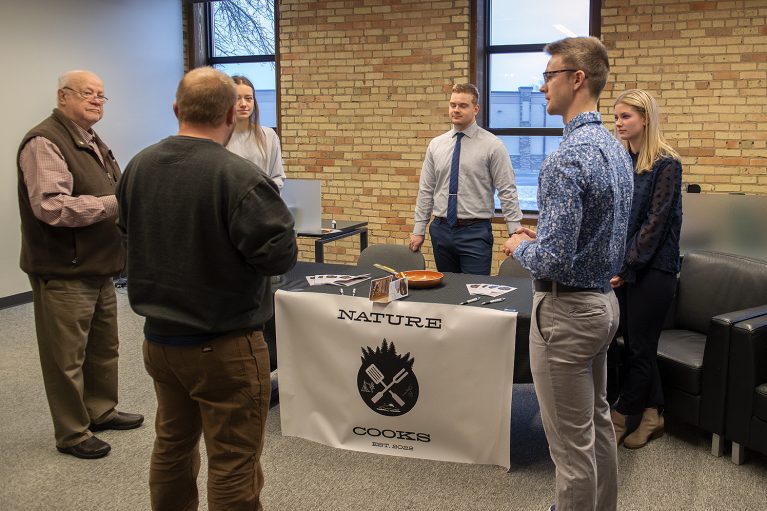 Nature Cooks, a cookware product that can cook food without an external heat source, received the Best Overall award as voted by attendees. The product was developed by Noel Skadberg and Kayleah Breitweser, both of Park Rapids, Mitchell Nemec of International Falls and Michael Navis of Cedar Grove, Wisc.
"We found an area of the camping industry that was a pain, specifically meal prep, so we designed a solar-powered pan hooked up to a lithium-ion battery that can reach temperatures up to 500 degrees," Navis said.
Additional product ideas included:
Beach Bodyguard, a retractable barrier that keeps ducks and geese from making messes on beaches;
EZ Fishing Co., an ice fishing auger/depth finder combination;
Social+, an online application for those experiencing social anxiety;
RxRemind, a medication organizer that allows users to set reminders to take their pills;
The Zip Up, a one-piece, wearable hockey pad system;
Routes, wearable GPS technology that allows athletic coaches to track exact locations of players on the field or court;
Smartlock, a security device that plugs directly into a car and connects to a person's smart phone
About Bemidji State's Marketing Emphasis
A subset of the greater business administration program, BSU's marketing emphasis teaches students the importance of brand awareness, public relations and business communications. The program offers students opportunities to see the value of technology and social media presence in business and its effectiveness on businesses.
Contact
Angie Kovarik, associate professor of business administration
Links