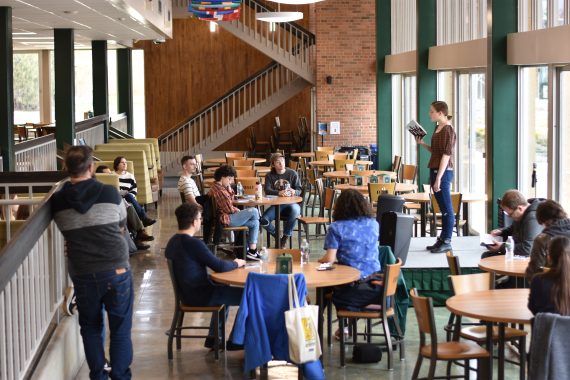 On April 27th, Bemidji State University hosted the highly anticipated launch of the annual student literary magazine's fifth issue. The thawing lake and late spring afternoon provided a blustery backdrop for the Milk Tooth reading and reception, which took place at Lakeside and was well-attended by students, faculty and staff.
A celebration of the creativity and diversity of BSU students, the launch event featured readings by several of the published authors, showcasing a range of voices and genres — poetry, fiction, creative non-fiction, and even comics — represented in the magazine.
Established in 2019, Milk Tooth is a testament to the vibrant literary and arts culture thriving on the Bemidji State University campus. The magazine, which started as a graduate student project co-founded by Shawn Cruze, a second-year master's English student and contributing editor, has since grown into a flourishing student organization.
Offering a platform for emerging writers and artists, Milk Tooth accepts submissions from students of all majors. Entries are evaluated entirely anonymously and carefully selected by a panel of student editors based on the quality of the writing, its subject matter and literary merits.
In addition to the readings, attendees had the chance to snag their own copies of Milk Tooth for friends and family and to meet the student editorial board who had worked diligently throughout the fall and spring semesters to make the magazine a reality.
Brooke Froehle, the magazine's managing editor and a first-year master's student in English, expressed pride in the magazine's editors. "They are all really passionate about writing, reading and publishing plus putting on events, which is all that I could ever ask for."
The launch event holds special significance for the students published in Milk Tooth, providing them with an opportunity to share their work with a wider audience and connect with other writers and artists.
Freshman Hannah Lewis, an English and music double major from Nevis, is already making her mark. Her short story appears in this year's issue, whose submission was inspired by "the English faculty and the friends I've made through the program. I really love the community here on campus and it's exciting to see your work in print while supporting your peers!"
For those like poet and graphic artist Gordon Hess, who came to Bemidji State to major in creative and professional writing, the magazine offers a first-hand look into the inner-workings of the publishing industry. "I hope to become an established MN author," Hess said of his long-term plans. "I'm also striving to create a signature fusion of art and poetry. I'm excited to see the continual growth of my work, and the work of my peers."
Faculty advisor Chad Abushanab commended the students for their hard work. "This is a great moment for Milk Tooth and for the entire BSU community," he said. "The magazine provides practical experience for our creative writers and editors and brings together voices from across the entire campus. I'm so proud of the work our students have done, and I can't wait to see where Milk Tooth goes next."
As for the future, Froehle highlighted the past year's expansion into social media coordination and a design team, enabling broader student involvement. "Not only do these things help the org, but they also get students (in and out of the English program) to be more involved," she said.
With additional plans to develop the magazine beyond print and into digital issues, the future looks promising for this dynamic publication.