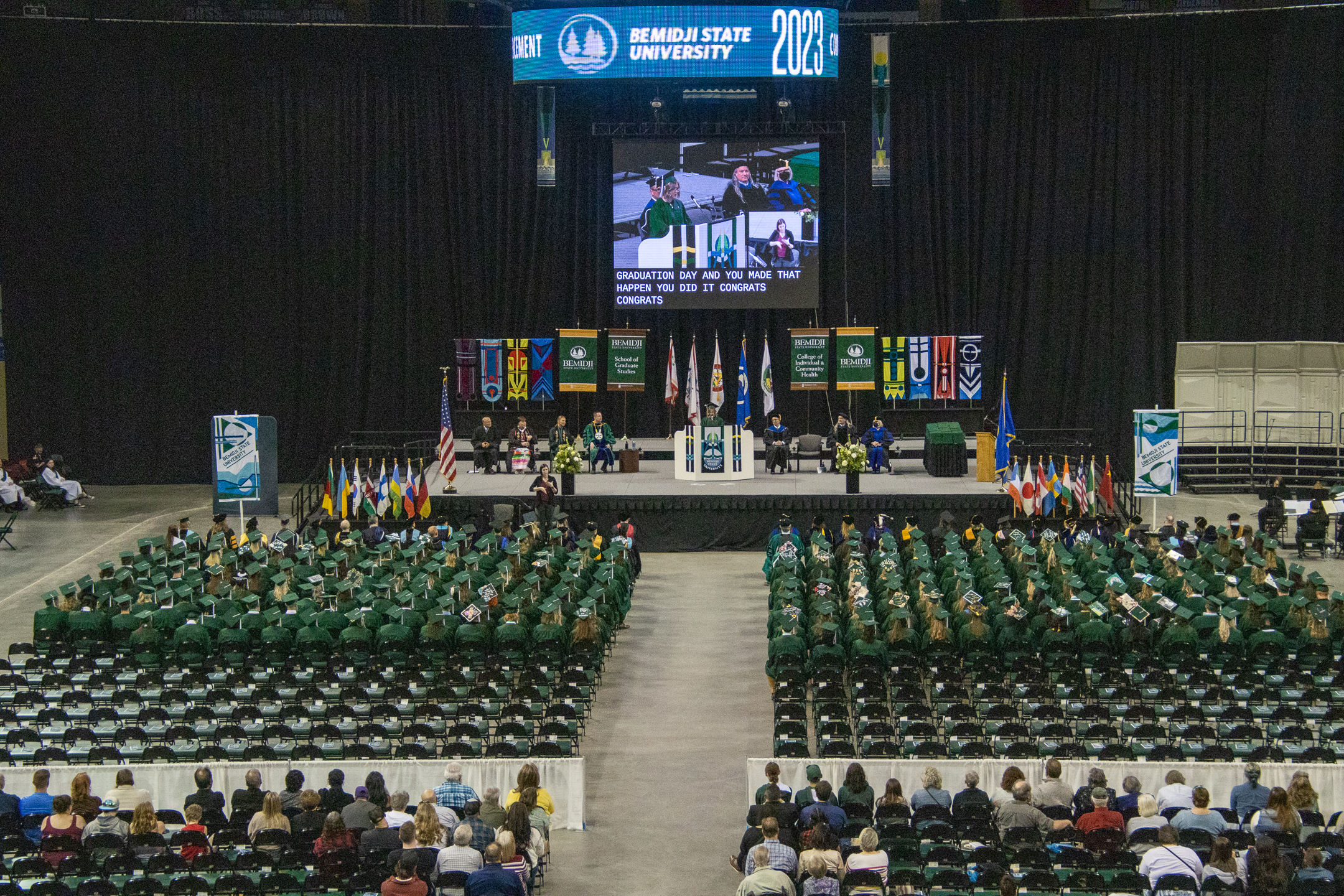 On May 5, students, family members, faculty and staff came together to celebrate Bemidji State University's class of 2023 at three ceremonies – one for each of the university's colleges.
The first ceremony to honor the graduates from the College of Arts, Education and Humanities began at 9 a.m., followed by the ceremony for the College of Business, Mathematics and Science graduates at noon. The College of Individual and Community Health graduates wrapped up the day with a 3 p.m. ceremony.
Each ceremony was live-streamed on Bemidji State's Facebook, Vimeo and YouTube accounts.
BSU's 1,014 graduating students included:
76 students who were eligible to receive master's degrees: 13 master of science in biology degrees, three master of science in environmental studies degrees, two master of arts in teaching degrees, 29 master of special education degrees, one master of arts in English degrees, one master of elementary and middle level mathematics, one master of professional accountancy and 26 master of business administration degrees;
1,014 students who were eligible to receive undergraduate degrees, including 268 graduates from BSU's College of Arts, Education & Humanities, 345 from the College of Business, Mathematics and Science and 401 from the College of Individual & Community Health;
458 undergraduates who graduated with honors: 168 Summa Cum Laude honorees, 127 Magna Cum Laude honorees and 163 Cum Laude honorees;
67 American Indian graduates; and
35 military personnel or veterans
Download the Commencement booklet.
Each ceremony began with music performed by the BSU Wind Ensemble and the national anthem by vocal music performance graduate Emily Hixon, from Bemidji.
Following a traditional Ojibwe honor song rendered by Eyabay, a nationally-renowned drum group from the Red Lake Nation, Vice President for Academic Affairs Dr. Allen Bedford welcomed all attendees to Bemidji State University's Commencement events.
Bedford began by reciting Bemidji State's land acknowledgment that recognizes the Indigenous peoples who have been dispossessed from the homelands and territories upon which an institution was built and currently occupies and operates.
President John L. Hoffman
President John L. Hoffman congratulated the class of 2023 and celebrated the unprecedented success of Beaver student-athletes, the work to grow the university's music programs including bringing back its popular Opera Night and the dozens of students who have co-authored academic works with faculty members, presented at national conferences and engaged in service-learning projects in the Bemidji community.
Hoffman quoted Johnetta Cole, the first African-American president at Spelman University, who said that education serves two purposes: to teach a new understanding about the world and to use that understanding to make the world a better place.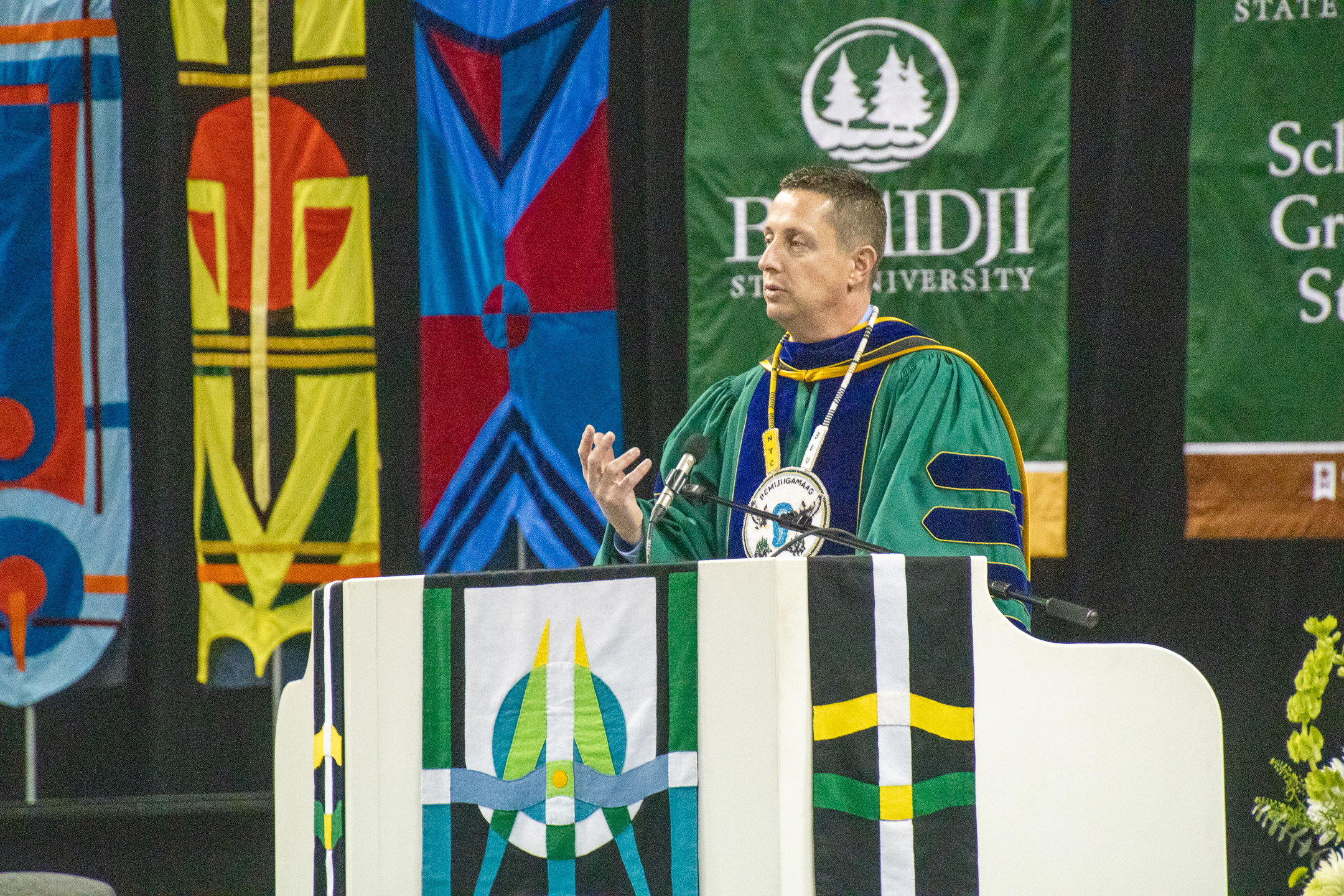 He said that while the next step for graduates is finding employment that is fulfilling and secures a livelihood for themselves and their families, their BSU educations extend far beyond simply opening career opportunities.
"It's about well-being in the ways you lead your lives. It's about using what you have learned to fix the wrongs you see in your work and communities and taking the lead to create a better future for yourselves, your families and your communities."
Distinguished Minnesotan Tuleah Palmer
Tuleah Palmer delivered the commencement address as BSU's 39th Distinguished Minnesotan Award recipient.
Palmer, a 2000 graduate of applied psychology at BSU who currently serves as president and CEO of the Blandin Foundation in Grand Rapids, began her address by reminding graduates about the importance of the day.
"Today is an extraordinary day for you and the people who love you, and it is also an important day in the history of Bemidji State University and northern Minnesota," she said.
Palmer recognized that many of this years' graduates had far from a traditional college experience, juggling online learning, caring for family and other challenges related to the COVID-19 pandemic. Despite this, they overcame those challenges to become university graduates.
"What you are today, and what makes this day so extraordinary, is that you are who we are becoming, a better version of us," she said. "You did not give up. You are strong, adaptive and agile. You have grit and guts. You are determined, and you have finished what you have started."
She concluded her remarks by empowering graduates to show gratitude to those in their lives who helped them get to this point in their lives, and pay that support forward to others in their own lives.
"Take some time to call the people who believed in you and thank them. Let them hear your voice and share your joy. Call someone you know who should be believed in and believe in them and encourage them, help them with an application and be the philanthropist that's in each of us," she said. "When you learn, teach. When you get, give. Today is a story that will live forever in your life. May you always remember how strong you are, how loved you are and how powerful you are."
Read more about Tuleah Palmer's Distinguished Minnesotan Award.
Student Speakers
Three BSU students, one from each college, were selected to address this years' graduates.
Caleb Travis, social studies education graduate from Pine River; College of Arts, Education and Humanities.
Peyton Barber, marketing communication graduate from Madison, Wisconsin; College of Business, Mathematics and Science.
Tiffany Anderson, social work graduate from Bemidji; College of Individual and Community Health.
Caleb Travis
Caleb Travis most recently served as president of the Bemidji State University Student Association, worked as a resident assistant and took on several other leadership positions on campus during his time as a student.
Travis acknowledged the feelings of many of his peers and thanked family, friends, educators and others who supported this year's graduates in their academic journeys.
"As we prepare to leave Bemidji State, we're filled with excitement, uncertainty and maybe a little bit of fear. One thing is clear, we're all equipped with the knowledge, skills and experiences that we need to succeed in whatever path we choose to pursue."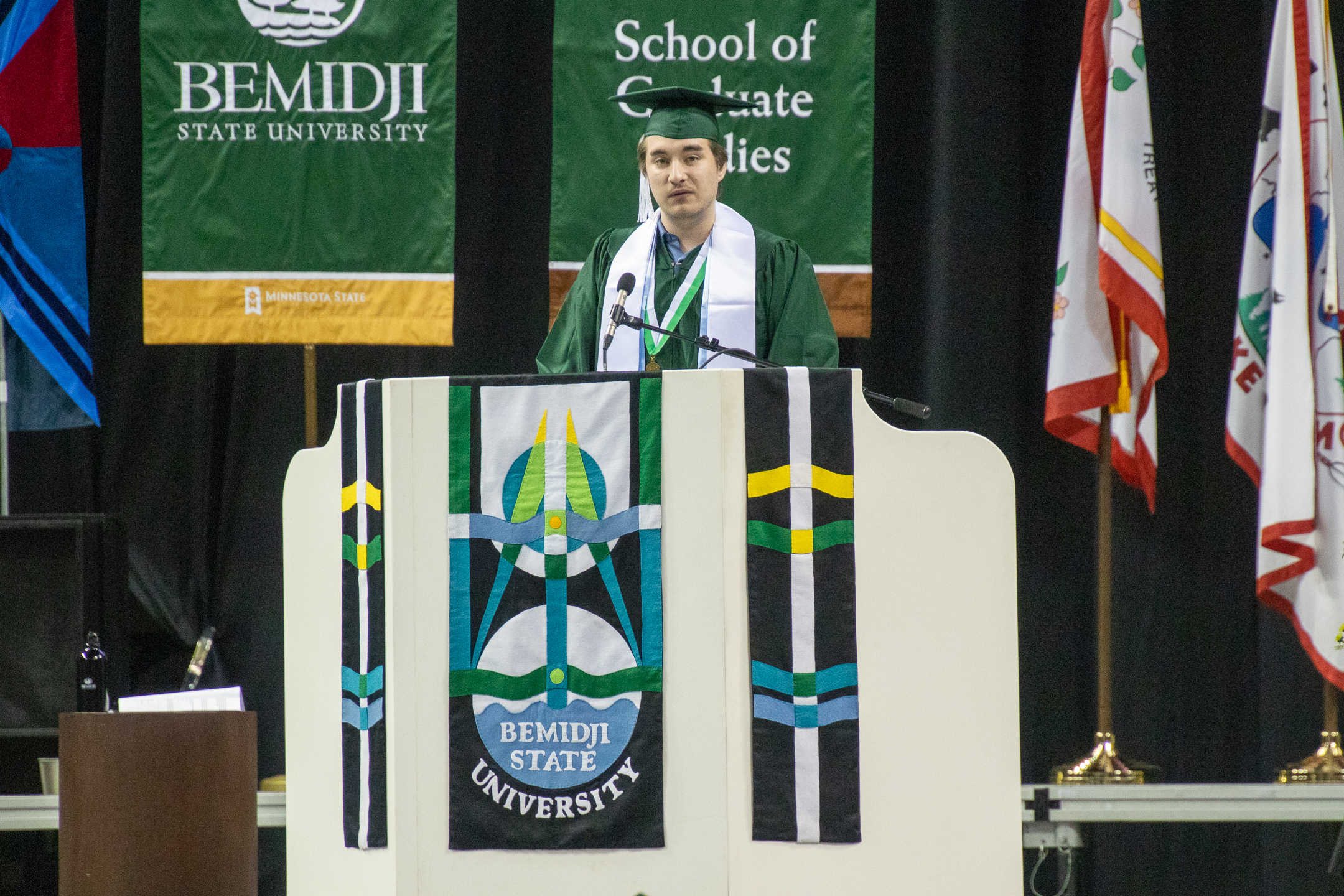 In his address, he challenged graduates not let fear stop them from taking advantage of opportunities in this next chapter of their lives.
"We should not be afraid to take chances when we see an opportunity," he said. "It may lead us to something amazing, or it might not, but we never know unless we take that first step."
Drawing from a famous quote from former professional hockey player, Wayne Gretzky, he concluded with his wish for this year's graduates.
"May we all take shots and make them count, and live a life filled with purpose and joy.
Peyton Barber
Peyton Barber served as chair of the Student Fee Allocation Committee, president of Lifestyle Educators, secretary of Active Minds and hosted her own radio show on FM90, BSU's student-operated radio station. She was also named Marketing Communications Student of the Year by faculty in the Integrated Media Department.
Barber, who transferred to BSU during the COVID-19 pandemic, commended her fellow graduates for demonstrating the ability to adapt, learn and grow during their academic journeys
"Today marks the culmination of the years of hard work, dedication and perseverance we have put in," she said. "We should all be proud of ourselves for achieving this incredible milestone."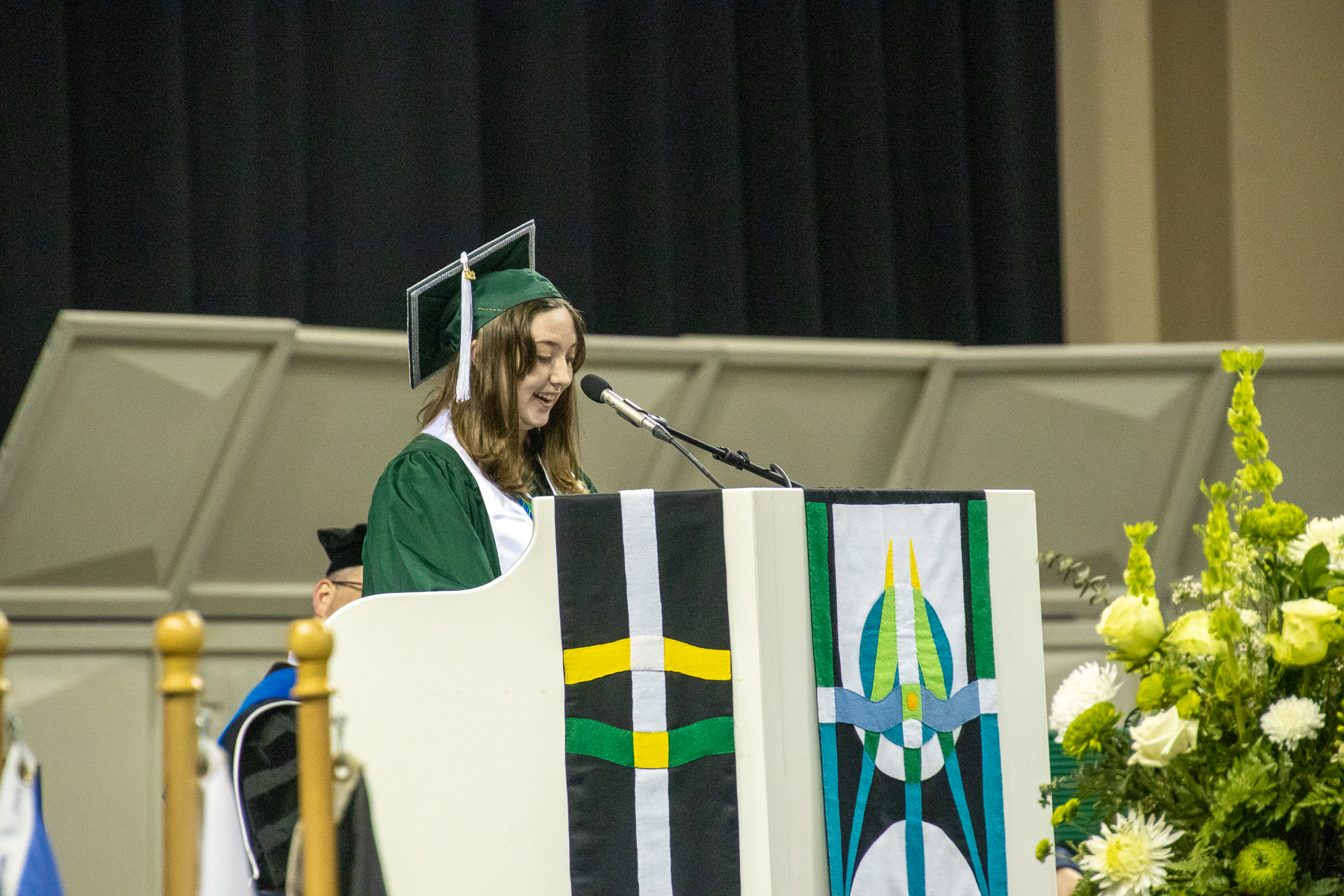 Barber left her fellow classmates with advice to carry with them as they leave BSU and head into the world.
"Stay true to yourself, your values, your skills and your knowledge to make a positive impact in the world. Pursue your passions and never stop learning. Success is not measured by material possessions or by titles but by the impact you leave on others in the world."
Tiffany Anderson
Tiffany Anderson was a member of BSU's social work club, participated in Student Achievement Conference in fall 2022 and was named to the prestigious President's List for earning a 4.0 GPA for the semester.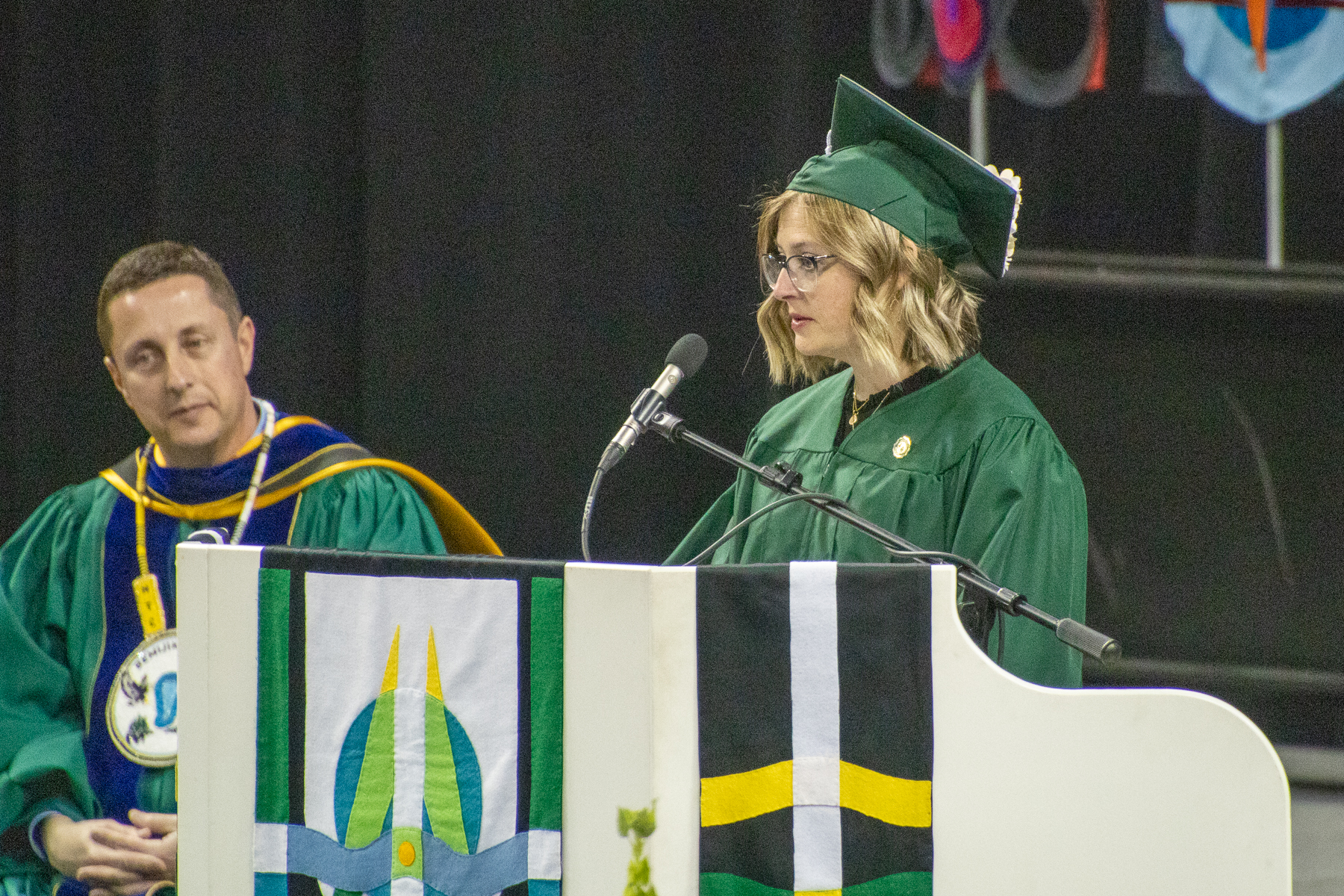 A non-traditional student, Anderson last attended BSU in 2006 before taking a break in her studies to raise her family. She returned to campus ten years later to complete her social work degree and credits her family's support in the journey to her college degree.
"He's my greatest supporter and the person who pushes me to be my best, even when I doubt myself," she said of her husband, who is also a BSU graduate.
"To my two children, if there's anything my college journey teaches you, I hope that you see it is never too late and you're never too old to find your passion and make your dreams a reality," Anderson said.
Reflecting on her own journey to earning a degree, she shared inspiration with the other graduates in attendance.
"We all have our own stories. Some of us have climbed mountains, some a series of little hills, but we've all worked hard to get here and you should be so proud of what you have overcome and accomplished."
Alma mater
The Bemidji Choir, directed by Dr. Dwight Jilek, associate professor of music, concluded each ceremony with a performance of Bemidji State's Alma Mater.
The Alma Mater is performed at each freshman Convocation ceremony and again during Commencement to symbolize the completion of graduates' degrees.'