Innovation & Extended Learning advances the University's mission to bring accessible, relevant and high quality education and training to people across Minnesota and beyond.
Our Innovative Offices
Innovation & Extended Learning is supported by three offices on campus: the Center for Extended Learning, Summer @ BSU and eLearning Support.
Center for Extended Learning
Extended Learning serves the University community by facilitating student access to a high quality education environment beyond the Bemidji campus, through technology. We work with academic departments and services to coordinate flexible online undergraduate and graduate degree completion programs, as well as certificates and licensures. Extended Learning also provides exam proctoring for students in online courses and other exams requiring a certified testing center.
Contact
Center for Extended Learning
1500 Birchmont Dr NE #4
Bemidji, MN 56601
(218) 755-2068
cel@bemidjistate.edu
Summer @ BSU
Summer @ BSU offers opportunities for continuing education with over 350 short-term, on-campus and online course opportunities. You can gain professional development, work towards degree completion or experiment with a new subject. Workshops and Conferences hosted by BSU include: The Minnesota Northwoods Writers Conference, the Upper Midwest Association for Campus Sustainability Regional Conference and The Global Technology Management Conference.
For youth, we offer a variety of camps and programs such as Girls Who Code, Ojibwe Camp, Scrubs Camp, Football, Soccer, Girls Basketball and Northern Plains of Vision Sports Camp.
Our campus is an ideal location for groups looking to host their event at Bemidji State University. Campus access to the lakefront and Paul Bunyan trail is ideal for engaging in the outdoors. We also offer affordable campus housing and food service in the summer.
Contact
Summer @ BSU
1500 Birchmont Dr NE #4
Bemidji, MN 56601
(218) 755-2068
summer@bemidjistate.edu
eLearning Support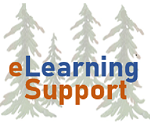 eLearning Support is a service offered to Bemidji State University faculty and staff that provides instructional design and D2L Brightspace support for online and web-enhanced classes, training sites and resource sites. Training opportunities and support are available on campus, online, via email and by phone.
eLearning Support is also the go-to place for Quality Matters (QM) information and for help preparing for QM online course certification. Our goal is to provide faculty and staff with the support they need, when they need it and at the best location.
Contact
eLearning Support
1500 Birchmont Dr NE #46
Bemidji, MN 56601
(218) 755-4219
julie.adams@bemidjistate.edu