Trudy Rautio, Bemidji State University alumna and CEO of the Minneapolis-based Carlson Companies, will be the 32nd recipient of Bemidji State's Distinguished Minnesotan Award.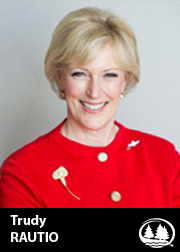 First presented by Bemidji State in 1981, the Distinguished Minnesotan Award acknowledges the contributions of current or former residents of the state who have performed exemplary service to the people of Minnesota or the United States.
The Distinguished Minnesotan award was presented annually from 1981-2009, and was not awarded in 2010 or 2012. The honoree traditionally gives Bemidji State's commencement address. The university's 95th Commencement ceremony will be held May 9 at the Sanford Center in Bemidji.
Trudy Rautio
Rautio has been a senior executive with Carlson since 1997 and was named president and CEO in 2012. Prior to being named CEO, she served as executive vice president and chief financial and administrative officer for the company. Her other senior leadership positions with the company have included president of Carlson Hotels, Americas, and a dual role of executive vice president and chief financial officer for Carlson Consumer Group and chief administrative officer of Carlson Hospitality Worldwide.
She has earned a number of accolades for her leadership, receiving honors including the 2009 Minneapolis/St. Paul Business Journal chief financial officer of the year for large private companies and Woman Changemaker recognition in 2005. She was the inaugural recipient of the Girl Scouts of America's Women of Distinction award in 2009 and was named an Outstanding Alumni at Bemidji State in 2007. She also received the Corporate Woman of Achievement award from the National Association of Women Business Owners' Minneapolis Chapter in 2004. In 2003, Rautio received the Carlson Fellows award, the company's highest career achievement honor.
Prior to joining Carlson, Rautio was senior vice president and chief financial officer of Jostens, Inc., and vice president of finance for Pillsbury Co.
She chairs The Rezidor Hotel Group and Carlson Wagonlit Travel board and serves on the board of directors for Carlson, Securian Holding Company, Imation and the Bemidji State University Foundation.
Rautio earned her undergraduate degree in accounting from Bemidji State and holds an MBA from the University of St. Thomas. She is a certified public accountant and a certified management accountant.
Visit Bemidji State University's Commencement for more information about the May 9 ceremony.
Contact
• Jackie Carroll, Office of the President; (218) 755-2017.
• Maryhelen Chadwick, communications and marketing specialist, BSU Alumni and Foundation; (218) 755-2122
Links
• Rautio's official bio at Carlson
• Interview with Rautio at Carlson's 2013 Full Service Brands Conference in Chicago
• Acceptance speech for Twin Cities Business' 2013 Outstanding Directors Award
Recipients of Bemidji State University's Distinguished Minnesotan award
1981 Sigurd Olson, naturalist and author
1982 Karl Kassulke, athlete and handicap advocate
1983 Janet Dearholt Esty, businesswoman and entrepreneur
1984 Frederick F. Manfred, author
1985 Dr. John Najarian, transplant surgeon
1986 Dr. Harlan Cleveland, political scientist
1987 Muriel Buck Humphrey Brown, advocate for the disadvantaged
1988 Elmer L. Andersen, businessman and former governor
1989 Curtis L. Carlson, businessman and philanthropist
1990 William S. Marvin, businessman and community leader
1991 Meridel LeSueur, writer and social activist
1992 Veda Ponikvar, newspaper publisher
1993 Nellie Stone Johnson, political and social activist
1994 Cheryl Dickson, leader in humanities programming
1995 William H. Kling, innovator in public radio
1996 Jerry Willet, businessman and former state senator
1997 Ann Bancroft, explorer of the North Pole and South Pole
1998 Bob Bergland, congressman and former U.S. secretary of agriculture
1999 Coya Knutson, congresswoman
2000 Jon Hassler, author and educator
2001 Libby Larsen, composer
2002 Rosalie Wahl, Minnesota Supreme Court justice
2003 Edgar Heteen, entrepreneur and snowmobile pioneer
2004 Herb Brooks, men's ice hockey coach
2005 Gerald Vizenor, author and educator
2006 Kathleen Blatz, chief justice of the Minnesota Supreme Court
2007 Paul Wellstone, U.S. Senator & Shiela Wellstone, advocate against domestic abuse
2008 Dr. Alex Cirillo, Jr., vice president for community affairs, 3M
2009 Don Shelby, television anchor
2010 no award given
2011 Susan Marvin, president of Marvin Windows & Doors
2012 no award given
2013 Lt. Gen. Thomas Waldhauser, senior military assistant to the U.S. Secretary of Defense
2014 Trudy Rautio, CEO, Carlson Companies