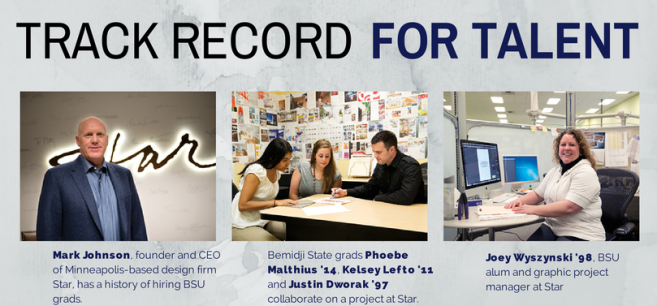 They say that when it comes to finding a job, especially a first job, it's who you know that can matter most.
But for Bemidji State University graduates, where you come from continues to be key across many academic majors, especially with employers in Minnesota and beyond who've learned they can count on BSU talent.
"We have companies that line up to hire our graduates in many disciplines," President Richard Hanson said.
Enterprises with strong track records of hiring from Bemidji State range from Target Corp., with 365,000 employees worldwide, to mid-sized firms such as Baxter-based CliftonLarsonAllen Accountants, which has 21 BSU grads among 850 employees in their Minnesota offices, to Paul Bunyan Broadcasting in Bemidji, where 10 on a workforce of 27 have a BSU diploma.
The reasons why certain employers literally and figuratively keep coming back to Bemidji State are complex and not cookie-cutter. They range from appreciation for graduates' hands-on experience to active networking with faculty, coaches, academic clubs and BSU Career Services staff, not to mention regional affinity and alumni loyalty.
One common theme expressed by hiring managers is the sense that Bemidji State graduates are confident and have the determination to work hard on day one.
"They were raised in families where they saw parents who went to work and worked hard," said Nate Sannes '05, regional marketing manager for Federated Insurance in the northeastern United States. A former BSU quarterback who majored in business administration, he was recruited by the company right out of school and was promoted to his current role in November from previous work as district marketing manager in Minnesota and eastern North Dakota.
Federated now has about 40 BSU grads among a nationwide workforce of 2,290 employees, and the Owatonna-based company maintains an active recruiting relationship with BSU. That includes outreach and networking by such alums as Becky Dawley '77, director of information services, and Dave Ramsey '78, director of agency operations. Each has been with the company for their entire careers, and both have been named Outstanding Alumni by the BSU Alumni Association.
Closely related to work ethic is strong preparation in a particular discipline, and employers in nursing, business, accounting, computer science, biology, education and design, among others, continue to look to BSU for that reason.
The field of exhibit design, which involves creating three-dimensional, branded displays for a variety of special events, is a classic example. Several leading firms in this highly specialized field have become highly engaged with BSU's Department of Technology, Art & Design, whose graduates have made Bemidji State a valued brand name in the industry.
One of those firms is Star, a commercial 3-D and 2-D design company in Minneapolis, which now has 10 BSU graduates on its 90-person workforce and continues an active internship program that has proven to be a key pipeline in the past.
"The kids have real-world experience with the educational program they've gone through," said Mark Johnson, who founded Star in 1993 and maintains close contact with Bemidji State as CEO. "It's not a two-year training process.
We can put them to work right away. Their work ethic is just phenomenal. They're trained, ready and excited about the opportunity to work."
One of several BSU graduates who has worked his way up into a senior role at Star is Justin Dworak '97, the firm's creative director, who in 2012 was recognized as Designer of the Year by the Exhibit Designers and Producers Association.
Dworak, who has recently been supervising BSU intern Phoebe Mathius, an international student from Malaysia, himself started at Star as an intern. That internship rolled into a full-time job, and the rest is history.
As a Bemidji State student, he said, "You're getting full exposure into the industry. You're able to network and form mentors, intern in the industry, and it's just a much richer experience for the students – and the employers benefit from that."
Networking and relationships with academic programs has also been vital at Bigfork Valley Hospital in Bigfork, said the hospital's human resources manager, Jennifer Drotts '96.
Drotts is a Deer River native who double-majored in business administration and accounting and began working in Bigfork almost eight years ago. Previously, she had worked in accounting for Johanneson Inc. in Bemidji, as well as earlier in Duluth and Iowa.
The hospital's staff has at least 11 BSU alumni out of 230 total employees, including chief nursing officer, long-term care administrator, finance manager and assistant surgical services manager.
Bigfork Valley also has consistently hired nursing interns from Bemidji State, including most recently Bigfork native Ashley Wendt, a candidate for a full-time position.
"I think the program for nursing has evolved in such a way that we are very appreciative of the quality of the BSU graduates," Drotts said. "With Bemidji State, it's a no-brainer when they recommend a student because we know down the road we're going to get a full-time nurse out of this, or we could."
Echoing that is Chief Nursing Officer Nancy Probst '02, who completed her bachelor's degree in nursing at BSU after previous training at St. Luke's Hospital in Duluth. She said the hospital does its best to challenge nursing interns in a variety of real-life circumstances, including the emergency room and patient care.
"We really do make an effort to make sure they get as much practical, clinical experience as they can," Probst said. "It gives us a very clear picture of what kind of nurse they will be."
Drotts also mentioned the value of hiring people who know, understand and appreciate the lifestyle and culture of northern Minnesota. That was echoed by people at several companies with large numbers of BSU graduates, including Pinnacle, a Bemidji-based printing and publishing firm where alum Shelly Geerdes '93 has been CEO since 2000.
A third of its 77 employees are BSU graduates, many in leadership roles, and the BSU Beavers flag flies outside their headquarters on U.S. 71.
"A lot of BSU grads like to stay local," said Rosie Berg '01, Pinnacle's marketing manager and national accounts supervisor whose degree is in business administration. "They come to college here, see what the area has to offer and decide to look for jobs here."
Many reasons for good fit
The Bemidji State connection creates an immediate connection with job prospects, she said.
"You get an idea of what they've been doing the past four or five years, the professors they've been exposed to, the elements they've endured," Berg said.
Not every BSU graduate necessarily wants to live in the Twin Cities or some other major metropolitan area, and that has been a hiring advantage for Digi-Key in Thief River Falls, an electronic component manufacturer that over the years has hired 28 computer science and computer information service graduates from Bemidji State.
"We're a big company but in a small, rural-type atmosphere," said Digi-Key software engineer Curt Huot, who frequently recruits at BSU. "You have a lot of students who have come from towns Bemidji-sized or smaller and may prefer that type of lifestyle."
Ramsey of Federated agreed, noting that Owatonna is not unlike Bemidji in size and lifestyle.
"A lot of people who have either grown up in or migrated into that environment seem to like living in a small town," he said, "versus someone who's grown up in Chicago and can't wait to get to New York."
Dworak of Star underscored a larger point that also comes up frequently as managers explain why they continue to look to Bemidji State when filling entry-level positions. He emphasized how he and others in the exhibit design industry have stayed connected with the university, traveling to campus to critique student work, presenting to students in class via Skype and keeping their eye on up-and-coming talent.
"To me it's almost like a family," Dworak said. "You've got a really deep alumni base from various years who are constantly willing to mentor and support students and the curriculum on an ongoing basis."
---
written by Scott Faust, director of communications and marketing, Bemidji State University
This story originally appeared in the spring-summer 2014 edition of Bemidji State University magazine.