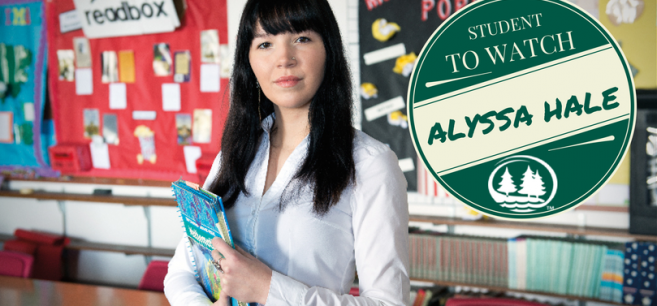 Alyssa Hale of North Minneapolis graduated from Bemidji State University in May with a degree in elementary education and a minor in Indian studies. She spent the spring teaching in a fourth-grade classroom in Rosemount, where students start the day with 15 minutes of sharing.
"The classroom is a place where students learn about each other and themselves," Hale said. "For me, one of the biggest things I want to bring into the classroom is a sense of community."
She witnessed the power of community last fall when she worked at the American Indian Resource Center as a peer adviser for students making the transition to college.
"Sometimes you just need to know that you belong and someone believes in you," Hale said, adding that once students have that confidence they're ready "to do great things."
While at Bemidji State, Hale realized that she, too, can do great things. Last spring, she received the David and Kathryn Sorenson Leadership Endowment Scholarship, a full-tuition award for her senior year.
"I had to write an essay for it, and I remember thinking, 'Oh, I'm not going to get this,'" said Hale, who was stunned to receive a letter of congratulations. "I felt so blessed, so grateful."
A keynote speaker at BSU's second annual Scholarship Appreciation Breakfast in October, she told the audience that receiving the scholarship "made me believe in myself in a way I never had before."
Hale's adviser, Dr. Janine Wahl, is not surprised by Hale's success. "She has excellent communication skills, she's determined and energetic – all necessary to be an effective teacher," Wahl said.
Although Hale says she has to work at being a leader, she's been brave in her pursuit. As a member of the President's Student Commission, she organized an art exhibit to give voice to fellow victims of sexual assault.
She also writes poetry and won a competition on KAXE public radio. Impressed, the station invited her to record more of her poems.
Hale also advocates for culturally relevant curriculum and greater awareness of Native American history, noting that she appreciated the Indian studies program at BSU.
"A lot of people are ignorant about that part of history," she said, "and it's important to have an understanding."
Now that Hale has found her own voice, she intends to keep using it in the classroom and beyond. "Being a leader is about understanding that we're all connected," she said.
---
This story originally appeared in the Spring/Summer 2014 issue of Bemidji State University magazine. The entire issue is available online.