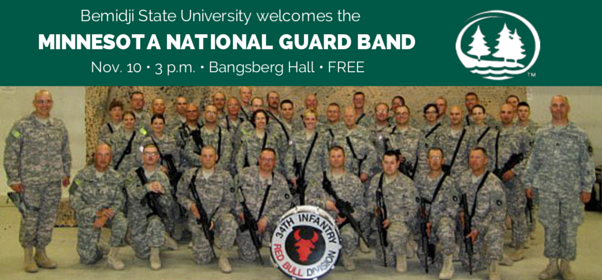 Bemidji State University's Department of Music will host a performance of the Minnesota National Guard's 34th Infantry Division "Red Bulls" Concert Band as part of a free Veteran's Day tribute concert on Nov. 10.
The concert will begin at 3 p.m. in the Main Theatre of Bemidji State's Bangsberg Fine Arts Complex. Admission is free for everyone.
The concert will be a patriotic tribute to our nation's veterans and dedicated to Bemidji resident Betty Masoner.
Masoner has been a long-time supporter of veterans, veteran's programs, music education and the Minnesota Military Museum. She is a retired educator who taught high school in communities across northwest Minnesota before settling in Browerville High School. She coordinated Veteran's Day programs at Browerville High School for 35 years, helping thousands of students understand the contributions made by veterans and to educate them on the service and sacrifices veterans make in defense of our nation. She also served as adjunct faculty at BSU.
The opening and presentation of the colors will be coordinated by BSU's Veterans Assistance Center.
The band will arrive in Bemidji on a pair of CH-47 Chinook cargo helicopters, which will land on the BSU football practice fields on the west side of the Gillett Recreation-Fitness Center at approximately 1 p.m. on the day of the concert. The band will depart on the helicopters between 4:30-5 p.m. following the show.
The concert is being presented by the Military Historical Society of Minnesota and the Minnesota Military Museum at Camp Ripley, Minn.
Contact
• Jeff Thielen, executive director, Minnesota Military Museum; (320) 616-6050, jthielen@mnmilitarymuseum.org
About Bemidji State University Bemidji State University, located in northern Minnesota's lake district, occupies a wooded campus along the shore of Lake Bemidji. Enrolling more than 5,000 students, the University offers more than 50 undergraduate majors and nine graduate programs encompassing arts, sciences and select professional programs. The University is a member of the Minnesota State Colleges and Universities system and has a faculty and staff of more than 550. University signature themes include environmental stewardship, civic engagement and global and multi-cultural understanding. For further information about the University, visit bemidjistate.edu.