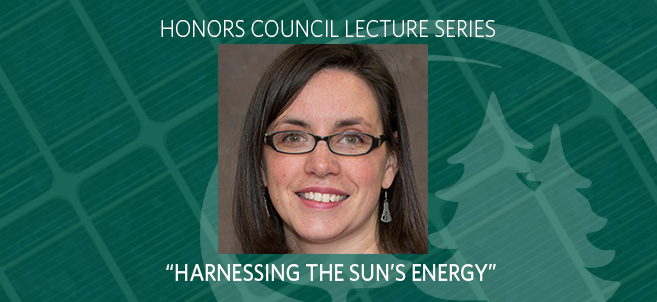 When Dr. Annie Ricks, lab services specialist at Bemidji State University, looks to the future, she sees a world powered by solar energy. To reach that future, where harnessing the sun's energy as a renewable, carbon-neutral source of electricity is commonplace, she explores how color affects the efficiency of solar collectors. Ricks will discuss her work, and the current state of solar energy, at her Feb. 8 BSU Honors Council Lecture.
Ricks's lecture, "Harnessing the Sun's Energy", begins at 7 p.m. in Hagg-Sauer Hall 112. BSU's Honor Council lectures are open to everyone free of charge.
During her lecture, Ricks will examine current research on climate change and illustrate why renewable energy sources are essential to the future of energy production and sustainability.  Her work focuses on the search for a carbon-neutral renewable energy source, which has led to a keen interest in solar energy over other traditionally explored sources of renewable energy such as wind or hydroelectric power.
Honors Council Lectures
Feb. 2 – Dr. Daniel Guentchev, philosophy

Feb. 17 – Dr. Jessica Durgan, English

Feb. 22 – Dr. Misty Condiff, nursing

March 8 – Dr. Laurie Desiderato, psychology, and Erika Bailey-Johnson, sustainability

March 23 – Dr. Paul Kivi, economics

April 12 – Dr. Richard A. Hanson, BSU president

April 21 – Dr. Janice Haworth, music
"To me, solar is the most interesting because it's the most scalable," she said. "The amount of sunlight that reaches our world in one day is enough to power our world for one year. So we, as a society, need to figure out how to capture that."
Ricks will also feature findings from a pair of research projects relating to the collection and transportation of solar energy. By exploring the concept of biomimicry – innovations inspired by nature – Ricks will show how chemists are using a synthetic form of photosynthesis as a way to help improve the efficiency of solar collectors. Color can impact how far into a collector solar energy is absorbed, which affects its efficiency.
"When things need to capture the sunlight, they need some sort of color to capture the most sunlight possible," she said. "But if something is too dark, then sunlight won't be able to penetrate very deep. We are trying to find this really fine line of something that is colored and not too deep — so something that can capture a large spectrum of light but isn't so dark that the sun can't penetrate the surface."
About Dr. Annie Ricks
Dr. Annie Ricks is a lab services specialist and OSHA representative of the Bemidji State University Department of Chemistry. She teaches courses in chemistry, organic chemistry and sustainability. Before joining the BSU faculty, she studied at Bryn Mawr College in Pennsylvania and later earned her doctorate at Northwestern University.
About the Honors Council Lecture Series
The Honors Council Lecture Series is hosted by the Bemidji State University Honors Council. The council is the advisory group to the honors program composed of 12 faculty members representing each of the university's colleges. Student representatives are also elected to the council by their cohorts for one-year terms.
Contacts
Kari Caughey, BSU honors program; (218) 755-3984, kcaughey@bemidjistate.edu
Dr. Annie Ricks, lab services specialist; aricks@bemidjistate.edu
Bemidji State University, located in northern Minnesota's lake district, occupies a wooded campus along the shore of Lake Bemidji. Enrolling nearly 5,000 students, Bemidji State offers more than 80 undergraduate majors and 11 graduate degrees encompassing arts, sciences and select professional programs. BSU is a member of the Minnesota State Colleges and Universities system and has a faculty and staff of more than 550. University signature themes include environmental stewardship, civic engagement and global and multi-cultural understanding.