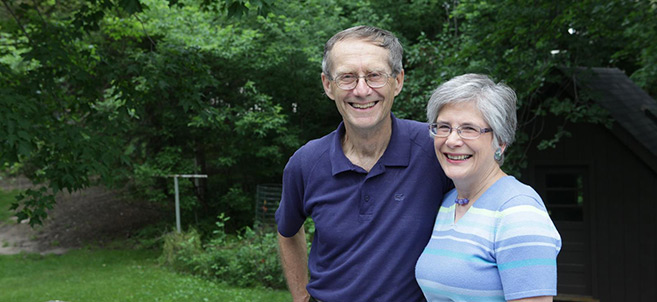 Dr. Darby and Geri Nelson, philanthropists from Champlin, Minn., will be the recipients of Bemidji State University's 34th Distinguished Minnesotan award.
First presented by Bemidji State in 1981, the Distinguished Minnesotan Award acknowledges the contributions of current or former residents of the state who have performed exemplary service to the people of Minnesota or the United States. This will be the second Distinguished Minnesotan award with multiple recipients, joining Paul and Shiela Wellstone in 2007.
The Distinguished Minnesotan traditionally delivers Bemidji State's Commencement address. The university's 97th Commencement ceremony will be held May 6 at the Sanford Center in Bemidji.
In March 2015, the Nelsons created Bemidji State University's Helping Hands (Naadamaageng) Student Assistance Fund for American Indian students. The fund provides cash awards, which can range from $100-750, intended to help native students overcome an immediate financial obstacle that might otherwise thwart their academic progress.
A July, 2015, feature story on the Nelsons in the Osseo Press and News said the Nelsons' desire to support Native students stemmed from Darby's childhood. He was born on an Indian reservation near Minnesota's Lake Vermilion, where he learned about Native culture.
In addition, the president of the then-Bemidji State Teachers College helped Darby's father, Miles, stay in school and go on to get his first teaching job in Red Lake, Minn., which has created a strong sense of personal loyalty to Bemidji State – even though neither he nor Geri had ever attended the university themselves.
"We owe such a debt to Bemidji," Darby said, "and this is one way we can really say thank you, by means of helping Indian kids have a fighting chance."
The Naadamaageng Student Assistance Fund is just part of a broad range of philanthropic efforts the Nelsons have spearheaded across Minnesota and internationally. They previously have donated to The Nature Conservancy, an organization that Darby also served as a trustee; their alma mater, the University of Minnesota, including its Itasca Biological Field Station in Itasca State Park, where the Nelsons met and fell in love in 1966; the League of Women Voters Minnesota; and Anoka-Ramsey Community College, where Darby taught for 35 years. He received multiple teaching awards and was named College Science Teacher of the Year by the Minnesota Academy of Science and the Minnesota Science Teachers' Association.
Bemidji State University's Distinguished Minnesotan award was presented annually from 1981-2009, and was not awarded in 2010 or 2012.
Contact
Jackie Carroll, Office of the President, Bemidji State University; (218) 755-2017, jcarroll@bemidjistate.edu
Links
Bemidji State University's Distinguished Minnesotans
1981 Sigurd Olson, naturalist and author
1982 Karl Kassulke, athlete and handicap advocate
1983 Janet Dearholt Esty, businesswoman and entrepreneur
1984 Frederick F. Manfred, author
1985 Dr. John Najarian, transplant surgeon
1986 Dr. Harlan Cleveland, political scientist
1987 Muriel Buck Humphrey Brown, advocate for the disadvantaged
1988 Elmer L. Andersen, businessman and former governor
1989 Curtis L. Carlson, businessman and philanthropist
1990 William S. Marvin, businessman and community leader
1991 Meridel LeSueur, writer and social activist
1992 Veda Ponikvar, newspaper publisher
1993 Nellie Stone Johnson, political and social activist
1994 Cheryl Dickson, leader in humanities programming
1995 William H. Kling, innovator in public radio
1996 Jerry Willet, businessman and former state senator
1997 Ann Bancroft, explorer of the North Pole and South Pole
1998 Bob Bergland, congressman and former U.S. secretary of agriculture
1999 Coya Knutson, congresswoman
2000 Jon Hassler, author and educator
2001 Libby Larsen, composer
2002 Rosalie Wahl, Minnesota Supreme Court justice
2003 Edgar Heteen, entrepreneur and snowmobile pioneer
2004 Herb Brooks, men's ice hockey coach
2005 Gerald Vizenor, author and educator
2006 Kathleen Blatz, chief justice of the Minnesota Supreme Court
2007 Paul Wellstone, U.S. Senator & Shiela Wellstone, advocate against domestic abuse
2008 Dr. Alex Cirillo, Jr., vice president for community affairs, 3M
2009 Don Shelby, television anchor
2010 (no award given)
2011 Susan Marvin, president of Marvin Windows & Doors
2012 (no award given)
2013 Lt. Gen. Thomas Waldhauser, senior military assistant to the U.S. Secretary of Defense
2014 Trudy Rautio, Carlson Companies CEO
2015 Jon McTaggart, president & CEO, American Public Media Group
2016 Darby & Geri Nelson, philanthropists