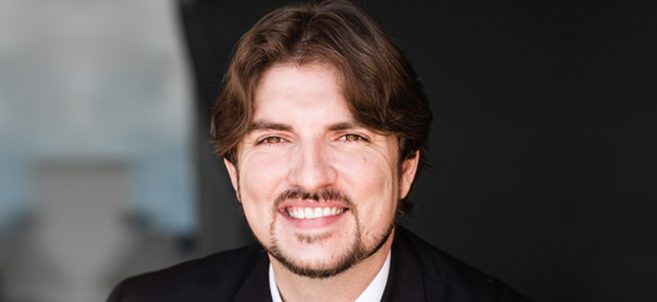 Previous BSU Choral Directors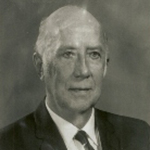 Carl O. Thompson 1937-68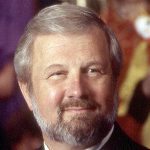 Dr. Paul Brandvik 1968-1998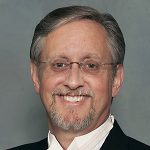 Dr. P. Bradley Logan
1998-2016
For only the fourth time in nearly eight decades, Bemidji State University has named a new director of choral programs in its Department of Music. When Dr. Dwight Jilek joins the BSU campus community this fall, he will be called upon to continue a legacy of vocal music education that began in 1937 when Carl O. Thompson was hired to teach vocal music and music theory and history.
"I am honored to join the talented faculty at Bemidji State, and excited to return to Minnesota where we have many family and friends," Jilek said. "I am impressed with the investment and talent of the students and faculty in the program, and also inspired by the yearning to continue to increase the standard of excellence in the greater music program at Bemidji State."
Jilek comes to Bemidji State from the University of North Texas, where he will complete a doctorate in choral conducting in August. There, he received the school's 2016 Outstanding Graduate Conductor award, conducted UNT's Concert Choir and was conducting associate with the Dallas Symphony Chorus.
Before joining UNT in 2001, Jilek spent six years as vocal music director at Northfield (Minn.) High School, where he oversaw five curricular and four extracurricular choirs. Under his direction, the Northfield Concert Choir was accepted by audition to perform in the inaugural Minnesota American Choral Directors Association (ACDA) Choral Arts Finale in 2006, at the Dorian Choral Invitational and the Minnesota State ACDA Convention in 2007, and at the Minnesota Music Educators Association convention in 2008. Northfield also was a featured choir at the 2009 St. Olaf Choral Festival.
In addition to his doctorate from North Texas, Jilek has a bachelor's degree in vocal music education from Concordia College in Moorhead, Minn., and a master's degree in choral conducting from Michigan State University.
The selection committee noted Jilek's command of choral literature and his charisma on the podium came through during its national search to identify a new director. Dr. Cory Renbarger, assistant professor of music for voice and opera theater, was a member of the screening committee.
"Dr. Jilek's ability to communicate and inspire those around him, especially students, was quite evident throughout the search process," Renbarger said. "We in the music department feel he is the perfect choice to lead the choirs forward and provide the strongest program possible, helping to attract excellent student musicians across all majors to Bemidji State University."
Bemidji Chorale director Patricia Mason has connections to each of the three previous choral program conductors at Bemidji State, counting Thompson as her first advisor. She served as interim director of the BSU Choir and Chamber Singers during the Spring 2016 semester and was a member of the screening committee that recommended Jilek for the position.
"Dr. Jilek brings energy, vision and abundant talent to the program," Mason said. "While respecting the choir's rich heritage, he will introduce a new and innovative choral future to the students. I believe his passion for the choral craft will assist him in implementing his plans and insure the growth and recognition of the Bemidji State University choirs."
BSU choral music history
While Bemidji State University has gone through a variety of changes over the past 89 years, prior to Jilek's hire the choral program has seen only three other conductors officially posted at its helm – Carl O. Thompson (1937-67), Dr. Paul Brandvik (1967-1998) and Dr. P. Bradley Logan (1998-2016).
Thompson established the university's A Capella Choir, the annual Oratorio and Christmas Concerts and began managing the weekly Convocation Programs. He encouraged community support and participation through annual master-work performances of choir and orchestra, which community members were invited to join.
Thompson led BSU's choir programs for 31 years, passing the baton to his successor Brandvik in 1967. Brandvik founded BSU's annual Madrigal Dinners, a holiday tradition that continues to this day, and took the choir on its first European tour in 1970. He also led the music department into its new home in the Bangsberg Fine Arts Complex, which opened in 1971. Over the next three decades, Brandvik continued to develop a national and international reputation and also expanded its community collaborations with The Bemidji Chorale, Bemidji Choir, and The Bemidji Symphony Orchestra.
Logan succeeded the retiring Brandvik in 1998. Under his direction, the BSU Chamber Singers were selected to sing at the 2002 convention of the North American Choral Directors Association (ACDA), and directed the choirs in performances at Carnegie Hall in 2002 and 2015. They also performed at the 2001 and 2014 Minnesota ACDA Conventions, the 2006 North Dakota Music Educators Convention and at Minnesota Music Educators Conventions in 2002, 2006 and 2010.
"To be entrusted as the steward of a tradition of this nature it is not only a wonderful opportunity but also an incredible responsibility," Jilek said. "You can sense the musical history of the many singers who walked the halls at BSU when you walk through the music building. Many alumni of the choral program are involved in the educational and professional music scene across the nation, and are still invested in the success the program. This network of current singers and alumni is a large, vibrant family that shares the common experience of singing in the Bemidji Choral program, and I am very thankful to become a part of it."
Contact
Dr. Cory Renbarger, assistant professor of music, Bemidji State University; (218) 755-2867, crenbarger@bemidjistate.edu
Links
Bemidji State University, located in northern Minnesota's lake district, occupies a wooded campus along the shore of Lake Bemidji. Enrolling nearly 5,000 students, Bemidji State offers more than 80 undergraduate majors and 11 graduate degrees encompassing arts, sciences and select professional programs. BSU is a member of the Minnesota State system of colleges and universities and has a faculty and staff of more than 550. University signature themes include environmental stewardship, civic engagement and global and multi-cultural understanding.
---
2017-B-R-001