The following are excerpts from the address President Faith Hensrud delivered during her Oct. 14 inauguration in the BSU Gymnasium:
As the 11th president of Bemidji State University in its 97-year history — and of Northwest Technical College at its mid-century mark  —  I accept a mantle of leadership enwoven with the tireless work of my esteemed predecessors.
Each one of us, faculty, staff  —  and you students, above all  —  carry a torch for our highest ideals that we must one day pass on to others who will be counting on our efforts.
This torch has illuminated the lives of tens of thousands of graduates, who have brought their knowledge, skills and a newfound confidence into the world  —  and made it a better place.
Over nearly a century, Bemidji State has grown from a teachers' college on the northern edge of a lakeside lumber town to a comprehensive university in the midst of a vibrant regional center.
In its 50 years, Northwest Technical College has evolved from a basic vo-tech to a sophisticated center of preparation for highly relevant careers.
Both schools are indispensable, not only for northern Minnesota but, dare I say, for the entire world. And we are the indispensable stewards  — not only of a university and a college but of a precious planet.
Earth's uncertain future rests on our ability to overcome waste, destruction, intolerance and greed, and instead foster understanding, innovation, respect, compassion and justice.
This and nothing less, is our calling.
Our capacity to shape the future lies in our ability to remain a place where students from Minnesota and around the world acquire knowledge and discover the profound power of their unique gifts.
… If BSU and NTC are to continue helping students embark on their own journeys of accomplishment, we will need to preserve and expand on our fundamental strengths.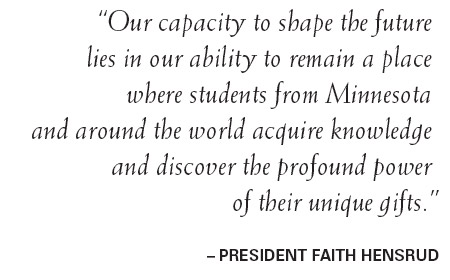 We must continually intensify our focus on student success, with an ongoing examination of our academic priorities and an eye on global change.
We must uphold faculty excellence through professional development and sharpened recruitment.
We must embrace strategies to protect fiscal sustainability through enrollment growth and enable continued improvement of our campus facilities.
… Above all, we must continue to listen –
to one another, to our students and to the communities and employers we serve.
In combination, the phrases "building bridges" and "transforming lives" convey the almost unlimited possibilities of our work.
…We are building bridges to and for our communities through teaching, learning
and research.
Our academic programs support sustainability in the most holistic sense, not only through environmental stewardship but in health care, commerce, education, the arts and sciences, social services, criminal justice and trades and manufacturing.
Northwest Technical College is building bridges as a hub for multiplying initiatives to create the highly skilled workforce this region needs in order to thrive and grow.
We are actively working to strengthen the bridge of partnership between the university and the college, which offers so many opportunities to better serve our students.
Our institutions are a bridge that connects our region to a higher quality of life, through the arts, athletics and other enrichment.
… And we emphatically seek to build bridges to diverse peoples:
• Through recruitment and support of American Indian students, other students of color and international students, as well as diverse faculty, staff and administrators;
• By appreciating our individual differences and insisting on mutual respect;
• And by continuing to build campus cultures that promote and celebrate diversity in all forms.
We are constantly building bridges to knowledge and opportunity for our students.
… As for the goal of transforming lives, both for our students and for people throughout the region, we see it happen every day.
You make it happen.
… We will seek to define and express our institutions' distinctiveness in order remain compelling to prospective students and employees.
At BSU, I suggest we look to the distinct intersection of our north woods location; our increasing emphasis on American Indian enrollment, languages, culture and governance; and a breadth of academic programs that support sustainability, both environmental and otherwise.
… Ultimately, what we are building together is a bridge to the future.
Many of our students will live to see the 22nd century. It is up to us to prepare and inspire them to meet the challenges and opportunities they will encounter, both as individuals and as contributing members of an increasingly diverse society.
I find that prospect thrilling, and I hope you do, too.
Thank you all for inviting me to join with you, and do my best to lead you, in this great endeavor.
And thank you for making this such an unforgettable day for me and my family.
May we all – students, staff and faculty; alumni; elected, civic and business leaders; and our many other partners and friends – be united in this common purpose: to build bridges and transform lives.
Our power for good is enormous, and together our success will be certain.
Thank you!