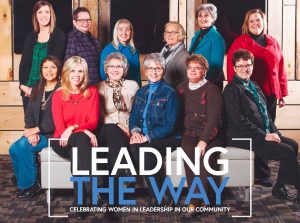 President Hensrud and 14 other women leaders in Bemidji are featured in "Making an Impact," the cover story for the Winter 2018 issue of InBemidji, a free-distribution lifestyle magazine published by the Bemidji Pioneer newspaper.
The magazine asked each of the 15 women what motivates them, what advice they have for the next generation of leaders, barriers they've faced on the paths to their current positions and about the importance of leadership.
"It is so vitally important that we support those who are working in our institutions and recruit women to key leadership positions," she said.
Hensrud has been a staunch advocate for women in leadership positions. In Feb. 2017, she joined the American Council on Education's "Moving the Needle: Advancing Women in Higher Education Leadership" campaign, which will pursue a goal of seeing women hold 50 percent of chief executive positions at institutions of higher education by 2030.
"In 2016, only 30 percent of university presidents were women," she said to InBemidji. "Along with hundreds of my presidential colleagues across the nation, I have committed to work hard to support women and move the needle on that percentage."
Joining Hensrud in the feature are:
Rita Albrecht, mayor of Bemidji and northwest regional director for the Minnesota Department of Natural Resources
Annette Johnson, Red Lake Tribal Council treasurer
Lori Paris, who spent 18 years as president of the Bemidji Area Chamber of Commerce
Penny Echternach, director of the Sanford Health Foundation of Northern Minnesota
Shelly Geerdees, CEO of Pinnacle Marketing Group
Karen Weller, executive director of the Bemidji Regional Airport
Tiffany Baer Paine, president and CEO of Security Bank USA
Kay Mack, Beltrami County Administrator
Colleen Bakken, general manager of Harmony Natural Food and co-president of the Bemidji Downtown Alliance
Denae Alamano, executive director of the United Way of the Bemidji Area
Lori Forshee-Donnay, executive director of the Watermark Art Center
Nancy Vyskocil, president of the Northwest Minnesota Foundation
Annie Claesson-Huseby, Ninth District Judicial Court judge
Sandy Hennum, executive director of Village of Hope
InBemidji is available online and in print at various locations throughout Bemidji.