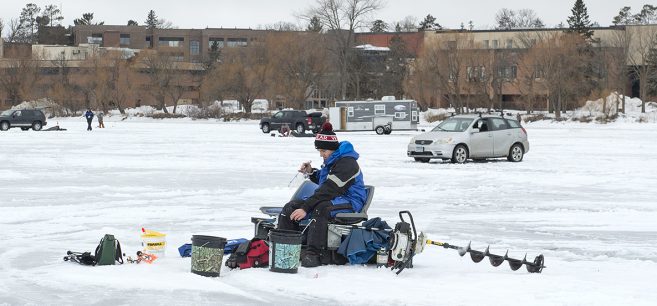 Area ice fishing enthusiasts are invited to Bemidji's Diamond Point Park on Jan. 27 to participate in the second annual "Beaver Freeze" tournament, co-hosted by Bemidji State University's Outdoor Program Center and Department of Campus Recreation.
The tournament begins at noon on Lake Bemidji near Diamond Point Park and is scheduled to end at 3 p.m. The tournament is open to anglers of all ages, and. pre-registration is open now at BSU's Gillett Wellness Center. Registration fees are $25; BSU students can register for $20 and children age 10 and under can register for $10. Participants are allowed to bring personal portable fish houses and must supply their own bait. Holes will be drilled by tournament staff.
Baylee Johnson, senior aquatic biology student from Bemidji, Minn., and Anthony Orttel, a senior science major from East Bethel, Minn., both Outdoor Program Center student workers, are again coordinating the event after helping establish it a year ago.
"We encourage anyone that loves to ice fish to come out," Johnson said.
Last year's inaugural tournament drew 75 participants, and the OPC is hoping an abundance of prizes donated by Reeds Family Outdoor Outfitters in Walker, Minn., will help encourage increased participation this year.
Prizes include and Aqua-Vu Micro 5 Underwater Camera, a Calcutta 50-quart. Tundra Cooler, an Eskimo Stringray eight-inch gas auger and a Frabill "Bro Series" Hub Fish House.
In addition to providing tournament prizes, Reeds will have a retail shop in BSU's Hardwater Ice Lab on Lake Bemidji, featuring partners and vendors for demonstrations.
"I'm sure all attendees will enjoy seeing and trying out the latest ice fishing equipment from one of the premier outdoor outfitters in the region," said Mark Morrissey, assistant director of campus recreation at BSU and director of the Outdoor Program Center.
Orttel says event organizers are setting aside a portion of the tournament's proceeds to fund a scholarship for BSU students.
"We are looking for more ways to give back to BSU students," he said.
BSU's Fossil Fuel-Free Fish House will also be featured during the event as anglers will bring their fish to the house to be measured. The house, which is being made available for BSU students to rent through the OPC, first originated from an idea in 2014 to use the university's unique relationship with Lake Bemidji to showcase solar energy's potential. That idea led to a collaborative effort between BSU, Northwest Technical College and several community partners including the Rural Renewable Energy Alliance (RREAL) and Northland Tackle. Construction of the Fossil Fuel-Free Fish House was made possible by BSU's student Green Fee, the Sustainable Campus Endowment and the contributions of a private donor.
Contact
Links
Calendar
Jan. 27 – noon–3 p.m. – Second annual "Beaver Freeze" ice fishing tournament at Bemidji State University. Location: Diamond Point Park, OPC Boathouse, Bemidji, Minn. Pre-register at Gillett Wellness Center, BSU campus. Registration: $25 adults, $20 BSU students, $10 children under 10. Information: Mark Morrissey, (218) 755-3900, mmorrissey@bemidjistate.edu
Bemidji State University, located amid the lakes and forests of northern Minnesota, occupies a wooded campus along the shore of Lake Bemidji. Enrolling more than 5,100 students, Bemidji State offers more than 80 undergraduate majors and eight graduate degrees encompassing arts, sciences and select professional programs. BSU is a member of the Minnesota State system of colleges and universities and has a faculty and staff of more than 550. The university's Shared Fundamental Values include environmental stewardship, civic engagement and international and multicultural understanding.