Forever inspired by its idyllic lakeshore setting in Minnesota's north woods, Bemidji State University has taken a lead in environmental stewardship, education and advocacy for almost 50 years.
In 1972, amid global consciousness-raising about the fragility of Spaceship Earth, Bemidji State established one of the nation's first bachelor's degree programs in environmental studies.
As scientific consensus coalesced behind human-caused climate change, BSU in 1998 adopted an Environmental Policy Statement that committed it to promoting "environmental awareness, local action and global thinking."
Nearly 20 years later, with a wellness-centered approach that stretches the term's popular definition, the university continues to embrace sustainability as one of its fundamental values.
In a major new initiative, Bemidji State seeks to build a photovoltaic solar system on the grounds of the American Indian Center, funded by donors and grants and capable of providing about 25 percent of the building's electricity.
"We are the indispensable stewards — not only of a university but of a precious planet," President Faith Hensrud said in her inauguration speech on Oct. 14, 2016. "Earth's uncertain future rests on mankind's ability to overcome waste, destruction, intolerance and greed, and instead embrace understanding, innovation, respect, compassion and justice. This, and nothing less, is our calling."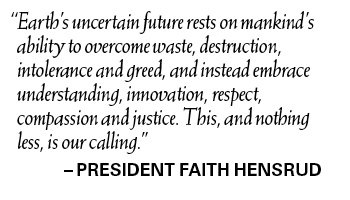 Expression – and recognition – of Bemidji State's environmental commitment have taken many forms. One of the most meaningful accolades came in July, when the U.S. Department of Education presented BSU with a Green Ribbon Schools Award, bestowed on only nine colleges and universities in 2017.
In Washington to receive was Erika Bailey-Johnson, who for a decade has been the university's most visible champion of sustainability, both on campus and in the Bemidji region. She earned her master's degree in environmental studies from BSU in 2006 and became the first director of BSU's Sustainability Office in 2008.
Bailey-Johnson's position was created with funds from a student-approved Green Fee, which began at $5 a semester. Now $7.50, the fee continues to support many of the university's environmental initiatives.
Joining Bailey-Johnson in Washington to accept the Green Ribbon was Dr. Anna Carlson, assistant sustainability director, who completed her master's in environmental studies at BSU in 2008 and became an employee in 2014.
Beginning with this academic year, Bailey-Johnson has been spending much of her time on a grant-funded program to integrate indigenous studies with environmental studies, combining traditional American Indian cultural beliefs with sustainability. Carlson is heavily involved in the AIRC solar project and other strategies to reduce energy consumption and lower emissions of carbon dioxide and other so-called greenhouse gases.
Bailey-Johnson said she had two main duties when she became sustainability director: coordinate the Green Fee and its associated projects and promote the goals of the American College and University President's Climate Commitment.
Then-BSU President Dr. Jon Quistgaard signed the commitment in 2008, pledging that the university would become carbon neutral by 2050. That means achieving a balance between its emissions associated with energy use and waste products and its use of renewable energy, planting of oxygen-producing trees, recycling and other steps.
Since 2006, Bemidji State has purchased 61,600 kilowatt-hours of wind energy through Otter Tail Power's Tailwinds program, earning a Green Power Partner designation from the U.S. Environmental Protection Agency.
BSU has continued to do more: By 2015, the university had surpassed its interim carbon-reduction goal of 2 percent, actually reducing emissions by 3 percent from a 2010 baseline.
The university has cut its energy use by nearly 44 percent since 2009 through such steps as reducing overall square footage and installation of a more efficient natural gas boiler, as well as LED lighting and a solar-transpired air collector on the roof of the lower Hobson Union that lowers energy needs by preheating air coming into the building.
Modernization of campus buildings has opened another door. For example, the total renovation of Memorial Hall, as the new home for business and accounting programs, earned BSU its first Leadership in Energy and Environmental Design (LEED) certification. The transformed building which reopened in August 2015 uses 21 percent less energy and 41 percent less water than before.
If state bonding funds are secured, BSU has plans to tear down Hagg-Sauer Hall, a 47-year-old classroom building, and replace only one-third of its former space, a reduction of approximately 55,000 square foot.
As important as such initiatives are in achieving long-term goals, Bailey-Johnson especially values her role as an educator. One of her current responsibilities is to coordinate BSU's People of the Environment course, required for all students.
"I call myself a facilitator of student ideas," she said. "(The Green Fee) is the students' money, so it's really important to me that it's spent on what they want to see happen, projects that the students want to see supported."
One such student idea was Weigh the Waste, introduced in 2015. In cooperation with Aramark food services, students who work in the BSU Sustainability Office each semester collect and weigh food and disposable container waste in the student union.
The goal, said Jordan Lutz, a student from Fargo working on his master's in environmental studies, is to promote awareness of food waste and guide recyclable materials out of the waste stream.
Another student effort, which emerged from the weigh-ins, is delivery of excess food to the Community Table, a soup kitchen in Bemidji. Through nine recoveries since last spring, more than 1,400 pounds of food that would not have been served at BSU has been provided to the Community Table.
"It's one of those experiences that really lifts you up because (the soup kitchen) is very, very appreciative," Lutz said.
The goal of avoiding food waste and helping feed the needy is an example of how BSU applies a broader definition of sustainability that encompasses not only the Earth and its resources but also people and social systems.
For Bailey-Johnson, and now for the university as a whole, a major source of inspiration has been Anishinaabe, or Ojibwe, teachings about the duty to honor and protect both Mother Earth and its inhabitants.
"(There is an) indigenous perspective of Mother Earth as one of the most important things we need to be responsible for," she said. "… We ultimately should always look at the Earth as the foundation of everything that we do."
The Sustainability Office hosts monthly traditional skills workshops, teaching students on various topics such as canning peaches, hand-sewing, straight-razor shaving and making Kombucha tea.
"Here, we do all kinds of things to try to reduce our footprint, to reduce waste, to reduce energy waste," Bailey-Johnson said.
For Hensrud, accepting leadership of Bemidji State included gaining an understanding of its sustainability commitment – past, present and future.
In fall 2016, when she had  been BSU's president for only a few months, Hensrud was encouraged to reaffirm the ACUPCC climate pledge that Quistgaard had made before her.
Insisting on due diligence, Hensrud discussed the step with her leadership and, specifically, with Karen Snorek, BSU's vice president of finance and administration.
"I wanted to know, 'Is this a doable thing, to really look at reducing our carbon footprint by that much in this period of time?'" Hensrud said. "One of the points Karen made is that we don't even know the technologies that will be coming out in that time period. With today's technologies, could we do it? Perhaps, but between now and then there are likely to be so many opportunities for innovation that we don't even have a sense for yet, so likely this is going to be very doable."
Additionally, she viewed Bemidji State's progress to date and the campus community's strong support for sustainability goals as encouraging signs.
"We had some pretty significant efforts taking place here," Hensrud said. "The institution as a whole is behind it."
Also crucial, she said, are the dual efforts of Bailey-Johnson and Carlson in their distinct roles, each tackling sustainability initiatives from different angles.
"With Erika's work, in helping to integrate some of the sustainability efforts into the curriculum, and with Anna's focus on the facilities aspect, I think we've got a really solid one-two punch," Hensrud said.
---
Written by Bethany Wesley