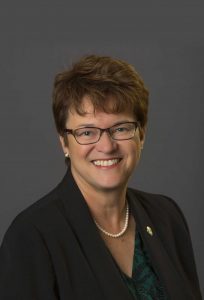 As we celebrate A Bemidji State Century and the 100th birthday of our "university in the pines," we also find ourselves looking back to 1969 — BSU's 50th anniversary year — and discover that year as a remarkable turning point in our history as well.
We experienced three significant events in 1969 that helped define our second half-century: the first year of intercollegiate women's athletics, the opening of the Hobson Memorial Union, and the founding of the Madrigal Dinners.
I invite you to explore this month's cover story, which recaps the remarkable 50-year history of intercollegiate women's athletics at Bemidji State. We launched a year-long celebration of this anniversary during Homecoming by recognizing the tireless efforts of four remarkable women. Their work founded a program that helped women's athletics grow from its roots as a non-competitive, mostly social activity into today's well-rounded, successful NCAA Division I and II athletics program.
We also reflect on a record-setting season by the BSU women's soccer program. I could not have been more proud as head coach Jim Stone's team completed an unbeaten regular season en route to our first-ever NCAA Tournament victory.
As we recognize these milestones, it's easy to find the stories that will define Bemidji State University for our next 50 years and beyond. These stories are being told through our students — in the real-world research experience being offered to a group of biology graduate students in partnership with the Minnesota Department of Natural Resources; in our undergraduates who balance responsibilities for family and extracurricular activities against rigorous academic work; and in the fresh perspectives of our newest students. Each of these stories remind us that while the years may tick by, our mission to guide our students toward inspired lives will never change.
As an alumnus, you have your own stories to share and your own place in Bemidji State University's rich history. The impact you make on your career and community guides our current students toward their own successful futures.
Go Beavers!

Dr. Faith C. Hensrud