On May 4, more than 50 Native American students will cross the Sanford Center stage and receive undergraduate degrees from Bemidji State University — the most in a single year in the school's history.
The milestone achievement is due in no small part to extensive support services offered to native students by the university's American Indian Resource Center. Sitting adjacent to Bemidji's historic Diamond Point Park and BSU's legendary lakeside football stadium, the 10,000-square-foot center includes classrooms, a student computer lab and lounge, reception area, conference rooms and the Great Gathering Room, which can accommodate groups as large as 150. Activities in the center also can be supported by a commercial-grade kitchen adjacent to the Gathering Room.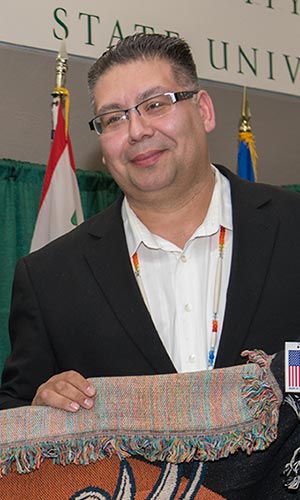 Bill Blackwell Jr., executive director of the American Indian Resource Center, describes retention and persistence of American Indian students as a multi-layered issue that requires multi-layered solutions.
"Our main goal is to provide support for all of our American Indian students. There is no one solution," he said. "American Indian students represent 4 percent of our student population at BSU. To have a graduating class of 50-plus shows that our efforts to support our students are having some success."
During the academic year, the center hosts a myriad of activities including traditional moccasin games, a weekly Ojibwe Language Table and a Parents Group to support students who have children. The center also hosts guest speakers, traditional workshops and special meals.
"This space allows us to infuse the community of the region into the support services we provide to our students," Blackwell said.
This year's record graduating class of American Indian students received special stoles commemorating their achievement, which will be worn with their graduation regalia at Commencement, at an April 19 ceremony on campus. The stoles, set on a black velvet background with a BSU green border, feature a familiar floral pattern highlighting the colors of spring and summer found in northern Minnesota's woodlands.

"The stoles are a visual reminder of a graduate's achievement and the transition from student to Bemidji State University alumni," Blackwell said.
Naomi Johnson, a community health major from Bemidji, is among the university's record class of American Indian graduates. She is completing her college journey after a difficult path that has seen her fail out of school twice with 0.00 grade-point averages. When she receives her degree on May 4, she will have a full-tuition scholarship, which includes insurance benefits and a living stipend, to attend the doctoral program in public and community health at the Medical College of Wisconsin in Milwaukee, waiting for her.

Johnson has been eager to share her story to demonstrate to other students that persistence can help them overcome any circumstance they face.
"I really do want people to know that you can come back from a 0.00 GPA to be a top candidate for grad school," she says.
She credits her support network at BSU — including the American Indian Resource Center, the Council of Indian Students and the McNair Scholars Program, which prepares under-represented college students for post-graduate study — and her family, among many others, for her success.
"No matter how many times I have failed, they have supported me and my daughter during this journey," she says.
Bemidji State's record number of American Indian graduates comes as the university is placing renewed emphasis on its relationship with northern Minnesota's native communities.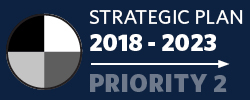 Priority 2 of the university's five-year strategic plan, unveiled in December by President Faith C. Hensrud, calls on BSU to increase engagement with the region's native nations and become a destination university for American Indian students. Under the plan, the university intends to double experiential learning opportunities in tribal communities for BSU students and increase its number of American Indian undergraduate students by more than 35 percent by 2022.
The strategic plan's initiatives are an extension of a flurry of activity at BSU over the last 18 months focused on recruitment and retention of Native American students. In March, Blackwell hired an AIRC assistant director — Ann Humphrey — who will spearhead an initiative to train American Indian teachers; in May 2017, BSU became the only university in the country to have dual-enrollment agreements with each of Minnesota's four tribal colleges; and in Spring 2017 the Department of Criminal Justice simultaneously taught a course to students at both BSU and Red Lake Nation College using a teleconferencing system built with a federal grant.
In addition to the record number of undergraduate degree recipients, three native students will be receiving master's degrees from BSU on May 4.