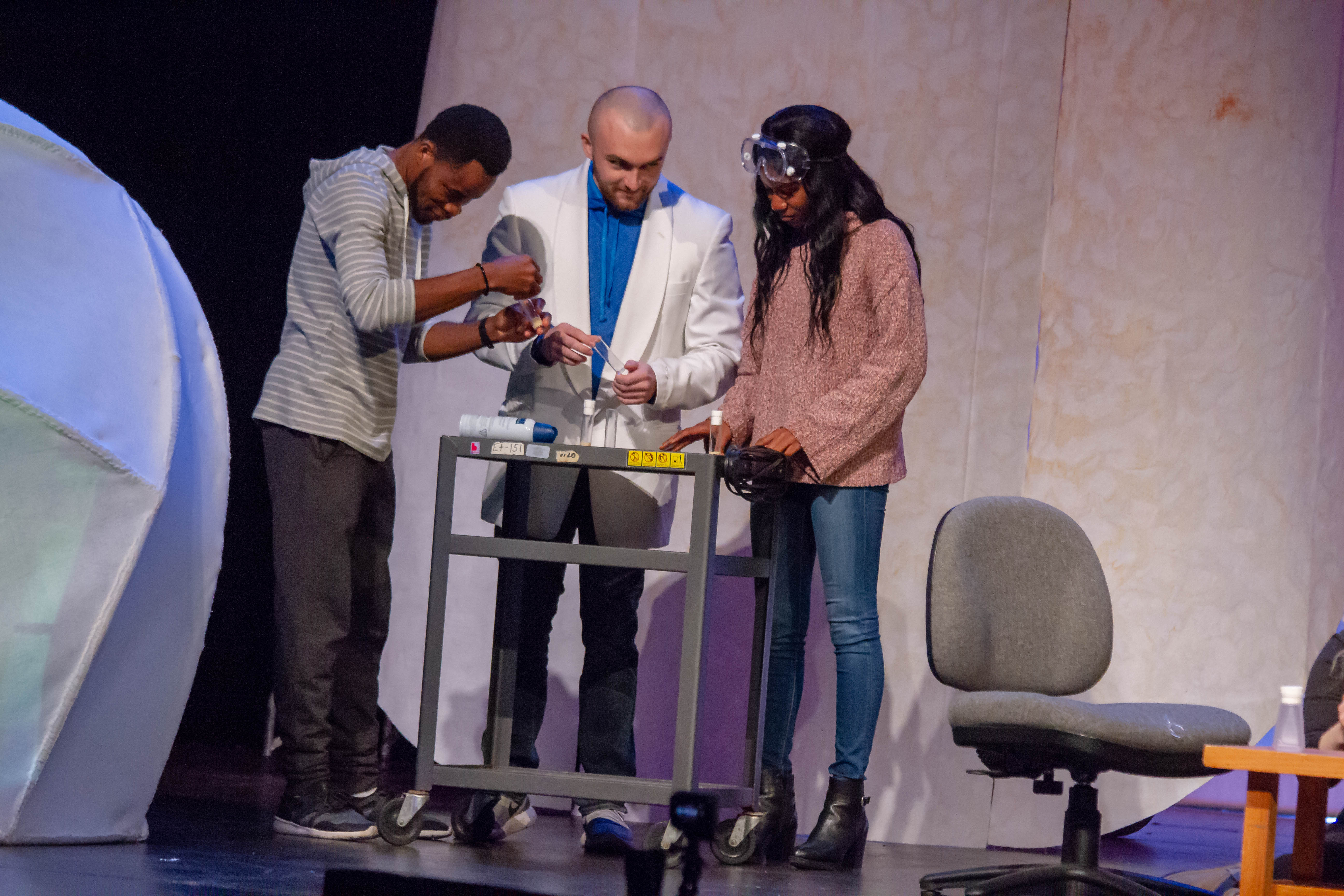 While theater and biology are not commonly associated with each other, Bemidji State University and North Hennepin Community College are exploring a unique marriage of the two disciplines to improve student learning in genetics.
Andy Arsham, an assistant professor of biology at Bemidji State, and Kathy Hendrickson, professor of theater, film and television at North Hennepin, submitted a proposal to the Minnesota State college and universities system's competitive Innovation Funding Grant in the fall of 2017. The grant program, which is modeled after ABC's hit show "Shark Tank," funds innovations that address obstacles to student success by using existing technologies, resources or practices in innovative ways.
Hendrickson and Arsham's proposal centered around an experimental performance-enhanced biology course that aimed to use the power of performance to enhance the teaching and learning of genetics, strengthen relationships between BSU and North Hennepin students and encourage diversity in science, technology, engineering and math (STEM) fields.
In March 2018, Minnesota State awarded $10,000 to pilot the course. The pilot began during the fall 2018 semester, with Bemidji State and North Hennepin students collaboratively developing short performances embodying key biological concepts. The students were supported by The Expression Lab, a team of professional actors and educators who coach scientists of all levels in communication skills.
The performance-enhanced biology course provides NHCC theater students, who are only required to take a single biology course, increased exposure and a fresh perspective to biology, while simultaneously developing valuable collaboration and creation techniques.
Likewise, BSU biology students have the opportunity to develop communication skills vital to their future success in STEM fields including eye contact, vocal patterns, gesture, diction and volume. It also equips them with narrative-building and storytelling techniques, enhancing their ability to communicate scientific concepts to students and non-scientists.
Finally, NHCC biology students receive a uniquely engaging introduction to key biology concepts by watching the final aforementioned groups' final performances.

About Minnesota State Transfer Pathways
These transfer connections are designed so students can complete a specific associate degree at a Minnesota State college and transfer to a Minnesota State university to earn a bachelor's degree without losing credits or taking extra courses. When students complete a Transfer Pathway degree program at a Minnesota State college and are admitted to any of the seven Minnesota State universities, they will be guaranteed junior status and given assurance that all 60 college credits will count toward the related bachelor's degree.

Links
*Story developed in partnership with North Hennepin Community College
---

Bemidji State University, located amid the lakes and forests of northern Minnesota, occupies a wooded campus along the shore of Lake Bemidji. Enrolling more than 5,100 students, Bemidji State offers more than 80 undergraduate majors and eight graduate degrees encompassing arts, sciences and select professional programs. BSU is a member of the Minnesota State system of colleges and universities and has a faculty and staff of more than 550. The university's Shared Fundamental Values include environmental stewardship, civic engagement and international and multicultural understanding. For more, visit bemidjistate.edu or find us at BemidjiState on most of your favorite social media networks.
2019-B-000