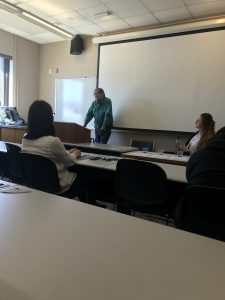 Bemidji State University's American Indian Resource Center welcomed elder Murphy Thomas to campus for an Elder in Residence program in mid-March. The program helps students create or strengthen their connections to Native American culture.
Elders work with students in fostering cultural, academic, social and spiritual support.
"Bringing an elder to campus helps to strengthen American Indian identity on campus," Bill Blackwell Jr., executive director of the American Indian Resource Center, said. "Research has shown that the retention and persistence of American Indian students are heavily related to the connections they make within the institution and a feeling of belonging."
During his visit, Thomas spent time sharing stories, knowledge and teachings with BSU students.
"Programs like this are what are students get excited about, when they feel a part of the campus, and what they remember," Blackwell said.
The American Indian Resource Center frequently hosts events meant to help connect BSU students with culture and tradition as a variation from typical higher education programming. These programs are specifically intended to support American Indian students along their path to graduation.
"We have multilayered issues in Indian Country," he said. "If we don't have multi-layered solutions, we can't begin to empower students to create healthy communities. This type of program helps enrich the campus community. It is intended to help American Indian students overcome cultural dissociation and lead them to success in higher education."
Contact
Links

Bemidji State University, located amid the lakes and forests of northern Minnesota, occupies a wooded campus along the shore of Lake Bemidji. Enrolling more than 5,100 students, Bemidji State offers more than 80 undergraduate majors and eight graduate degrees encompassing arts, sciences and select professional programs. BSU is a member of the Minnesota State system of colleges and universities and has a faculty and staff of more than 550. The university's Shared Fundamental Values include environmental stewardship, civic engagement and international and multicultural understanding. For more, visit bemidjistate.edu or find us at BemidjiState on most of your favorite social media networks.
---
2019-B-136