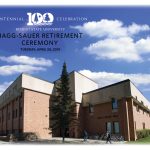 On a chilly April day, more than 70 students, faculty, staff and community members gathered outside Hagg-Sauer Hall to remember, honor and retire the nearly 50-year-old building. Built in 1970, Hagg-Sauer is set to be replaced with an updated facility in the Fall of 2020.
Bemidji State University President Faith C. Hensrud opened the ceremony with a formal welcome and a brief history of the Hagg-Sauer project.
"We are in the midst of a remarkable era of change on campus," she said. "Updating Hagg-Sauer Hall has been one of our priorities since the mid-2000s, and with a long journey through the state legislative process it took until 2018 for this dream to become a reality."
During the ceremony, President Hensrud recalled memories of Hagg-Sauer hall and encouraged attendees to cherish those times.
"If the transformation of Hagg-Sauer Hall brings you sadness, that is easy to understand," she said. "The memories you have and the place where those memories were made are forever entwined. But even though the building may change, the memories made inside it are yours to keep forever."
Pastor Ron Gladen, a guest speaker at the ceremony, is an alumnus of BSU and had classes with both of the building's namesakes, Dr. Harold T. Hagg and Dr. Philip R. Sauer. He recalled the personalities of each and how they helped him to his future as a pastor.
The Bemidji State Brass Quintet performed "Centone V, movement 1," by Samuel Schmidt preceding the ceremonial removal of the Arthur Lee Lecture Hall plaque from outside the classroom dedicated to the professor emeritus. Wayne Robins, general maintenance worker, and Lisa Skudlarek, general maintenance worker, removed the nameplate and presented it to President Hensrud. The plaque will be placed outside the new Arthur Lee Lecture Hall in the new Hagg-Sauer building upon completion.
Classrooms in the original 82,000-square-foot Hagg-Sauer building, have poor wheelchair access, lack flexibility for group study and are not outfitted with modern interactive learning technology. The lakeshore building has also been plagued by basement water seepage, contributing to more than $9 million in deferred maintenance.
The new building, just 27,700 square feet, will have a variety of flexible learning spaces and state-of-the-art technology. Its energy-efficient design features extensive windows overlooking Lake Bemidji and native plant landscaping that will connect with the expansive Lakeside Lawn.
Demolition of Hagg-Sauer will be started as soon as July 2019, with the goal of having the new building open for classes in Fall 2020.
ABOUT DR. HAGG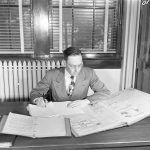 Dr. Harold T. Hagg joined the Bemidji State faculty in 1936, where he would spend four decades immersed in research on the Northern Minnesota region before he retired in 1976. He wrote prolifically on the history and geography of Bemidji, the Mississippi Headwaters region and the state of Minnesota.
Born July 24, 1909, to Theodore and Sigrid (Tenggren) Hagg in Rochelle, Ill., Hagg earned a bachelor's degree from Cornell College in Iowa before teaching at the University of Iowa High School. He went on to earn masters and doctorate degrees from the University of Iowa, in 1933 and 1936, respectively.
He joined the Bemidji State Teachers College faculty as an instructor and later as a professor and division chair for history. He also served in the U.S. Navy during World War II.
He married Renate Fandry on June 27, 1940 in Carver, Minn. At the time of his death in 2001 at age 96, Hagg and his wife had two daughters, four grandchildren and five great-grandchildren.
ABOUT DR. SAUER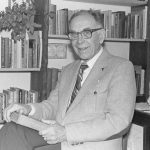 Dr. Philip R. Sauer joined the Bemidji State Teachers College faculty in 1937 as a professor of English and rose through the ranks to become division chair of languages and literature before retiring in 1975.
After agreeing to temporarily replace the school's only other foreign-languages faculty member, he enjoyed a position as the professor of German – a temporary assignment he held for 25 years.
A native of Winona, Minn., Sauer taught at Winona High School for three years before earning his doctorate and joining the BSTC faculty. He published numerous articles and books on church history and hymns, education and language, nature study and German culture.
He earned his undergraduate degree at Northwestern College, earned his master's degree at the University of Wisconsin and his doctorate from the University of Freiburg, Germany.
Sauer married Elizabeth "Betty" McLaughlin on July 1, 1936 in Winona, Minn. They lived across from the A.C. Clark Library, next door to the David Park House. The Sauer family donated the house to the university, and since 2004 the Sauer House has been home to the BSU Alumni Association.
At the time of his death in 2001, Sauer and his wife had three sons, nine grandchildren and 10 great-grandchildren.

Bemidji State University, located amid the lakes and forests of northern Minnesota, occupies a wooded campus along the shore of Lake Bemidji. Enrolling more than 5,100 students, Bemidji State offers more than 80 undergraduate majors and eight graduate degrees encompassing arts, sciences and select professional programs. BSU is a member of the Minnesota State system of colleges and universities and has a faculty and staff of more than 550. The university's Shared Fundamental Values include environmental stewardship, civic engagement and international and multicultural understanding. For more, visit bemidjistate.edu or find us at BemidjiState on most of your favorite social media networks.
---
2019-B-145