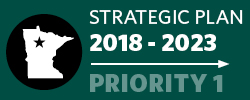 Bemidji State University students now have the unique opportunity to learn and teach in a newly renovated outdoor classroom located in the thick woods, wildflowers, trails and lakes of the university's 240-acre Hobson Memorial Forest.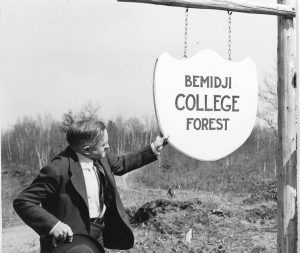 The opportunity came when BSU's Sustainability Office secured a Minnesota Department of Natural Resources School Forest Program grant to restore the university's forest with the help of the Conservation Corps of Minnesota (CCM). The school forest initiative, credited to former BSU geography professor, Dr. Claude Vivian "Mr. Conservation" Hobson, encourages educators to teach outdoors, supports efforts to expand the woodland classroom and advises on forest management.
Funded by the Environment and Natural Resources Trust Fund (ENRTF), the grant financed the time and talent of a CCM crew and was offered to only 60 school forests owned and maintained by Minnesota or Iowa-based institutions.
For three intensive days in May 2019, BSU students and staff worked with CCM crew members to rebuild the Hobson Memorial Forest's amphitheater benches and construct an enclosed whiteboard to be used as an outdoor learning environment. The wood used in the project came from white pine trees, estimated to be over 100 years old, provided by Bemidji State. The trees were taken down by the university during the summer of 2013 as part of a project to install a modern artificial playing surface at BSU's Chet Anderson Stadium.
"I had an amazing experience helping out the awesome team from CCM," Benjamin Ng, a freshman design major, said. "Although the CCM team did most of the heavy lifting, they provided great guidance to the student volunteers and were an absolute fun bunch to work with."
Jordan Lutz, sustainability project manager and 2018 BSU grad, wrote and submitted the grant proposal to the School Forest Program while enrolled in BSU's graduate environmental studies program.
"The focus of the grant was to provide funding and support for projects that would improve the forest's teaching and learning potential," Lutz said. "This is a space that faculty and students will use together."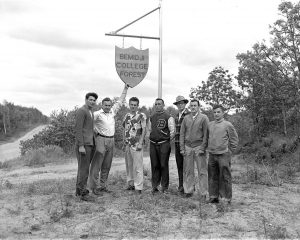 Bemidji State acquired the Hobson Memorial Forest in 1948 for academic and recreational use by students, faculty and the community. It was initially called the "Bemidji College Forest," but was promptly renamed after "Mr. Conservation" and in 1953 it was registered with the Minnesota DNR as an official school forest. In addition to serving as home to the restored amphitheater and instruction board, the forest also features two log cabins and several miles of recreational trails available for year-round use.
After constructing both the benches and the whiteboards, the crew cleared brush from the system of trails opening them to the community.
"We hope the newly functional space will lead faculty and students to make more frequent use of BSU's school forest," Lutz said.
Contact
Links
This project was funded by the Minnesota Environment and Natural Resources Trust Fund, as recommended by the Legislative-Citizen Commission on Minnesota Resources (LCCMR) to the MN DNR, to coordinate Conservation Corps Minnesota projects that improve School Forest outdoor classrooms.
---

Bemidji State University, located amid the lakes and forests of northern Minnesota, occupies a wooded campus along the shore of Lake Bemidji. Enrolling more than 5,100 students, Bemidji State offers more than 80 undergraduate majors and eight graduate degrees encompassing arts, sciences and select professional programs. BSU is a member of the Minnesota State system of colleges and universities and has a faculty and staff of more than 550. The university's Shared Fundamental Values include environmental stewardship, civic engagement and international and multicultural understanding. For more, visit bemidjistate.edu or find us at BemidjiState on most of your favorite social media networks.
2020-B-009