Bemidji State University's mission for sustainability is to promote awareness and instill passion for the Earth through our leadership in operational, academic, wellness, and community and cultural activities.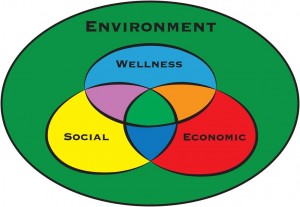 Here at BSU, we have a unique understanding of and commitment to sustainability in which we emphasize personal wellness along with social equity, economic feasibility, and environmental responsibility. Our perspective has been greatly influenced by Anishinaabe culture – we recognize we are a part of the earth and dependent on it for our survival.  Click here to learn more about BSU's wellness model for sustainability.
Quick Features
Bucky's Bikes

BSU's Bucky's Bikes program provides long-term bicycle rentals to enrolled students, staff, and faculty.

To rent a bike, email a completed Summer-2023-Rental-Agreement-Liability-Waiver to BuckysBikes@bemidjistate.edu

Bikes are available to rent for $25 per semester or $40 for the summer ($35 and $50, respectively, for faculty and staff).

Check out this interactive map of local destinations accessible by bike!

 Free Store

The store where everything is FREE!

If you're a currently enrolled student, stop by Mon-Fri from 10:00–3:00 during the school year for school supplies, kitchen items, clothing, textbooks, etc.

Have something you no longer want or need that's still in good condition?  Donate it by dropping it in the green "Donate Don't Dumpster" bin as you enter the Free Store. Located in the Sustainability Office right across from the Bookstore.

From 2009 through 2019, BSU was one of the EPA's Green Power Partners because we purchased enough wind energy annually through Otter Tail Power's Tailwinds program to cover 5% of campus electricity usage – about what the Student Union consumes.

New program requirements mean we no longer qualify as a Green Power Partner, but we are exploring how we may again achieve this distinction and continue moving BSU closer to its ultimate carbon neutrality goal by 2050.

Harvesting vegetables at the Food Shelf Farm

Do you need service learning hours for a class? Are you interested in volunteering in our community?

Here are contacts for some great service learning opportunities.