Bemidji State University's mission for sustainability is to promote awareness and instill passion for the Earth through our leadership in operational, academic, wellness, and community and cultural activities.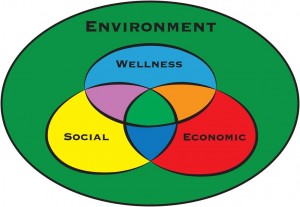 Here at BSU, we have a unique understanding of and commitment to sustainability in which we emphasize personal wellness along with social equity, economic feasibility and environmental responsibility. Our perspective has been greatly influenced by the Ojibwe culture and we work with the recognition that we are a part of the earth and are dependent on it for our survival.
Quick Features
Bucky's Bikes

BSU's Bucky's Bikes Rental Program provides long-term rentals through the Sustainability Office.  Please email BSUniceride@bemidjistate.edu to sign up or for more information

Bikes are available to rent for $40/Semester. Bring your bike back on time and get $20 back!

 Free Store

The store where everything is FREE! Stop by M-F from 10:00–3:00 during the school year! And donate gently used goods you no longer need. Located in the Sustainability Office right across from the Bookstore.

 Wind Power Purchase

BSU was named one of EPA's Green Power Partners after purchasing enough wind energy through Ottertail Power's Tailwinds program to cover the electricity usage of the Student Union.  This purchase also gets BSU closer to its carbon reduction goals by reducing our CO2 emissions

Service Learning

Do you need service learning hours for a class? Are you interested in volunteering in our community?  Here are some contacts for some great service learning opportunities.