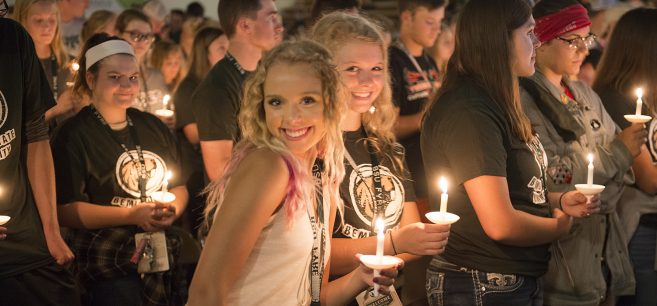 Bemidji State University's Class of 2023 will experience their first taste of college during Bemidji State's Orientation weekend, Aug. 23-25.
Orientation weekend welcomes all students who are new to the university, including first-time college students and transfer students from other institutions.
FRIDAY, AUG. 23
The first day of events begins with the BSU residence halls' annual Move-In Day and will continue with a number of activities for new students and their families throughout the day. BSU's traditional Convocation ceremony will take place in the afternoon at 3:30 p.m.
Residence hall move-in and orientation check-in will take place between 9 a.m. and 2 p.m.
Other scheduled activities for this day include:
9–11 a.m.—Student Center for Health and Counseling Open House:Students can get to know their on-campus health and counseling staff and learn about their options. Location: Cedar Hall.
1 p.m. — Parent Send-off: Location: Walnut Hall Upper Deck.
1–2 p.m. — Academic Open House:Students are invited to enjoy refreshments while visiting with the faculty members who will be guiding the student's academic careers. Location: Crying Wolf Room, Hobson Memorial Union.
2:30 p.m. — Official Welcome to BSU and 101st Class Group Photo:Location: Chet Anderson Stadium.
3:30 – 4:30 p.m. — Convocation:This annual induction ceremony officially marks the beginning of a student's academic journey as a member of the BSU community. Students will also receive a gift from the university. Location: Physical Education Complex.
6–7 p.m. — Welcome Picnic:Location: Walnut Lawn.
7:30 p.m. — Off-Campus Student Social:Off-campus students will have the opportunity to meet their peers. Location: Hobson Memorial Union, Terrace Lounge.
9 p.m. — Welcome Dance:A new orientation tradition, students can throw on their favorite floral shirt and a lei for a Hawaiian-themed dance. Location: Hobson Memorial Union.
SATURDAY, AUG. 24
The second day of orientation includes Beaver Family Time with students meeting in the courtyard between the Gillett Wellness Center and Tamarack Hall. Lunch at Walnut Hall will follow.
After lunch, students will attend "Take Back College," a presentation by motivational speaker Ryan Penneau who will explore the often difficult transition from high school to college. He will also discuss the challenges that come from moving away from home, choosing a major, making new friends, adjusting to new-found freedom and more. Penneau's message to students is to embrace their personal responsibility for their own education and commitment to lifelong learning.
Penneau's presentation will take place in Bangsberg Fine Arts Complex room 200 at 2 p.m. and again at 3:30 p.m.
Students will also be able to participate in CampusQuest, an interactive scavenger hunt around campus where students will learn about student service locations while completing fun challenges for a chance to win prizes.
Lastly, BSU's Campus Activities Board will offer interactive gaming, inflatables, crafts, carnival treats and more at a larger-than-life "CAB Presents" welcome event starting at 8 p.m. in the Gillett Wellness Center. At the event, students will also have the opportunity to participate in the United Way of Bemidji Area's Backpack Buddies service project which providesnon-perishable and easy-to-prepare food to students in the Bemidji school district.
SUNDAY, AUG. 25
New students will gather at BSU's Hobson Memorial Forest ropes course from 9 a.m. to 7 p.m. Students will be divided into groups and depart at various times throughout the day. Transportation will be provided from the John Glas Fieldhouse to the forest.
Other scheduled activities for this day include:
10 a.m. & 2 p.m. — Walking Tours: Orientation leaders will show students the ins and outs of navigating campus. Location: Bucky's Guide Service Booths.
11 a.m. — Transfer Student Orientation: This session will be an opportunity to discuss the unique needs of transfer students and meet BSU staff who can help make a successful academic transfer to Bemidji State. Location: Bridgeman Hall 100.
1–5 p.m. — Sunday in the Park:Students can experience a fall day on the lake and around Bemidji with free rentals from the Outdoor Program Center. Location: Diamond Point Park.
8 p.m. Campfires & S'mores. Location: Residence Halls.
A complete schedule of Orientation and Welcome Week activities is available here.
Contact
Links

Bemidji State University, located amid the lakes and forests of northern Minnesota, occupies a wooded campus along the shore of Lake Bemidji. Enrolling more than 5,100 students, Bemidji State offers more than 80 undergraduate majors and eight graduate degrees encompassing arts, sciences and select professional programs. BSU is a member of the Minnesota State system of colleges and universities and has a faculty and staff of more than 550. The university's Shared Fundamental Values include environmental stewardship, civic engagement and international and multicultural understanding. For more, visit bemidjistate.edu or find us at BemidjiState on most of your favorite social media networks.
---
2020-B-023