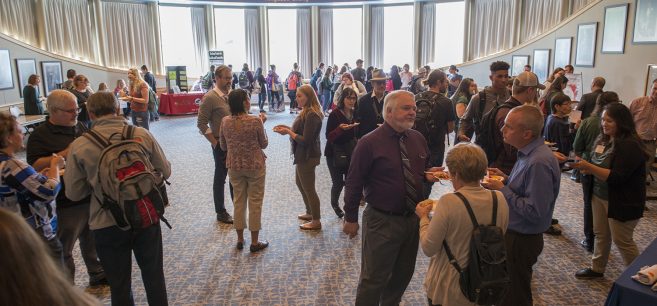 Bemidji State University's American Indian Resource Center (AIRC) is planning a variety of events to welcome students to campus August 22-30.
These events will give students a number of ways to connect with AIRC staff, faculty and other students as they settle in at BSU. Students will also be able to learn about the types of resources that the AIRC has to offer.
All events will be held at the AIRC.
Schedule of events
Aug. 22, 7 – 9 p.m.— Move in Parfait & Preparation
Aug. 23, 9 a.m. – 2 p.m.— American Indian Student Orientation
Aug. 24 & 25, 8 a.m. – 4:30 p.m.— American Indian Resource Center Open Hours
Aug. 26, 11 a.m. – 2 p.m.— When College Gives You Lemons: Lemonade!
Aug. 27, 11 a.m. – 2 p.m.— Chips & Chill
Aug. 28, 11 a.m. – 3 p.m. — AIRC Day of Welcome, featuring a retention fair and drum feast.
Aug. 29, 11 a.m. – 1 p.m.— Lunch with AIRC Staff
Aug. 30, 10 a.m. – 1 p.m. – AIRC Picnic & Check-in
The AIRC strives to ensure that students have the tools they need to be successful in school, while also learning and connecting with their American Indian peers, heritage, culture and language.
"I am looking forward to helping students really find their niche this year, whether it be academically, finding the right student organization or even picking the right major," Ann Humphrey, assistant director of the AIRC, said. "We know that there will be bumps in the road but we are here to help students really find their way and their place here at BSU."
About the American Indian Resource Center
Since opening in 2003, the American Indian Resource Center has offered academic programming for American Indian reservations and American Indian organizations throughout Minnesota. Because Bemidji State University is located between the three largest American Indian reservations in the State of Minnesota (Leech Lake is 15 miles south, Red Lake is 30 miles north, and White Earth is 50 miles west of Bemidji), we have access to a large number of fluent speakers, spiritual leaders, educators, and cultural offerings that are all within a reasonable distance to the university. The AIRC is also home to the first Indian Studies program in Minnesota and the first collegiate Ojibwe language program in the world.
BSU has awarded undergraduate and graduate degrees to more than 800 American Indian students. At any given time, BSU has more than 150 American Indian students who are majoring in a variety of fields including teacher education, business, environmental science, Indian studies, criminal justice, accounting, and social work. BSU is home to American Indian students from throughout Minnesota and its neighboring states, as well as from New York, North Carolina, Pennsylvania, Idaho, and Canada.
Contact
Links

Bemidji State University, located amid the lakes and forests of northern Minnesota, occupies a wooded campus along the shore of Lake Bemidji. Enrolling more than 5,100 students, Bemidji State offers more than 80 undergraduate majors and eight graduate degrees encompassing arts, sciences and select professional programs. BSU is a member of the Minnesota State system of colleges and universities and has a faculty and staff of more than 550. The university's Shared Fundamental Values include environmental stewardship, civic engagement and international and multicultural understanding. For more, visit bemidjistate.edu or find us at BemidjiState on most of your favorite social media networks.
---
2020-B-027