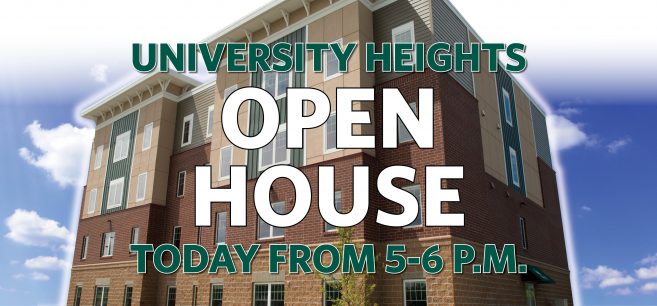 Explore the comfort, convenience and privacy of on-campus living at University Heights, Bemidji State University's newest residential building!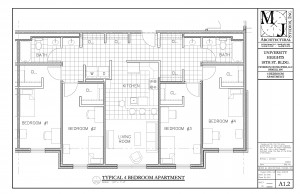 A typical floorplan for a four-bedroom apartment at University Heights.
Refreshments will be served and by attending the open house you could win a $50 gift card to the BSU Bookstore!
As a University Heights resident, you will enjoy comfort, convenience and privacy. Each fully furnished, air conditioned apartment includes a kitchen; private, locking bedrooms; 2 full bathrooms with additional vanities so each tenant has his or her own space; a walk-in closet; and a wide range of amenities at no additional cost — including all utilities, a dishwasher and garbage disposal, washers and dryers in each unit, WiFi and digital cable.
Most of all, living in University Heights means success. Every year, students living on campus are proven to get higher grades, complete more credits, and stay in school longer than students who live off campus.
Join the University Heights community and enjoy all of the benefits of on-campus living in the luxuries of your own apartment.
If you or someone you know is interested in exploring University Heights, please join us for this opportunity to explore all the building has to offer!
Learn more about University Heights on our website, then complete a housing application today!