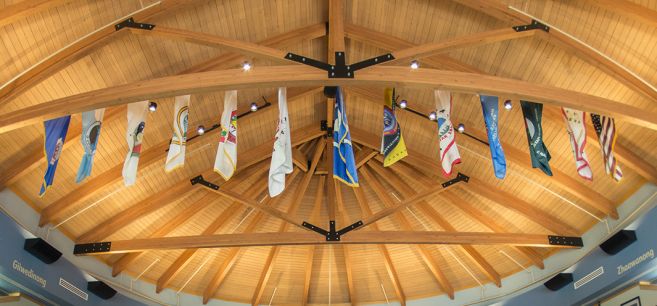 American Indian culture, history and traditions have deep roots at Bemidji State University. Throughout the month of November, BSU faculty, staff and students will continue to honor Indigenous peoples and perspectives during Native American Heritage Month.
Bemidji is named for an Ojibwe word meaning the "lake that traverses another body of water." Located between Minnesota's three largest tribal nations – Leech Lake, Red Lake and White Earth – Bemidji State works to acknowledge the original inhabitants of the land where campus now stands.
Throughout the year, the university's American Indian Resource Center offers support and programming for its American Indian and Indigenous students.
"As we appreciate the month of November as Native American Heritage Month, these types of events and stories should not be limited to only the 30 days in November given our location and the demographics we serve here at BSU," Chrissy Koch, executive director of the AIRC, said. "We must remain cognizant the other 11 months also."
The month-long observance creates opportunities to increase awareness and knowledge of the challenges Native people have faced both historically and in the present. This year, the AIRC will host a virtual speaker series every Tuesday throughout November.
"It is important to be educated on Native issues from sources that are Native," Ann Humphrey, assistant director of the American Indian Resource Center, said.
Over the years, Bemidji State has met a number of milestones in efforts to elevate services for American Indian and indigenous students. In the 1960s, ongoing discussions about an academic program that would better serve the region's American Indian population led to the nation's first collegiate Ojibwe language program and an Indian studies program, later named Indigenous studies.
In 1970, an Indian Studies Center, also known as the Anishinabe* Family Center, opened near campus and became a gathering place for students and a home to programs such as the Indian Community Action Project, serving tribes in four states. That same year, American Indian students formed the Amerind Club, later renamed the Council of Indian Students, and organized BSU's first American Indian Education and Awareness Week. The council held its first on-campus powwow in 1972.
The American Indian Resource Center replaced the Indian Studies Center in 2003, which continues to serve as a central hub for Indigenous students and continuously advocates for American Indian student success.
In May 2017, BSU President Faith C. Hensrud worked with presidents of four Minnesota tribal colleges to sign agreements offering dual college-university enrollment to qualifying students. At the time of the signing, no other public four-year university had dual-enrollment agreements with any of the nation's 40 tribal colleges.
"Bemidji State University is making strides in becoming a destination university for American Indian students. A key component in achieving that is acknowledging, honoring and embracing the original stewards of this land," Koch said. "Celebrating Native American Heritage Month is only a small piece of the puzzle, yet it is a start and we still have a long journey ahead of us."
Note — The spelling of the center's name differed from the current accepted spelling of Anishinaabe.
Schedule of Events:
11 a.m. Nov. 3 – Rez Roads to PHD with Micah Prairiechicken, replay.
12 p.m. Nov. 10 – Ojibwemodaa! Student Perspective, Zoom.
11 a.m. Nov. 17 – Family D1 Dynamics with Grace White, Zoom.
12 p.m. Nov. 10 – SUPAMAN, Zoom.
Contact:
Links:
2021-B-062