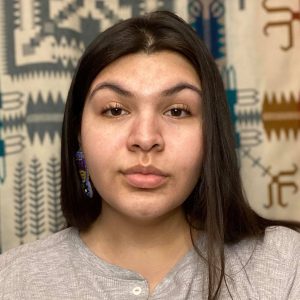 Bemidji State University senior Deilyah 'Asin' Dexter, from Onamia, Minn., has always been an advocate for Indigenous youth. Now, as one of 32 cabinet members for the Young Women's Initiative of Minnesota, she is helping shape a statewide environment where everyone can thrive.
The initiative engages young women in high-level conversations on equity, diversity and inclusion through a multimillion-dollar partnership between the Office of Gov. Tim Walz and Lt. Gov. Peggy Flanagan and the Women's Foundation. Selected through an application process, cabinet members are charged with finding solutions to disparities experienced by engaging those most impacted including young women of color, American Indian young women, LGBTQ+ youth and young women with disabilities.
"I love working with my community and Native youth, especially," she said. "I want to push for reform in education knowing I'm equipped with the right experience and skills to do so. I am honored to be a part of this and excited to work alongside so many people I admire."
Appointed in January 2021, Dexter was motivated to apply for the position by the tragedies and injustices experienced by Indigenous people across Minnesota. As a first-generation college student majoring in Indigenous studies with a minor in Ojibwe, she wants to create lasting change in her home state.
An enrolled member of the Mille Lacs Band of Ojibwe, Dexter moved to Onamia from Minneapolis at seven years old and attended a school with a predominantly white population. This experience shaped her view of the education system, her desire to change it and her willingness to get involved in state-wide advocacy and policy.
"I experienced a lot of racial tension, micro-aggressions and blatant racist behavior in school growing up," Dexter said. "My mom encouraged me to go to Bemidji State and now I want to work with Native youth in education. I want to work within my reservation and encourage Native youth to do better and entertain higher goals. I want them to have all of the resources necessary to be better and succeed."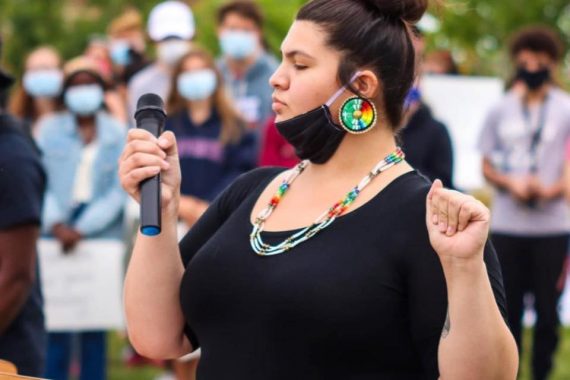 Dexter didn't expect to go to college as she struggled to complete her high school diploma. Now in her third year at the Bemidji State, she says the connections she made at the university's American Indian Resource Center were significant in her success and led her to the Young Women's Initiative.
"It's nice to have Native staff on campus because they can relate to you and you don't have to explain your life story to connect with them," Dexter said. "Non-Natives don't fully understand our experiences, so having people who can advocate for you and act as allies makes all the difference."
Dexter and her cabinet peers will participate in leadership development opportunities, be trained as policy advocates and direct grant-funding to nonprofits and individuals for equity advancement. She will also meet regularly with a council of more than 40 organizations throughout Minnesota to identify and provide solutions for community-specific challenges.
"I am proud to serve as an inspiration to younger kids from my reservation who see that I didn't do extremely well in high school but have been able to get into college and pursue opportunities like this," Dexter said.
On track to graduate in May 2022, Dexter also serves as the president of the Council of Indian Students and coordinates a weekly Ojibwe language table for her peers and community.
About the Women's Foundation of Minnesota
Founded in 1983, the Women's Foundation of Minnesota invests in innovative community-based, community-led solutions to ensure equal opportunities and pathways to economic security for girls, women and families across Minnesota. It is the first statewide women's foundation in the nation and remains the only grantmaking organization in Minnesota dedicated exclusively to growing equity for women and girls.
Contact
Links
2021-B-136