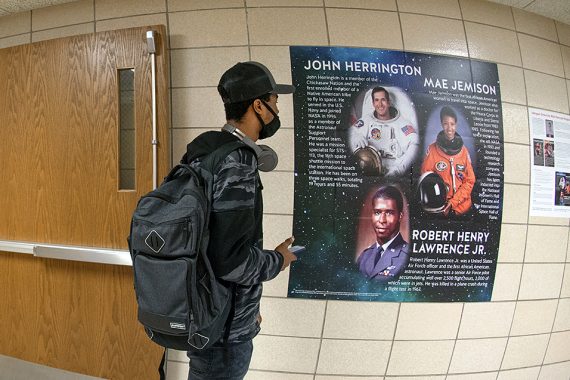 Installation of a student-led design project to expand the representation of scientists depicted on the walls of Bemidji State University's Sattgast Hall has begun.
For many decades, the hallways of Sattgast Hall – home to BSU's science programs – have been lined with a collection of monochromatic, sketched portraits of scientists throughout history. The drawings represented a selection of the pioneers in the world of science, but they lacked modern representation and the field's diverse contributors.
Now, after a faculty-driven and student-led diversification project, 17 new vinyl posters will line the walls of Sattgast Hall representing scientists from a variety of backgrounds and specializations.
"This project brings in a diverse and much more representative group of scientists who will be showcased within the spaces of Sattgast Hall, our science building, and who symbolize the diversity we hope to see amongst our students, faculty and staff," Bemidji State President Faith C. Hensrud said.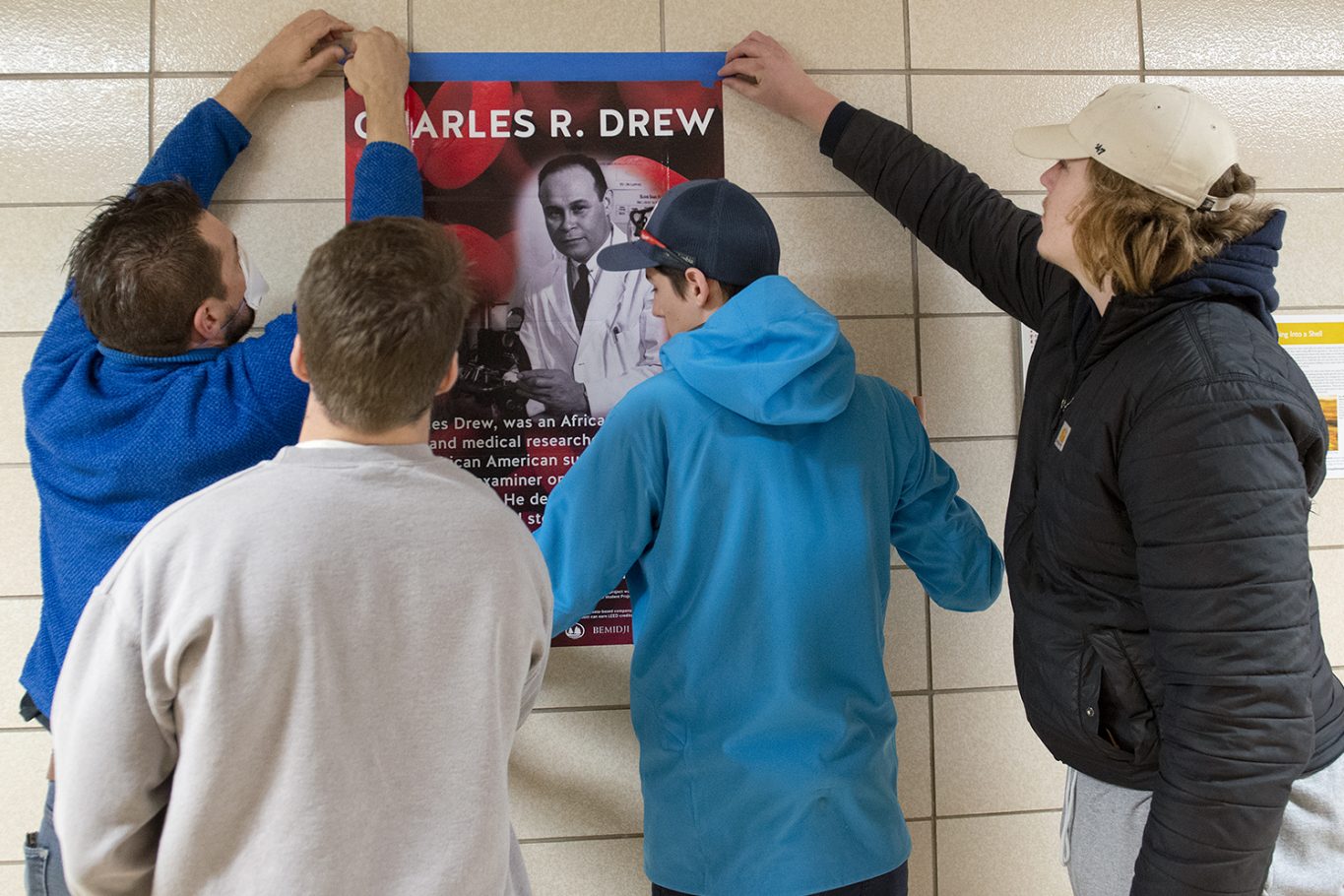 Dr. Cornelia Santos, a former assistant professor of environmental and Indigenous studies at Bemidji State, first thought to update the portraits, and her idea quickly turned into an interdisciplinary endeavor involving the university's School of Technology, Art and Design and Niizhoo-gwayakochigewin sustainability program — named for an Ojibwe phrase that means "two ways of doing the right thing in the right way."
With the goal to identify scientists that reflect Bemidji State's campus community, faculty from the Center for Sustainability Studies also became involved. Erika Bailey-Johnson, BSU's sustainability coordinator and Niizhoo-gwayakochigewin director, said it is important to celebrate the accomplishments of people who look like the students and faculty members on campus.
"We aren't necessarily erasing history by taking these portraits down, but by replacing these images we are hoping to show a history with which all our students can identify," she said.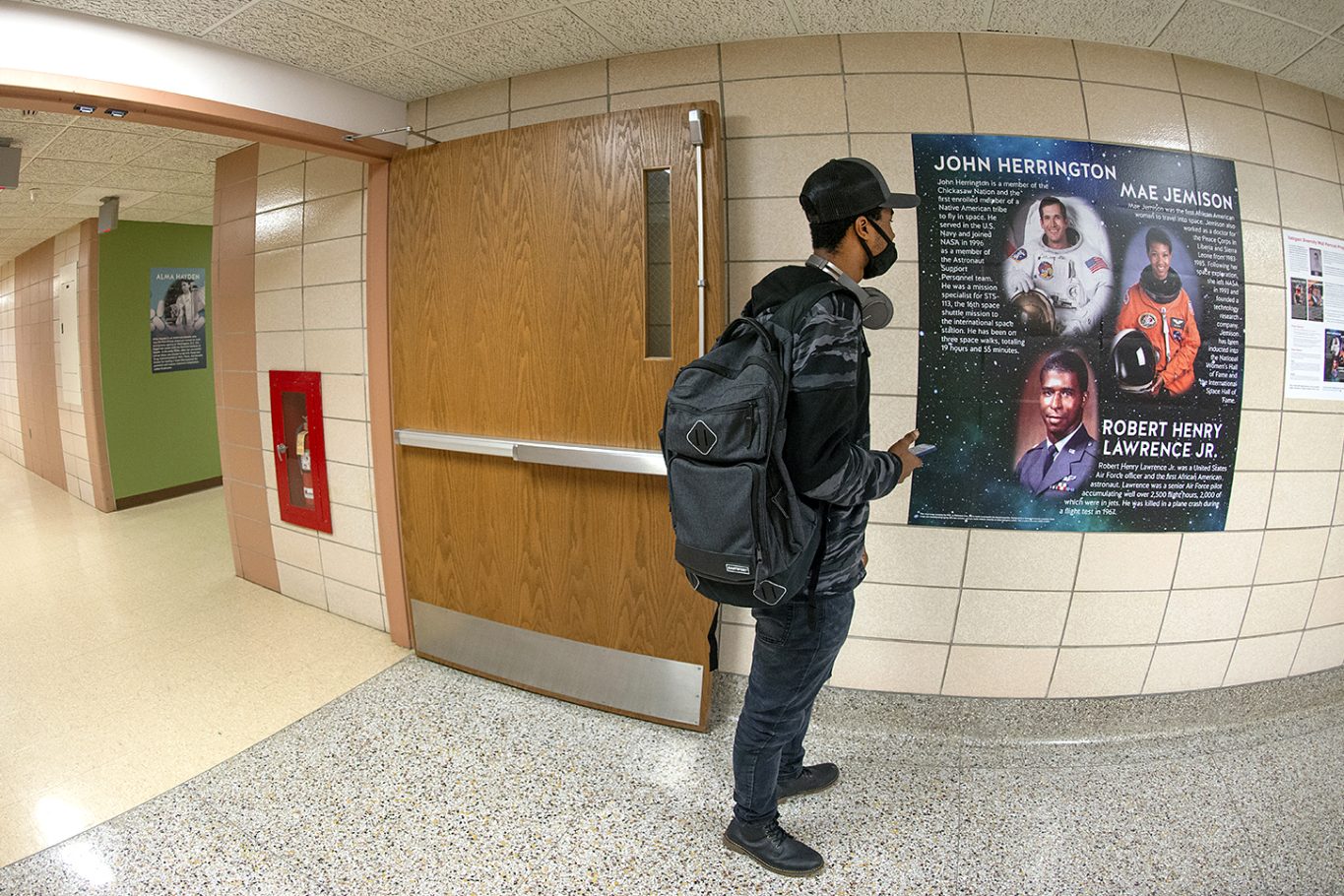 The project began in fall 2020 when the Niizhoo-gwayakochigewin program hired Katelyn Riniker '21, environmental studies graduate from Henning, Minnesota, to research scientists of all ethnicities, gender identities, sexual orientations and abilities to be featured in the the hallways. Once a list was established, Rinkiker started working with the lead project manager Cecilia Clusiau '21, a project management graduate from Nashwauk, Minnesota, and lead design student Madison Reynolds '21, a design graduate from Bemidji, on the project's next steps.
"I enjoyed having the opportunity to lead a project through collaboration with my classmates and faculty," Clusiau said. "It was an eye-opening experience for me and I realized how important this project would be to students at BSU."
Vice President of Academic Affairs and Provost Allen Bedford said inclusive representation is instrumental in student and academic success.
"Helping people build and realize their dreams is among the most important work we do as educators. The portraits and stories about scientists, now gracing the walls in Sattgast Hall, help more of our students see themselves in these roles," Bedford said. "Students seeing their backgrounds represented among the role models presented here helps students visualize possibilities for themselves that they may not have previously imagined. When I see these new images and stories on the walls I feel uplifted and encouraged about the dreams being built and realized among our students today."
The first installation of new portraits began at the close of the spring 2021 semester and will extend to the end of spring 2022 semester. The Bemidji community is welcome to visit campus to view the Sattgast Hall portraits during regular operating hours between 8 a.m. and 4:30 p.m.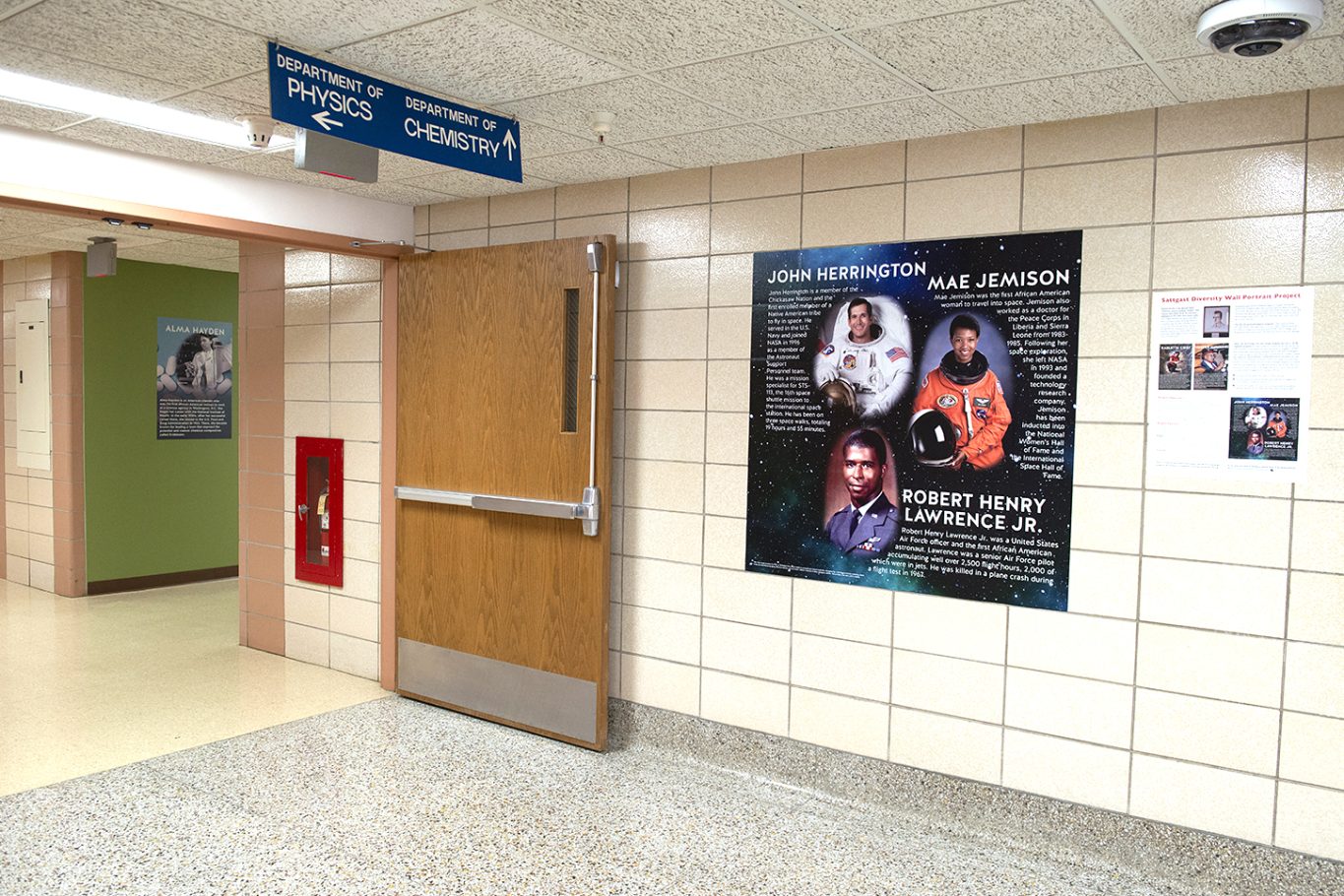 The New Sattgast Hall Scientist Posters Include
Gregory Cajete, author and professor, University of New Mexico in Albuquerque.
Karletta Chief, environmental scientist and professor, University of Arizona in Tuscan.
Charles R. Drew, surgeon and medical researcher
Phil Duran, professor of math, physics, and science, University of Texas-El Paso.
Mohan Dutta, professor and head of the Department of Communications and New Media at the National University of Singapore in Queenstown.
Walter Lincoln Hawkins, chemist and engineer, Bell Laboratories.
Alma Hayden, chemist, U.S. Food and Drug Administration.
John Herrington, astronaut, NASA.
Mary Jackson, mathematician and aerospace engineer, National Advisory Committee for Aeronautics.
Nancy B. Jackson, chemist, American Chemical Society.
Mae Jemison, astronaut, NASA.
Katherine Johnson, mathematician, NASA.
Henrietta Lacks, mother of the first immortalized human cell line.
Robert Henry Lawrence Jr., astronaut, NASA; United States Air Force officer.
Barack Obama, political scientist, 44th President of the United States.
Condoleezza Rice, political scientist, former United States Secretary of State and National Security Adviser
Chantelle Richmond, geographer and professor, Western University in London, Ontario, Canada.
Mary Romero, sociologist, Arizona State University.
Chandralekha Singh, physicist, Discipline Based Science Education Research Center.
Deondre Smiles, geographer and professor, University of Victoria in British Columbia, Canada.
Alan Turing, computer scientist and father of artificial intelligence, Royal Society of London, England.
Dorothy Vaughan, mathematician, National Advisory Committee for Aeronautics and NASA.
Student Contributors
Bryce Busching, graphic design senior from Cohasset, Minnesota.
Cecilia Clusiau '21, a project manager graduate from Nashwauk, Minnesota.
Michael Doppler, a project management senior from Plymouth, Minnesota.
James Egeland, project management senior from East Grand Forks, Minnesota.
Breck Henderson, project management junior from Owatonna, Minnesota.
Lee Kalkbrenner, an engineering technology senior from Bemidji.
Isaiah Nolte, a wildlife management senior with a minor in project management from Zumbrata, Minnesota.
Samuel Pinkerton, project management senior from Bemidji.
Madison Reynolds '21, a design graduate from Bemidji.
Jack Ryan, project management senior from Shakopee, Minnesota.
Contact:
Link:
2022-B-039