Two Bemidji State University students have been awarded Don and Ione DeKrey Memorial Scholarships for the upcoming school year.
Four students performed pieces to compete for the Don and Ione DeKrey Memorial Scholarship on April 2 in BSU's Bangsberg Fine Arts Complex.
This year's winners were Traci Schanke, a music senior from Turtle River, Minnesota, and Blake Staines, a liberal education and psychology senior from Bemidji, Minnesota.
Schanke, a soprano, sang "Va Godendo" from "Serse." She was accompanied on piano by Dan Will, adjunct instructor in music. Staines, a bass, performed "Des Tages laute Stimmen schwigen." Eric Gustafson, adjunct instructor in music, accompanied him on piano.
"You are going up against your good friends for the scholarship, so one could imagine how challenging that is, but we all support and advocate for each other as peers and colleagues so it was a positive experience," Staines said. "That supportive atmosphere is because the faculty have established that mentality throughout the vocal department."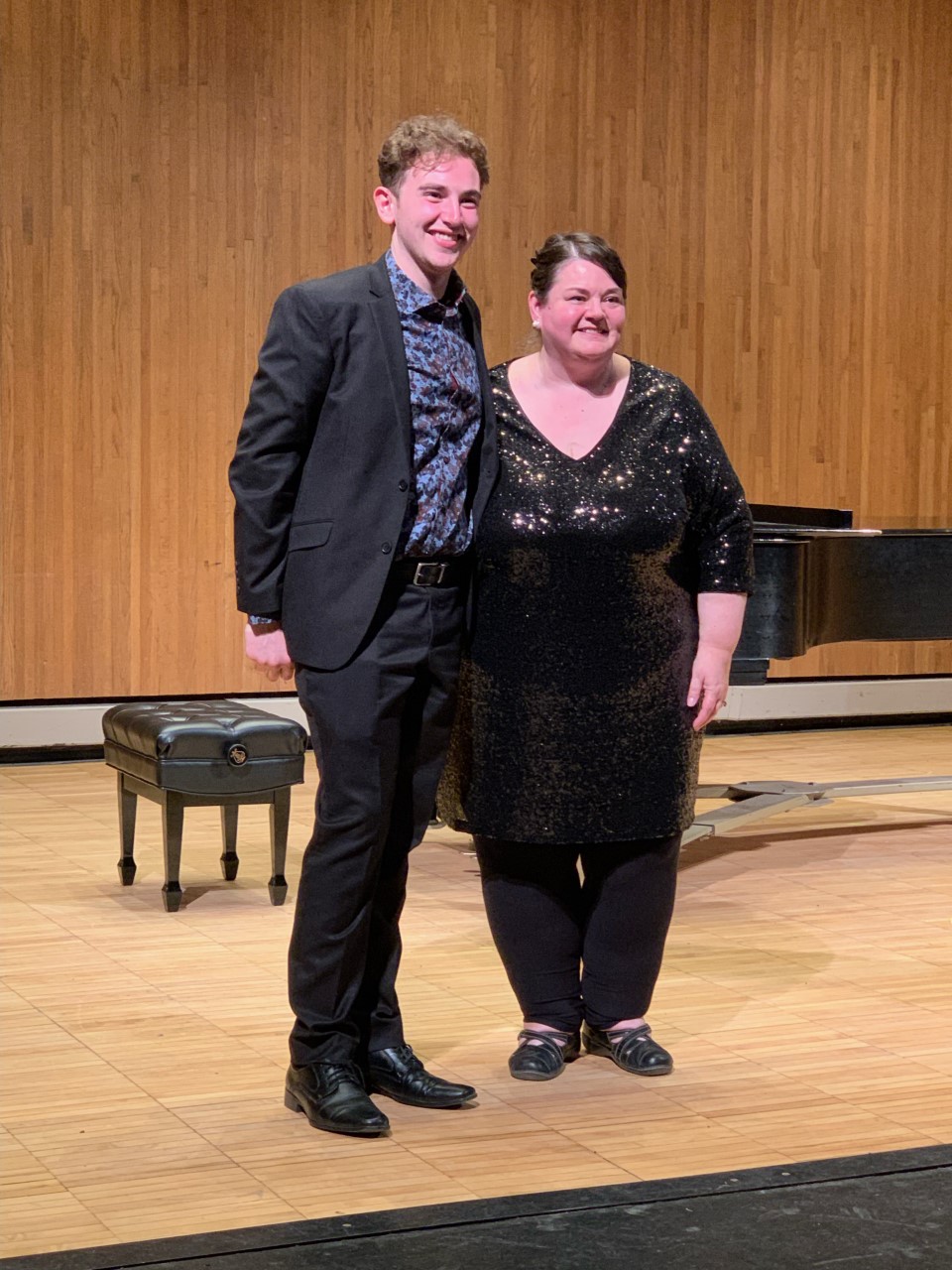 Schanke said she was honored and excited to have been awarded a DeKrey Vocal Scholarship for the 2022-23 school year
"As an older, non-traditional student who first began my music studies at BSU in 1981, it seems very fitting, as Ione DeKrey completed her own music degree as an older, non-traditional student as well," Schanke said.
Schanke began classes as a music education major at BSU in the early 80's, but after three years wasn't sure if that was the right path for her. When her brother asked her to sing at his wedding in 1996, Schanke found a vocal coach and fell back into her passion, singing in choirs and small opera companies.
Curious about what it would take to complete her degree at Bemidji State, Schanke reached out to Dr. Eric Olson.
"Olson told me my timing was perfect as they were conducting scholarship auditions that week," Schanke said. "He assured me I was still eligible even as an older student."
Schanke resumed her degree journey in the fall of 2021 after receiving a partial tuition scholarship from the music department.
"The music faculty is superb and truly want every student to succeed. They care about how their students are doing in all aspects of their lives, not just their studies," Schanke said. "This care and concern has been mirrored by my fellow students. I have never felt more supported in an academic setting."
Staines felt similar sentiments towards his fellow students and faculty.
"The mentorship and guidance I have received from the faculty has truly been life changing," he said. "Faculty have been true role models. Dr. Dwight Jilek, associate professor of music and director of choral activities, has formed a community and culture of inclusivity, acceptance and family within the choir so that everyone feels welcome, no matter what your musical background is."
Contact:
Link:
2022-B-115