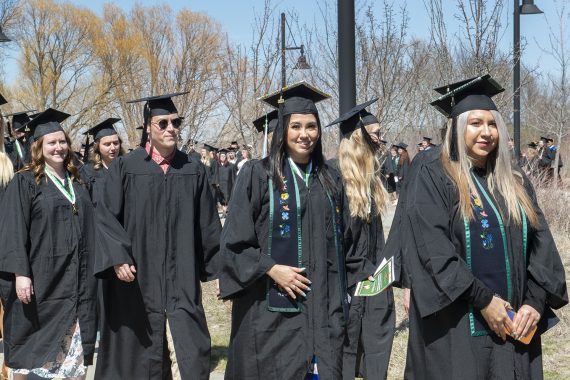 Nearly 1,000 Bemidji State University graduates have been invited to celebrate their accomplishments at Bemidji State's 103rd commencement ceremony on May 5, 2023.
The university will hold three graduation ceremonies at Bemidji's Sanford Center — one for each of the university's colleges.
268 graduates from the College of Arts, Education and Humanities will be celebrated beginning at 9 a.m., followed by a 12 p.m. ceremony for 345 College of Business, Mathematics and Science graduates. The final ceremony of the day will recognize 401 College of Individual and Community Health graduates and begin at 3 p.m.
Each ceremony will last about an hour and will be live-streamed on Facebook, YouTube and Vimeo with ASL services available.
Members of the media are invited to attend.
Commencement Speakers
Bemidji State's class of 2023 will hear from a number of speakers including university President Dr. John L. Hoffman and Dr. Allen Bedford, provost and vice president of academic affairs. BSU's Commencement address will be delivered by the 39th Distinguished Minnesotan award recipient, who is to be announced at a later date.
Each ceremony will also feature a student speaker:
Caleb Travis, social studies education graduate from Pine River; College of Arts, Education and Humanities.
Peyton Barber, marketing communication graduate from Madison, Wisconsin; College of Business, Mathematics and Science.
Tiffany Anderson, social work graduate from Bemidji; College of Individual and Community Health.
Vocal music performance graduate Emily Hixon from Bemidji will perform the national anthem for all three ceremonies.
Tickets & Parking
Commencement ceremonies at Bemidji State are free and open to the public. No tickets are required, but students are asked to limit guests to 10 or less. If the Sanford Center reaches capacity, guests will be directed to an overflow location offsite where the live stream can be viewed.
There are approximately 1,000 parking spots at the Sanford Center available at no charge.
Seating & Accommodations
Doors to the Sanford Center will be open one hour prior to each ceremony. Commencement guests should enter the Sanford Center at Gate 2, through the main concourse. Guests who are hearing-impaired or need accommodations are invited to enter through Gate 3.
Online Streaming
Commencement will again be available through a live online video stream. The stream will be available at the start of each ceremony, Central time; viewers are encouraged to visit the stream in advance to ensure that necessary plug-ins are present and properly functioning.
Facebook
YouTube
Vimeo – ASL services available
Tobacco-Free Campus
The Bemidji State University campus grounds will be open to the public for self-guided tours and visits throughout May 5. BSU's visitors are reminded that the campus is tobacco-free.
Calendar
May 5 – 9 a.m, 12 p.m. & 3 p.m. – Bemidji State University's 103rd commencement ceremony. Location: Sanford Center, 1111 Event Center Drive NE, Bemidji. Open to the public.
Contact
Eric Sorenson, assistant director of communications and marketing
Links