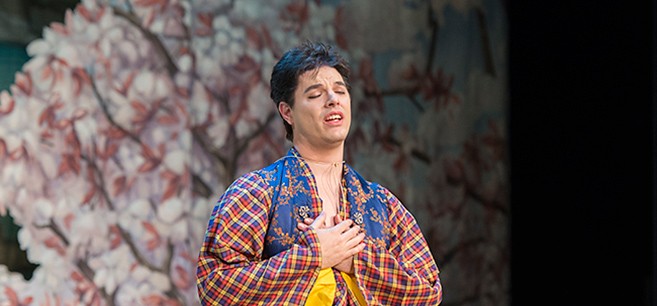 Like all musical activities at Bemidji State, the Department of Music's recent opera theatre production of "The Mikado" provided opportunities for non-music majors to play significant roles.
Cooper Blackwood is one student who has taken full advantage of those opportunities. Blackwood earned a lead role in "The Mikado" as a science major who also is student-teaching.
"Because we are a smaller school, opportunities like this are open to anyone on campus," he said. "If you're interested there's a way you can get involved. There's a welcoming group of people wanting you in a family of performers. You just have to be willing to make the time commitment."
For Blackwood, making that commitment himself hasn't come without its challenges. He is married, has young children and is currently student-teaching in Blackduck, Minn., 26 miles northeast of Bemidji.
"I drove home 30 minutes, and when my wife got home I immediately headed for rehearsal," he said.
His love for performance honed in high school theater and during time singing with the Bemidji Choir last year made keeping up with that grueling schedule worth the effort.
"I love to perform and I love singing," he said. "This has been a wonderful experience for me. It's been great to be part of a performance like this again."