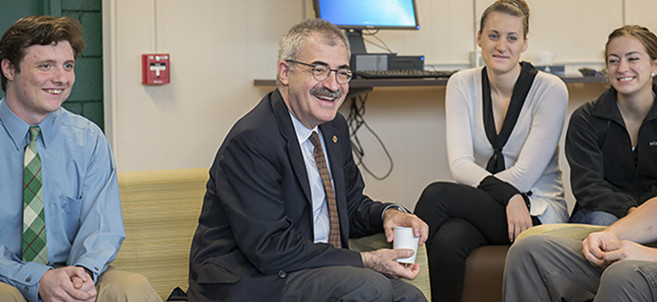 Dr. Steven Rosenstone, chancellor of the Minnesota State Colleges and Universities, will be in Bemidji on Sept. 30 for a community forum to gather input on selection of the next president of Bemidji State University and Northwest Technical College.
The 40-minute public forum will begin at 1:45 p.m. in Memorial Hall room 240 on the Bemidji State campus. Rosenstone's visit is among the Office of the Chancellor's first steps in the process to appoint a successor for Dr. Richard A. Hanson, BSU/NTC president, who in August announced his intention to retire in June 2016.
"I am committed to ensuring that BSU and NTC continue to build on their successes and are well-positioned for the future," Rosenstone said in a statement to faculty, staff and administrators at both BSU and NTC. "I plan to visit the university and college to meet with students, faculty, staff and community leaders to seek counsel on the qualities critical to the success of the new president."
The chancellor asked Dr. Connie Gores, president of Southwest Minnesota State University, to chair a search advisory committee for the position, and she will soon invite campus stakeholder groups to recommend committee members. Because BSU and NTC do not currently have a permanent chief human resources officer, Becky Lindseth, retired chief human resources officer from Northland Community and Technical College, will support the search process.
Contact
Doug Anderson, director of communications and media, Minnesota State Colleges and Universities; (651) 201-1426, doug.anderson@so.mnscu.edu
Scott Faust, director of communications and marketing, Bemidji State University & Northwest Technical College; (218) 755-2986, sfaust@bemidjistate.edu
Bemidji State University, located in northern Minnesota's lake district, occupies a wooded campus along the shore of Lake Bemidji. Enrolling nearly 5,000 students, Bemidji State offers more than 80 undergraduate majors and 11 graduate degrees encompassing arts, sciences and select professional programs. BSU is a member of the Minnesota State Colleges and Universities system and has a faculty and staff of more than 550. University signature themes include environmental stewardship, civic engagement and global and multi-cultural understanding.