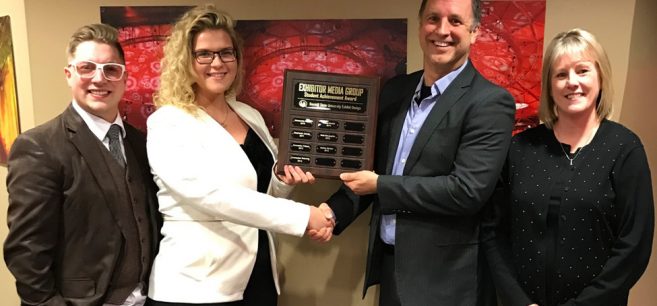 Bemidji State University senior Kristin Knudson has received the 2018 EXHIBITOR Media Group Student Achievement Award.
"I am honored to be awarded this achievement," Knudson said. "It's a group of elite students that I am happy to be a part of."
EXHIBITOR said in its announcement that the Annadale, Minn., native's engagement in her future industry, academic performance and leadership in the classroom made her an ideal candidate for the award.
Recipients are selected by faculty in BSU's School of Technology, Art & Design.
As this year's recipient, Knudson receives an All-Access Passport to the EXHIBITORLIVE 2018 trade-show and corporate event marketing conference, held Feb. 25 – Mar. 1 in Las Vegas, including a $500 scholarship to help offset travel expenses; a one-year subscription to EXHIBITOR magazine; and her name added to a plaque of previous winners displayed in Bridgeman Hall.
Knudson will graduate in May with a bachelor's degree in art and design with emphases in exhibit design and graphic design.
She already has accepted an exhibit design job with Hill and Partners, located in Weymouth, Mass. Hill and Partners work with clients to design corporate interiors and trade-show and event installations. Knudson's position begins in June.
Bemidji State University, located amid the lakes and forests of northern Minnesota, occupies a wooded campus along the shore of Lake Bemidji. Enrolling more than 5,100 students, Bemidji State offers more than 80 undergraduate majors and eight graduate degrees encompassing arts, sciences and select professional programs. BSU is a member of the Minnesota State system of colleges and universities and has a faculty and staff of more than 550. The university's Shared Fundamental Values include environmental stewardship, civic engagement and international and multicultural understanding.