Eight Bemidji State students presented at the virtual Upper Midwest Association for Campus Sustainability conference in September 2021. While focused on environmental sustainability, the conference encourages discussions on public health, social justice and equity.
Partnering with the Bemidji State Sustainability Office, students Simone Intriago and Benjamin Ng presented on the success of two of the university's community-driven projects: the campus FreeStore and Bucky's bike-share program.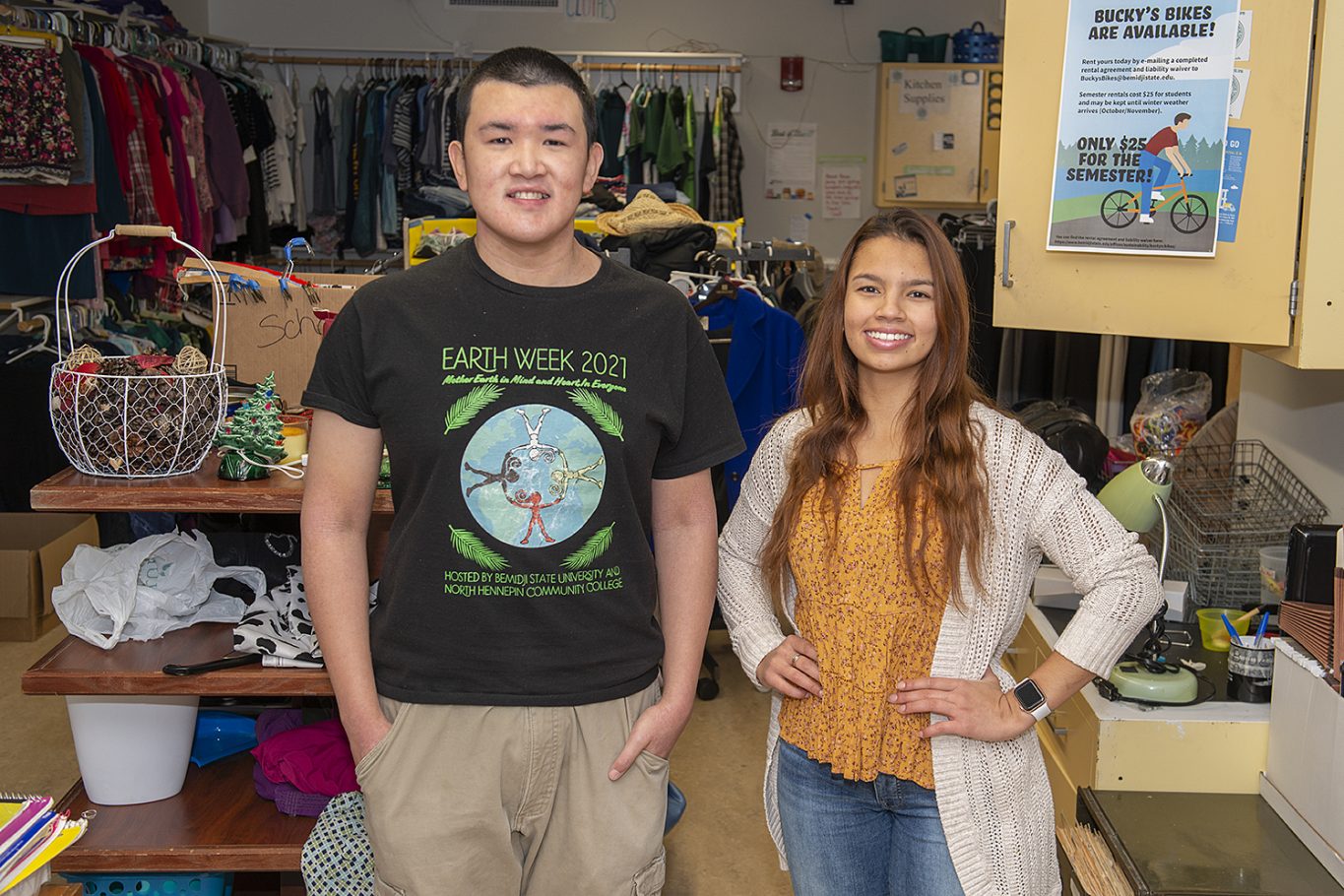 Hailing from Quito, Ecuador, senior biochemistry and molecular biology major, Intriago worked alongside Erika Bailey-Johnson, sustainability director, to present "Reducing Campus Waste: Ten Years of a Campus FreeStore." The presentation outlined Bemidji State's FreeStore, a space where students can donate and take essential items like clothing, school supplies, books and appliances.
Using their experience of managing the school store, Bailey-Johnson and Intriago highlighted the impact of the store on community sustainability. Since 2010 over 1,650 binders, 1,715 books, 3,650 kitchen items, 1,625 pairs of pants, 365 professional suits and 460 winter clothing items have moved through the FreeStore. The volume of donations has saved students the expense of buying new products and has prevented these items from ending up in a landfill.
"In my opinion, the project should be replicated in every university throughout the world," Intriago said. "By doing so we can help our environment and give our future generations the opportunity to enjoy and respect nature."
Meanwhile in "Maintaining a Campus Bike Share Program for the Long Term" Logan Berlin, a sophomore project management major from Alborn, Minnesota, and Benjamin Ng, an international exhibit design senior from Kuala Lumpur, Malaysia, presented on the benefits and costs of Bucky's Bike program, a bike share program that allows enrolled students, staff and faculty to rent bikes for travel around campus and the community.
For students, bikes are available to rent for $25 per semester or $40 for the summer. The cost is $35 and $50, respectively, for faculty and staff. As coordinators of Bucky's Bike rentals and maintenance, the Ng and Berlin illustrated the importance of Bemidji State's bike-share program for campus.
"It was a great experience to present at my first live conference and it was great to get in touch with other colleges with similar bike sharing programs where we could exchange ideas well after the conference is over," Ng said.
The students were accompanied by Dr. Anna Carlson, assistant director of environmental studies, Jordan Lutz, sustainability project manager, and Bailey-Johnson.
Additional Bemidji State presentations
Research title: "COVID or Us? Interpreting GHG Emission Reductions Amid a Pandemic While Improving Energy Efficiency"
Presenters: Alyssa Hauser, aquatic biology major from Bayfield, Wisconsin, Carlson & Lutz
Research title: "Bemidji State: Niizhoo Gwayakochigewin Program"
Presenters: Elise Sikes, creative and professional writing senior from St. Paul, Minnesota, and Bailey-Johnson
Research title: "Living Wall at Bemidji State University"
Presenter: Madeline Jurisch, environmental studies junior from Dennison, Minnesota.
Research title: "Leveraging a Green Fee for a Healthier and More Just Future"
Presenters: Hauser, Bailey-Johnson and Lutz
Research title: "Acknowledging the Inextricable Link Between Wellness and Sustainability"
Presenters: Devin Breeggemann, environmental studies senior from New Germany, Minnesota, Lutz, Bailey-Johnson
Research title: "Climate Action & Resilience Efforts Through Campus-Community Partnerships"
Presenters: Andrew Miller, Bemidji State's Minnesota GreenCorps member, Lutz and Carlson
About the Upper Midwest Association for Campus Sustainability conference
The UMACS traveling conference provides a space where students, faculty and staff across the Upper Midwest can present their sustainability research that highlights environmental or sustainability-based research happening on their campuses. It is held at a different Midwestern campus every year. In 2021, the conference was held at the University of Wisconsin–Stevens Point.
Contact
Link