On May 6, students, family members, faculty and staff came together to celebrate Bemidji State University's Class of 2022. This year, the university acknowledged graduates' commitment to their education and the campus community in three, in-person ceremonies – one for each of the university's colleges.
The ceremony to honor the graduates from the College of Arts, Education and Humanities began at 9 a.m. and was followed by the ceremony for the College of Business, Mathematics and Science graduates at noon. The College of Individual and Community Health graduates closed the day with a 3 p.m. ceremony.
Each ceremony was live-streamed on Facebook, Vimeo and YouTube.
Of BSU's 1,014 graduating students:
88 students who were eligible to receive master's degrees: six master of science in biology degrees, eight master of arts in teaching degrees, 22 master of special education degrees, two master of arts in English degrees, 40 master of business administration degrees, five master of professional accountancy degrees, two master of science in elementary and middle level mathematics education degrees, three master of science in mathematics education degrees;
999 students who were eligible to receive undergraduate degrees, including 266 graduates from BSU's College of Arts, Education & Humanities, 410 from the College of Business, Mathematics and Science and 411 from the College of Individual & Community Health;
482 undergraduates who graduated with honors: 164 Summa Cum Laude honorees, 160 Magna Cum Laude honorees and 158 Cum Laude honorees;
49 American Indian graduates;
36 military personnel or veterans; and
at 18 international students.
Following performances of the national anthem by Emily Bergeron, a vocal performance graduate from Bemidji, Minnesota, along with a virtual flag song performance by Eyabay, Provost and Vice President Dr. Allen Bedford welcomed all attendees to the events in Bemidji's Sanford Center.
Bedford began by reciting Bemidji State's land acknowledgment that recognizes the Indigenous peoples who have been dispossessed from the homelands and territories upon which an institution was built and currently occupies and operates.
---
President Faith C. Hensrud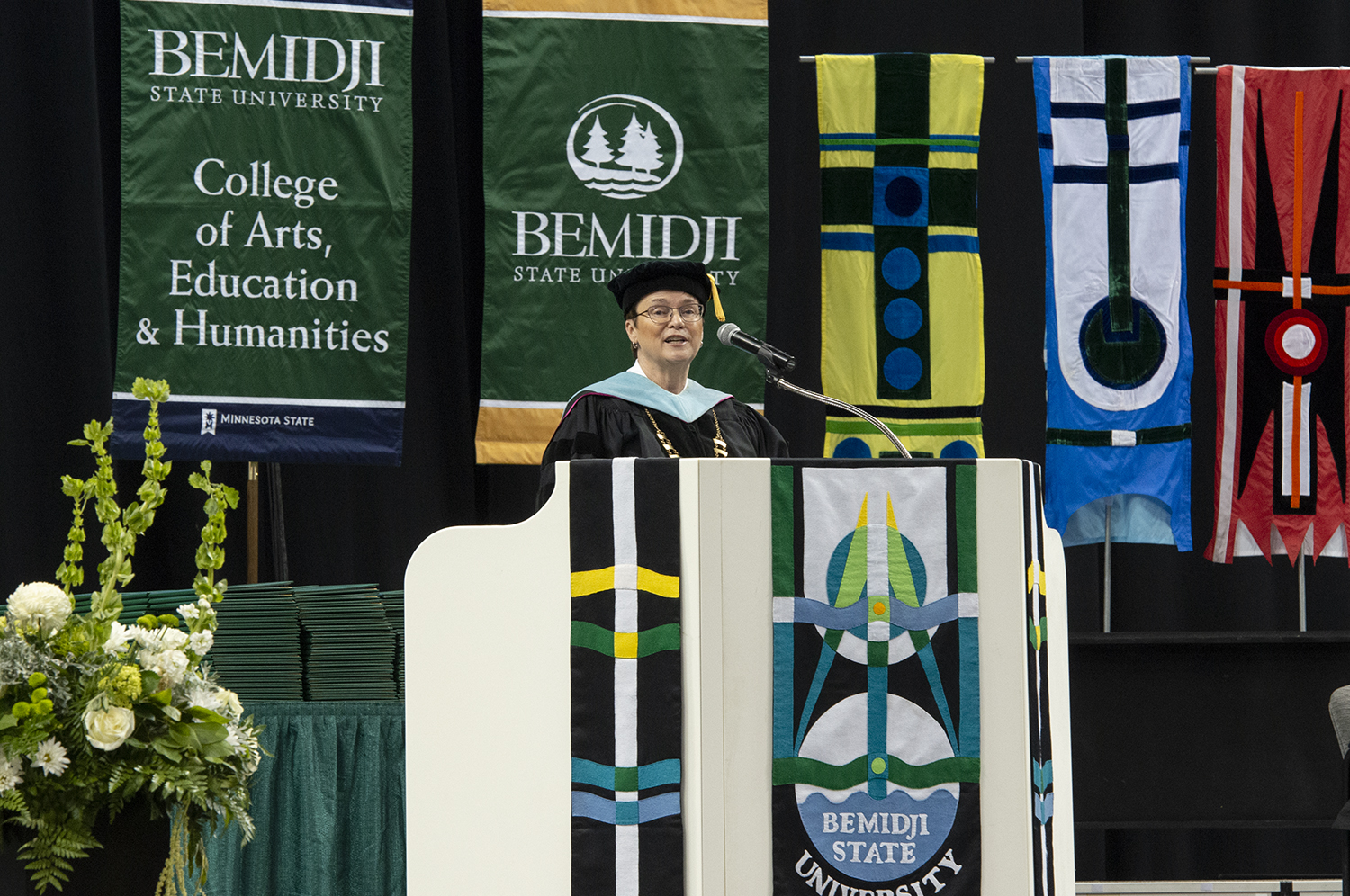 President Faith C. Hensrud congratulated the class of 2022 and commended the hard work it took to reach the end of the year.
"Today, more than ever, the world needs you. We need your talents, your ingenuity and creativity. And we also need your passion, your compassion and your strength," she said. "As you have heard so often over the past two or three years — we truly are living in unprecedented times and in these unprecedented times, the world needs you."

"Armed with the skills, knowledge and abilities you have gained during your time at Bemidji State University, I believe that each of you carry within you the ability to seize the opportunity to make a difference in your world."
Hensrud concluded her remarks by encouraging the graduates to be wise, kind and bold leaders in a changing world.
"Change starts small. It begins with each of you, and blossoms through the interactions you have with others," she said. "By using what you have learned at Bemidji State University, when you go out into the world, you can, and you will make a difference!"
---
Arne Vainio, M.D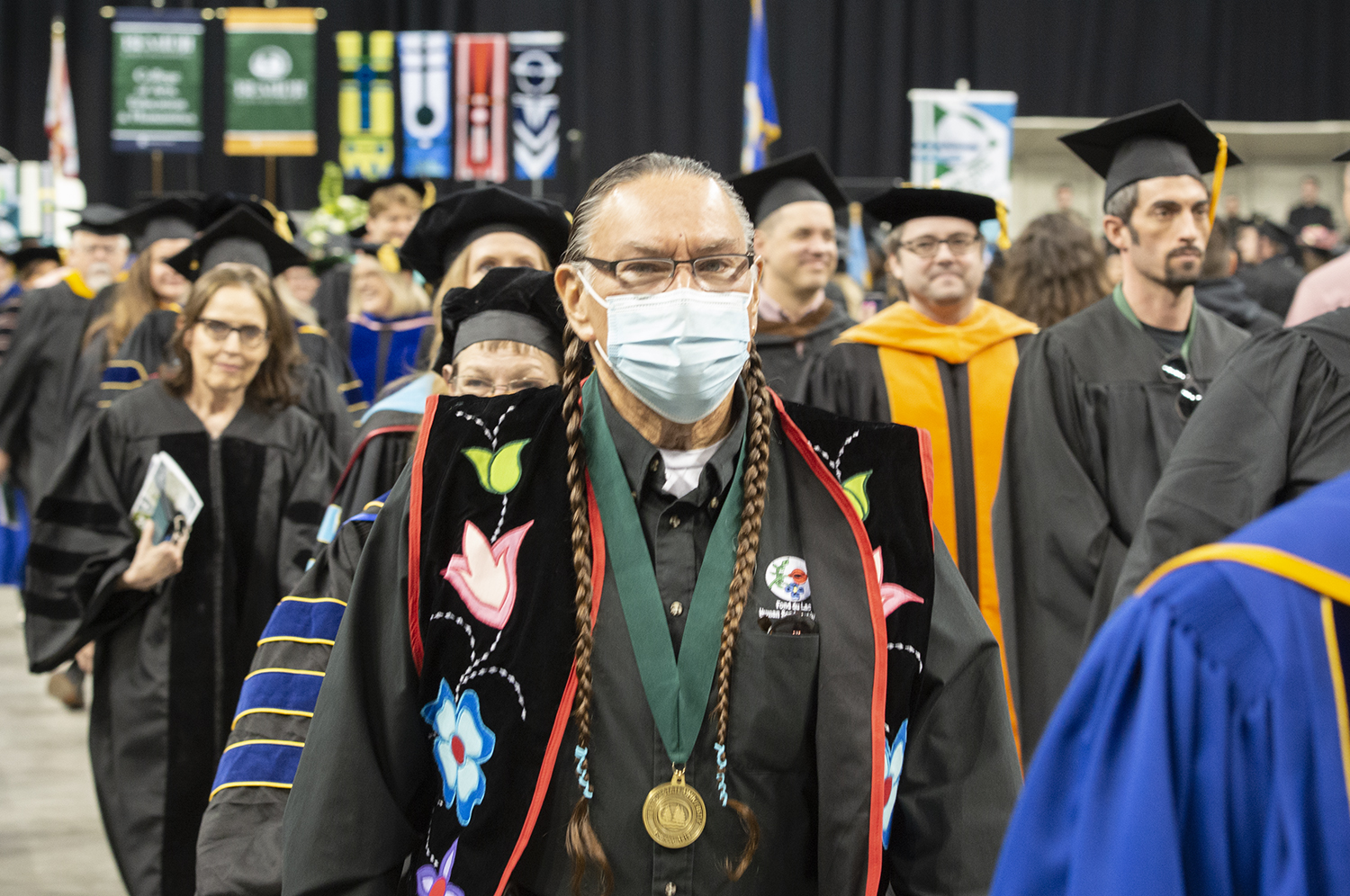 As Bemidji State's 2022 Distinguished Minnesotan, Arne Vainio, M.D., virtually addressed each class of graduates on their achievements.
A family practice physician on Minnesota's Fond du Lac Reservation, Vainio began his commencement address outlining the Seven Grandfather Teachings of Anishinaabe culture – honesty, respect, truth, courage, wisdom, humility and love.
"Living by those teachings will make your life full and in balance. And those teachings apply to all of us," he said.
After briefly outlining his own upbringing and experience attending college, Vainio congratulated the graduates for their perseverance while obtaining their academic degrees.
"You worked hard when there were easier paths available, you spent long nights studying and spent days biting your fingernails to get here. And you did this during a global pandemic," he said.
In his address, Vainio asked the graduates to remember the ancestors who paved the way for them to achieve their academic dreams.
"Ancestors you have never known struggled and sacrificed for something they could not have. Their only hope was for you to be sitting here today," he said. "There are people in the audience who support you and believe in you. Some came into your lives along the way, and others watched you from the beginning. They had great hopes for you from the moment you were born, they watched you learn to walk and to count and to read. They watched you learn to stay inside the lines when you were coloring, they watched you respond when life treated you unfairly."
Vainio also offered advice on navigating life after graduation.
"You are at a crossroad and opportunity awaits. Choose your path carefully and look to the future," he said. "Choose something you want to do and don't settle. Your decisions will matter. Nibwaakawin is wisdom – it comes from making decisions."
Vainio concluded his remarks by inviting graduates to lead their lives by the Seven Grandfather Teachings, but especially with zaagi'idiwin – love.
"In the end, love is what matters. And that's what brought your families and supporters here today. Live lives of honesty, respect, courage, wisdom, truth, humility and love," he said. "The world is a beautiful place and it's better with you in it. Make us proud."
---
Student Speakers
Through a competitive application process, three students were selected to address the graduating classes from each college.
Tristen Heller, music education graduate from Verndale, Minnesota; College of Arts, Education and Humanities.
Dana Sabers, science education graduate from Lake Park, Minnesota; College of Business, Mathematics and Science.
Shawn Crawford, sociology graduate from Eden Prairie, Minnesota; College of Individual and Community Health.
Heller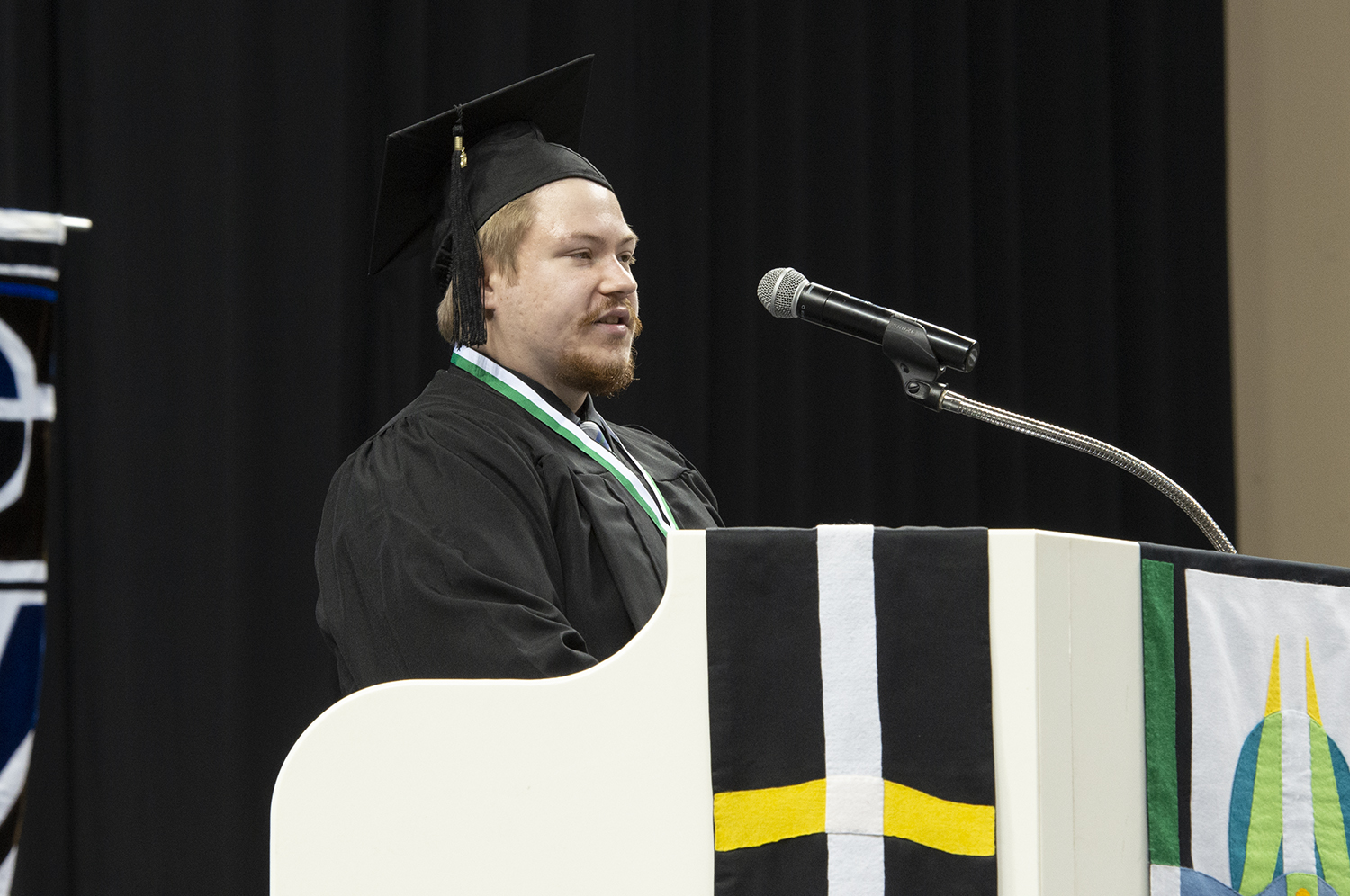 During his time at BSU, Heller has served as vice president of the university's Wind Ensemble; held the position of senior student worker in the Department of Music; student-conducted both the BSU Pep Band and Symphonic Band; and served as student manager for three other ensembles. He also was a resident housing assistant and member of the President's Student Commission.
In his speech, Heller celebrated the College of Arts, Education and Humanities and the many different paths the graduates will take in the future.
"Many of us will go on to be teachers, artists, musicians, historians, philosophers, project managers, specialized technicians and more; jobs which have never been more important in our society," he said. "Our fields embody the human experience and will continue to be important to our society well into the information and automation era. As we all take the next step of our lives, whether it be employment, graduate studies, or taking care of family, I have confidence that the graduates in this room will go on to make vital, uniquely human contributions to our world."
Sabers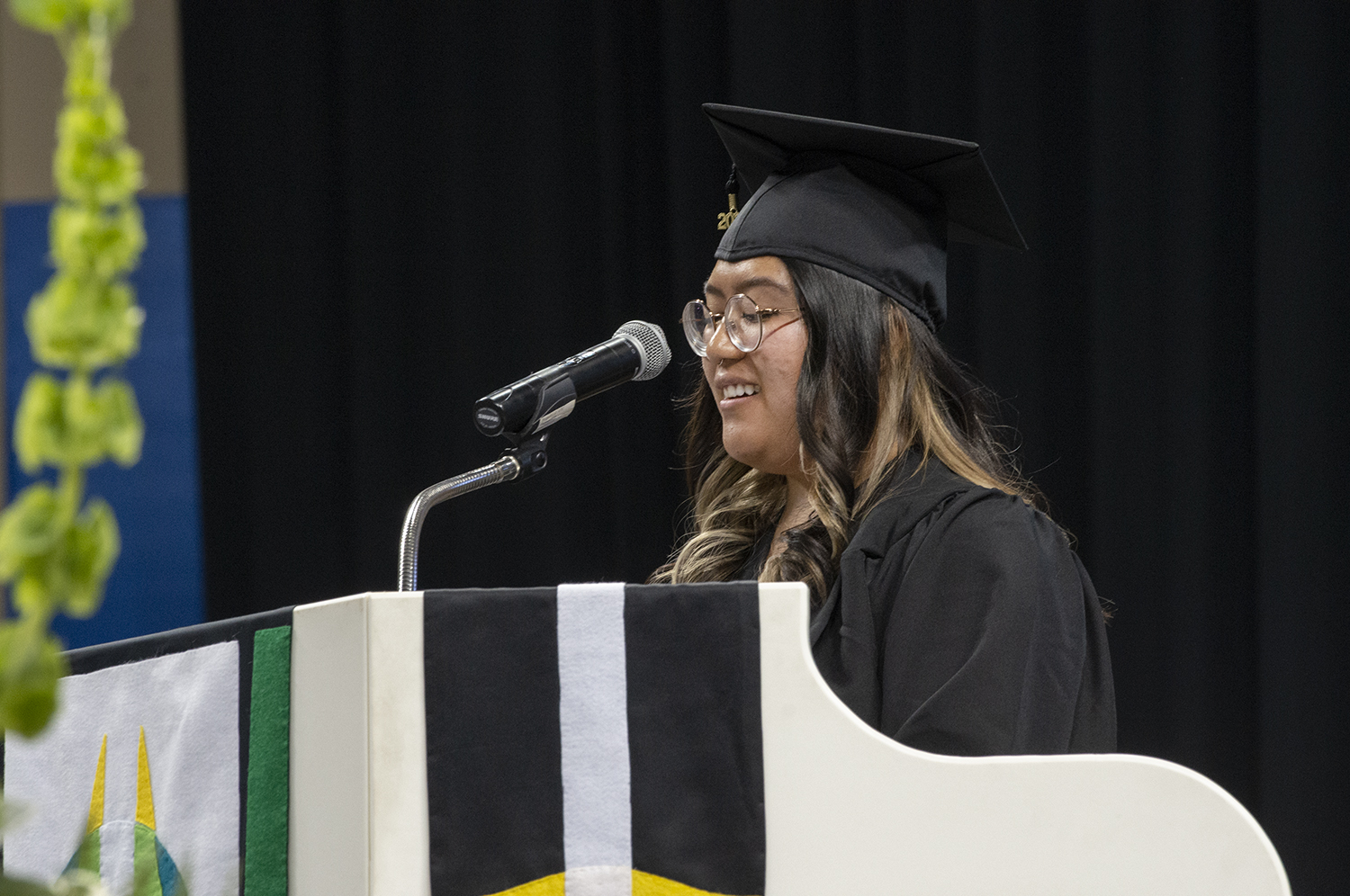 Graduating senior Sabers has worked in Bemidji State's Dean's Office and has served as a mentor for the Lakes Crisis Center in Detroit Lakes throughout her time at BSU. Her most recent academic accolades also include being named to the President's Honor Roll in Spring 2021 and the Dean's List in Fall 2021.
Sabers said that while studying to become a science teacher at BSU she has learned the importance of challenging her students in a way that allows them to think for themselves. In her commencement address, she challenged each graduate to do the same.
"Over the years, we have been given a variety of tools and strategies to help us succeed in our fields. I now challenge all of you to take your half-full toolbox everywhere you go and continue a path of acquiring and learning," she said. "It is up to us to apply our knowledge with passion and determination to do what it takes to make our dreams reality. This is not the end of our journey; this is only the beginning to everything that is to come."
Crawford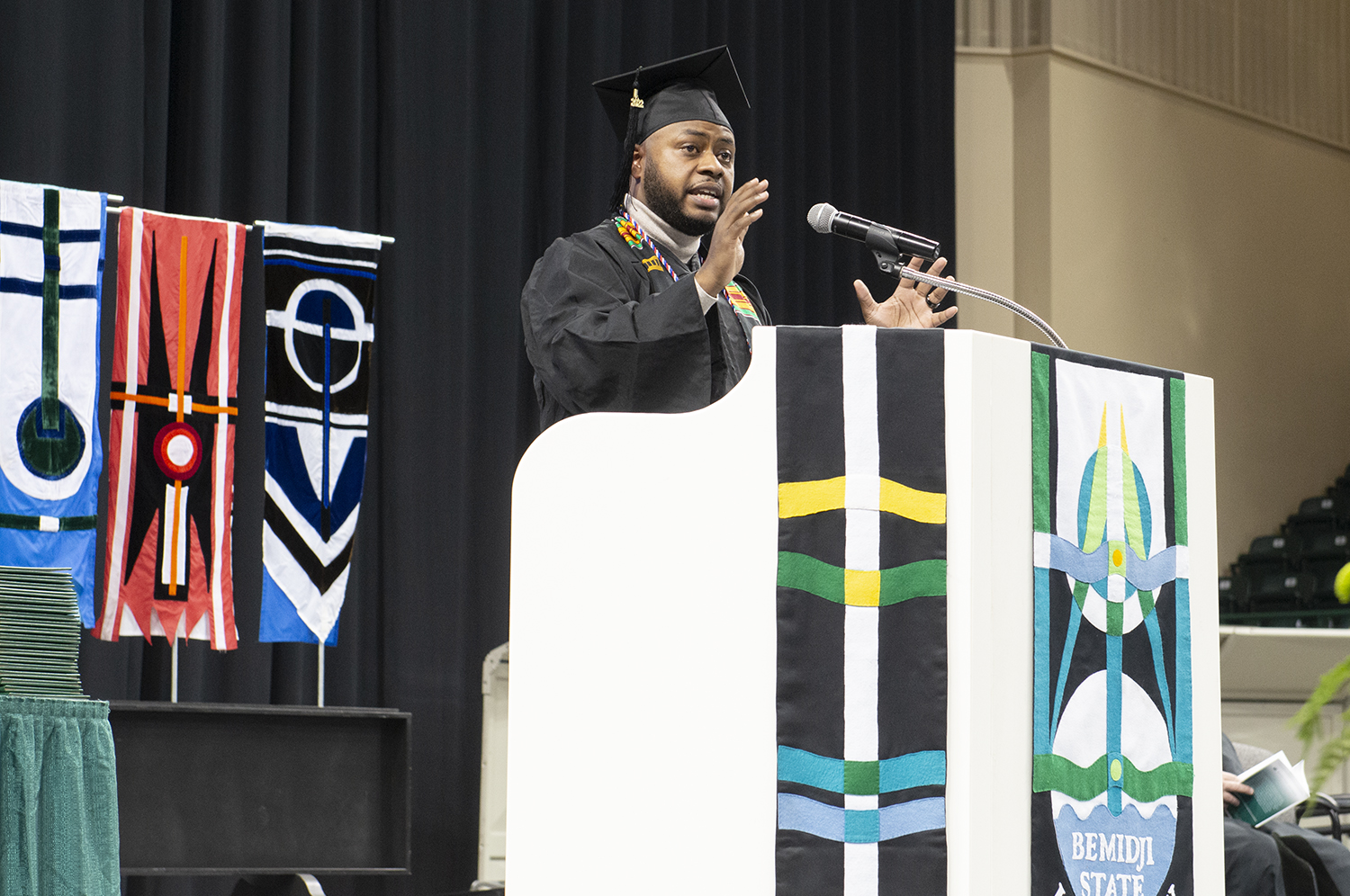 While a student at Bemidji State, Crawford has been involved with the Black Student Union and has worked with various Twin Cities organizations that are dedicated to diversity, equity and inclusion. His most recent academic accolades include being named to the President's Honor Roll in Spring 2021 and the Dean's List in Fall 2021.
Crawford first came to Bemidji State as an online student after confronting a series of obstacles in life.
"Personally, I never thought I would be here. I grew up in poverty," he said. "I'm a first-generation college graduate, and I can say I really did start from the bottom. We all did – we all had to start somewhere."
In his speech, Crawford said he hopes his story can inspire others to overcome challenges.
"Life is going to hit you, it's going to punch you. There is adversity and we are going to face challenges every single day," he said. "We have to continue to push through, to be strong. Whatever got you here today, I want you all to keep that same mindset and energy when you move forward."
---
Cum Laude Honors
The practice of recognizing outstanding academic achievement with Cum Laude honors dates to the earliest European college and university practices in the 13th century. Summa Cum Laude denotes graduates with cumulative grade point averages of 3.90 or higher, Magna Cum Laude recognizes those with GPAs between 3.70 and less than 3.90 and Cum Laude recognizes those with GPAs between 3.50 and less than 3.70.
---
Alma mater
The Commencement ceremonies were all brought to a close with a performance of Bemidji State's Alma Mater by the Bemidji Choir led by Dr. Dwight Jilek, associate professor of music and director of choral activities.
---
Additional Address
In addition to the May 6 in-person program, Bemidji State University's class of 2022 was addressed by Roger Moe, a member of the Minnesota State Colleges and Universities Board of Trustees, and Cynthia Cashman '85, president of the Bemidji State Alumni and Foundation board on behalf of the university's more than 45,000 alumni.
In his address, Moe congratulated President Hensrud for retiring as president of Bemidji State University and Northwest Technical College, effective June 30, 2022.
"We have another graduate with us today that I'd like to honor," he said. "President Faith Hensrud has led both Bemidji State University and Northwest Technical College for the past six years and has done a commendable job navigating both institutions throughout these years and in particular throughout the pandemic."
---
Bemidji State Commencement 2022 Photo Galleries
Photos from Bemidji State's three in-person commencement ceremonies held on May 6.
Some Bemidji State grads also decorated their hats for their commencement ceremonies.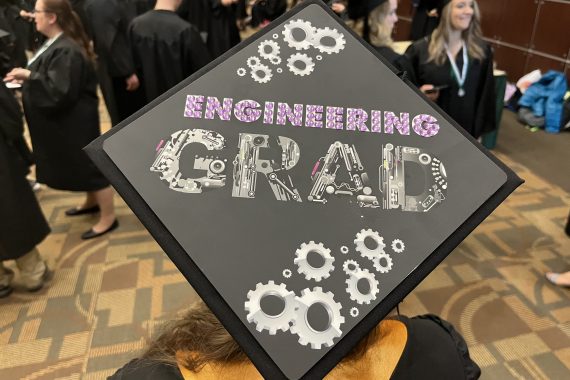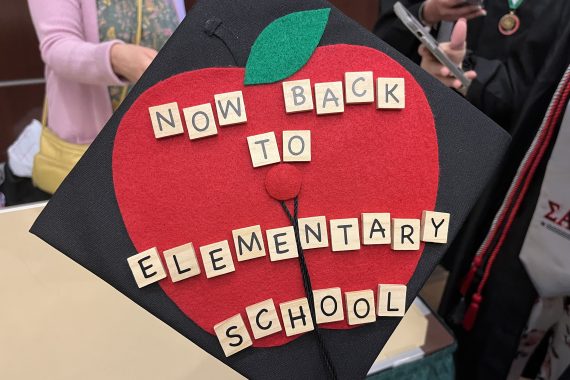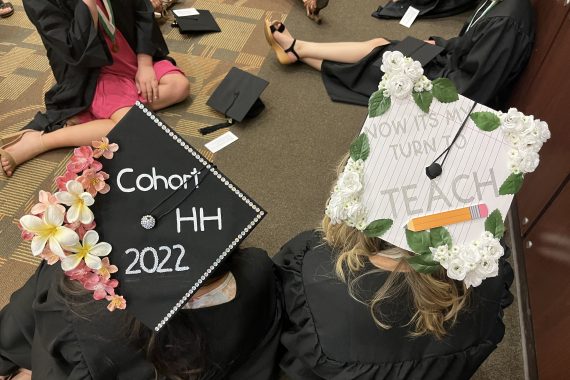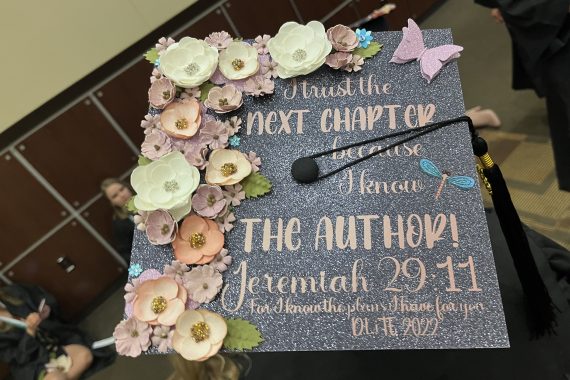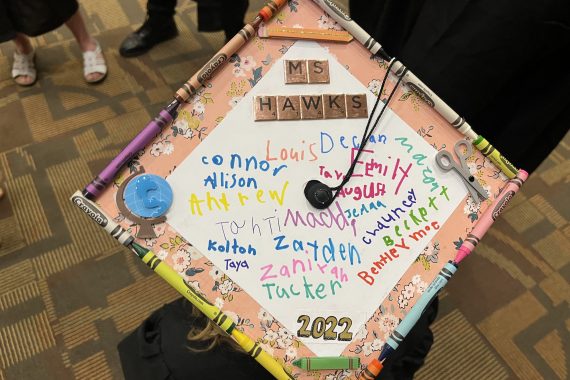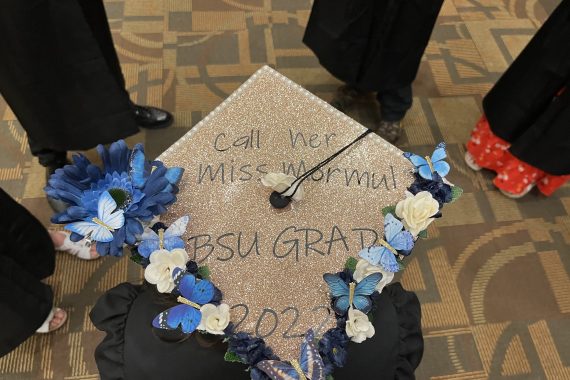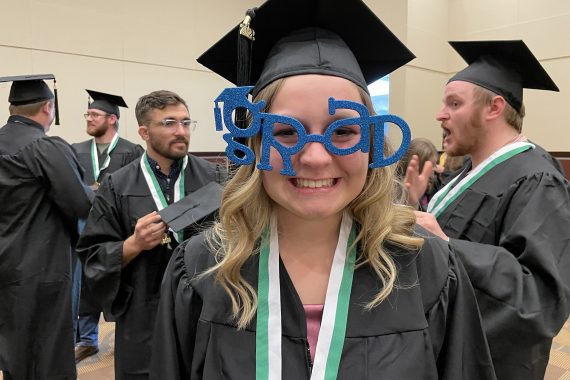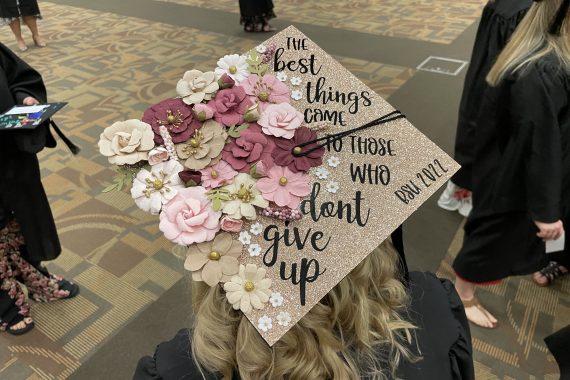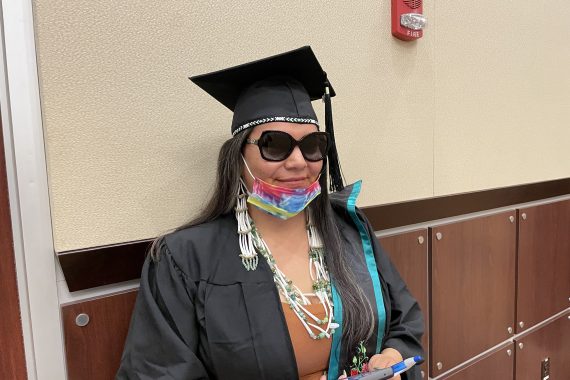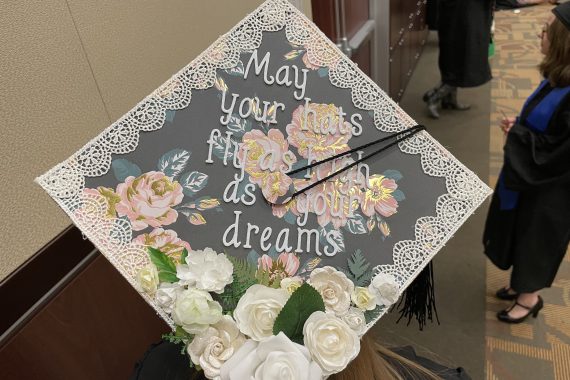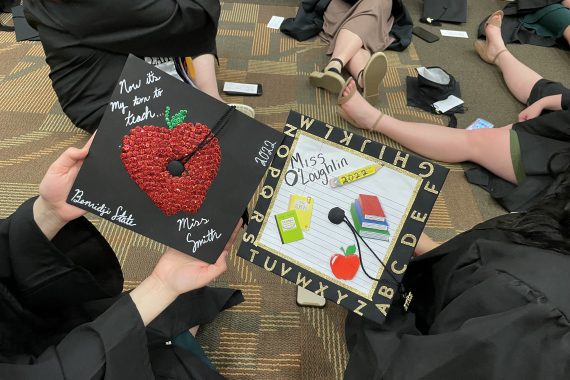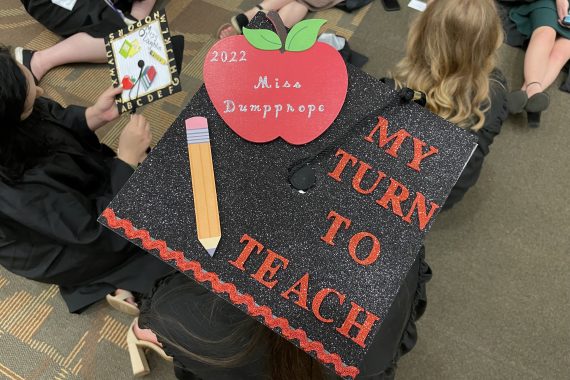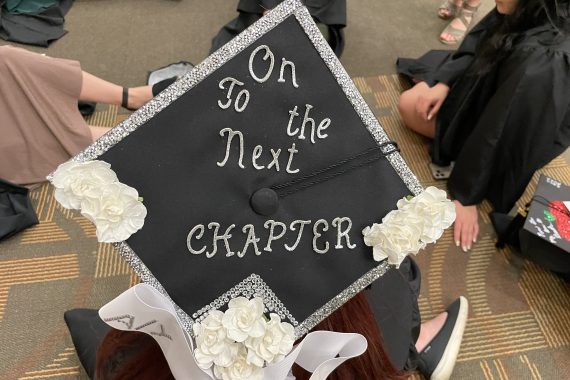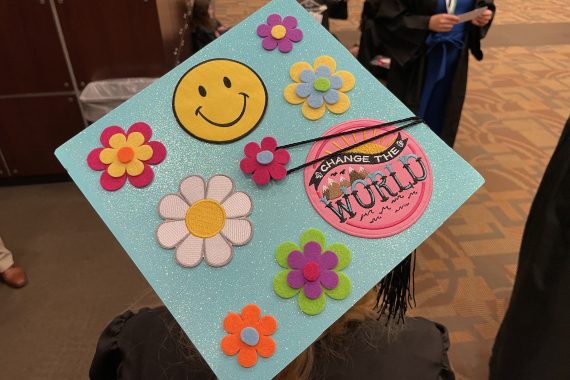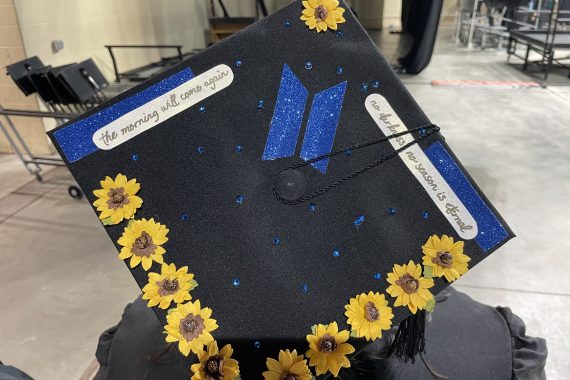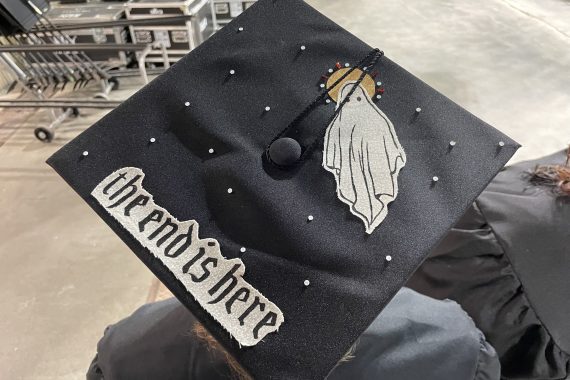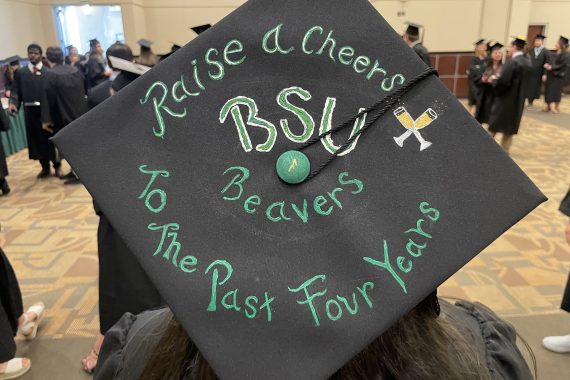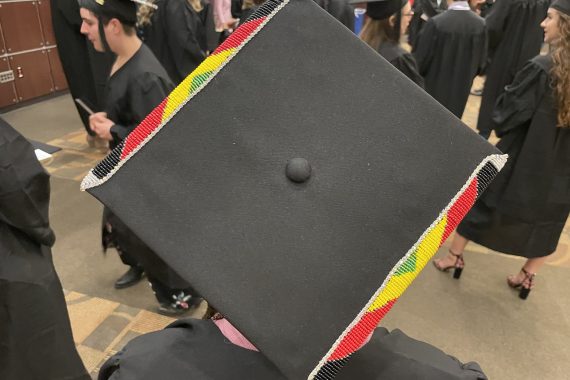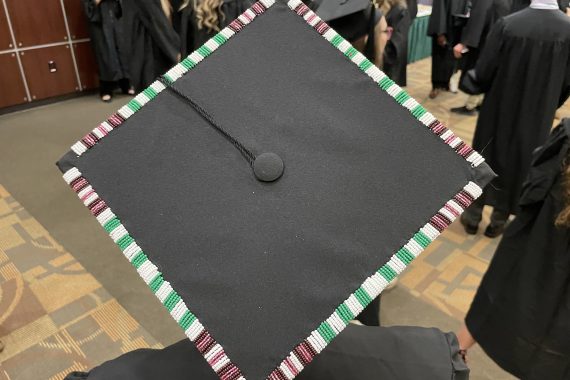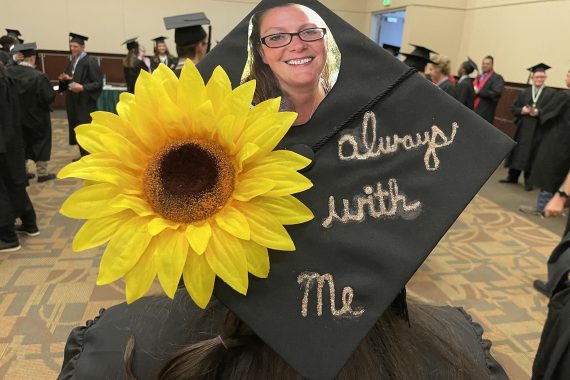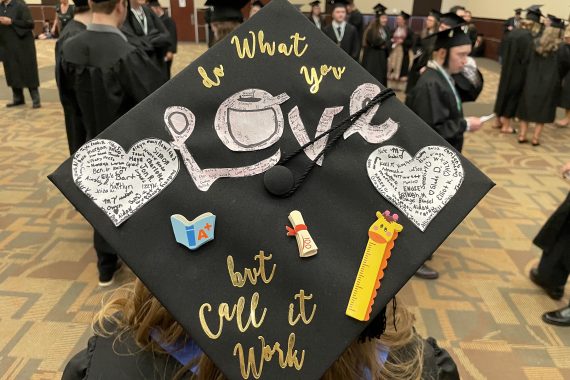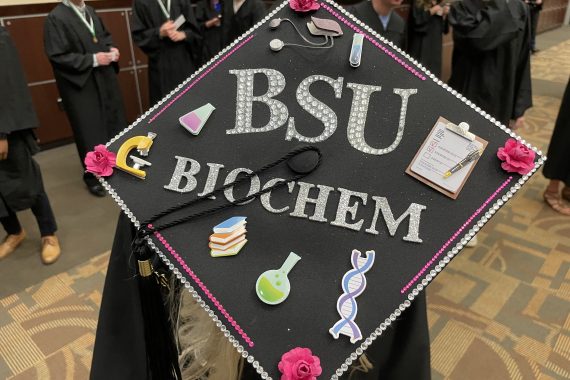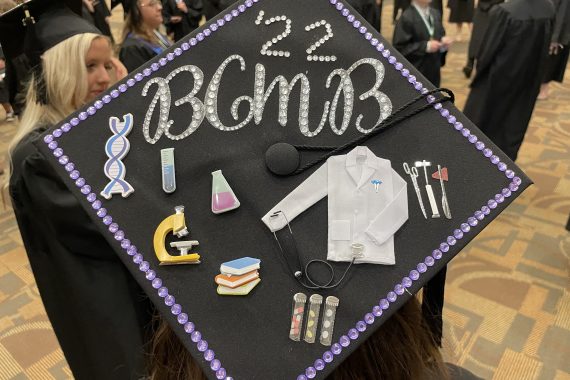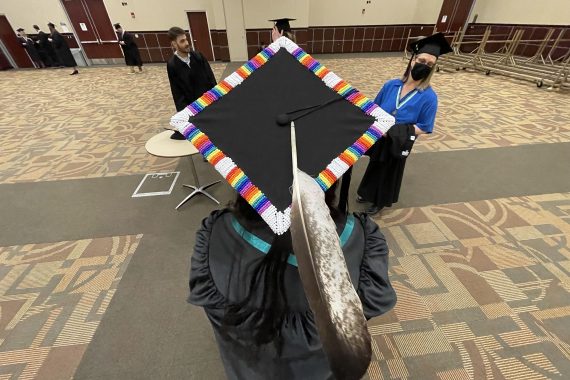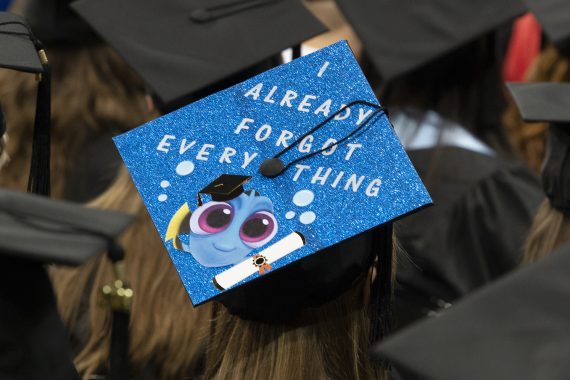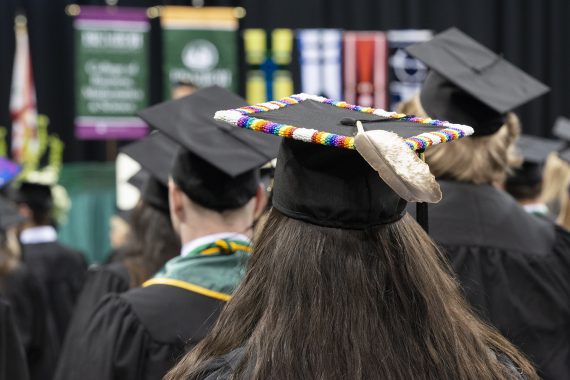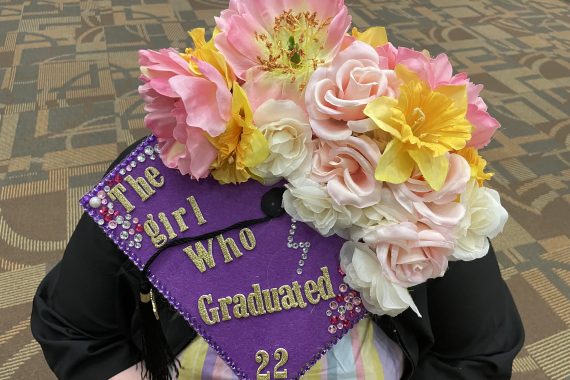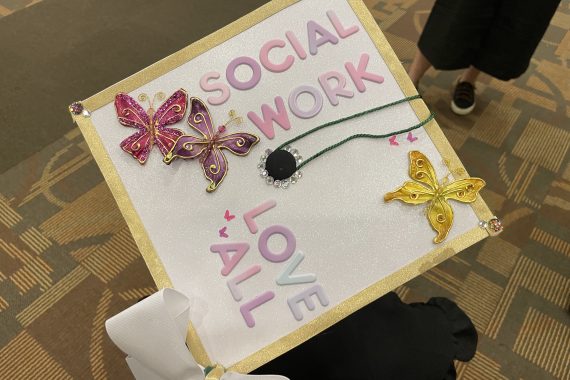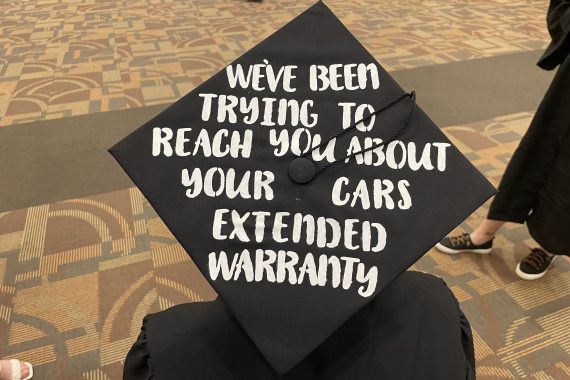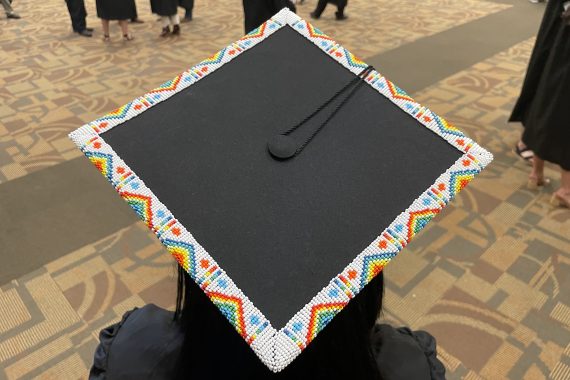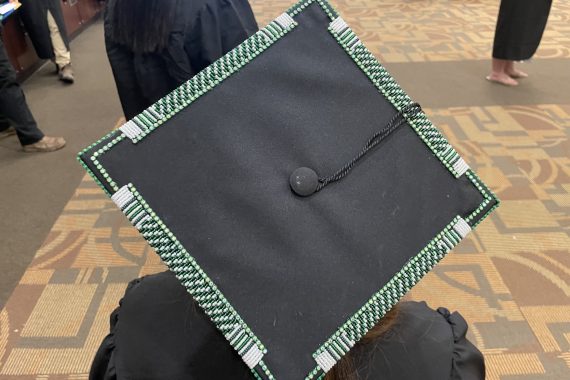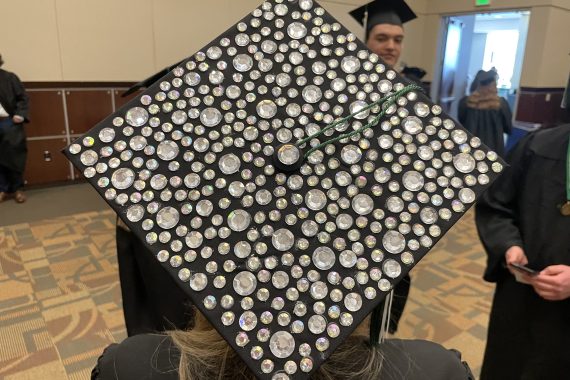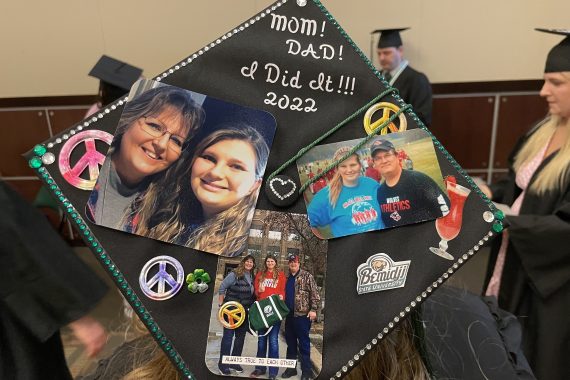 Links
2022-B-112