Bemidji State University, located amid the lakes and forests of northern Minnesota, occupies a wooded campus along the shores of Lake Bemidji.
Enrolling around 5,000 students, Bemidji State offers more than 70 undergraduate majors and eight graduate degrees encompassing arts, sciences and select professional programs. BSU is a member of the Minnesota State system of colleges and universities and has a faculty and staff of more than 550. The university's Shared Fundamental Values include environmental stewardship, civic engagement and international and multicultural understanding.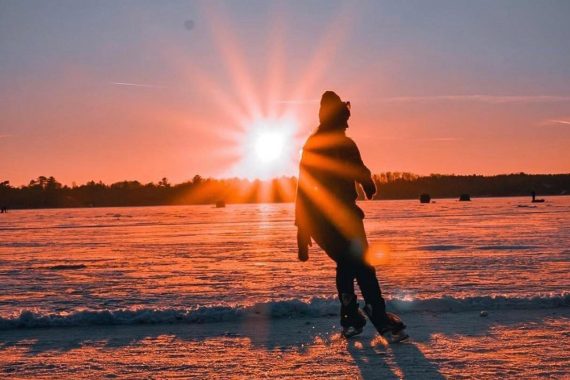 The Bemidji State campus balances rigorous academia with the opportunity to enjoy a fun, robust outdoor culture. The proximity to the lake and the surrounding north woods allows easy access to an assortment of recreation, including kayaking, boating, paddle boarding, hunting, hiking, foraging, skiing, fishing, ice fishing, snowboarding and more. Bemidji State students, faculty and staff have the luxury of enjoying a four-season year with the major campus facilities connected by all-season underground passages for safe and warm travel to and from classes during the cold, winter months.
On the Shores of Lake Bemidji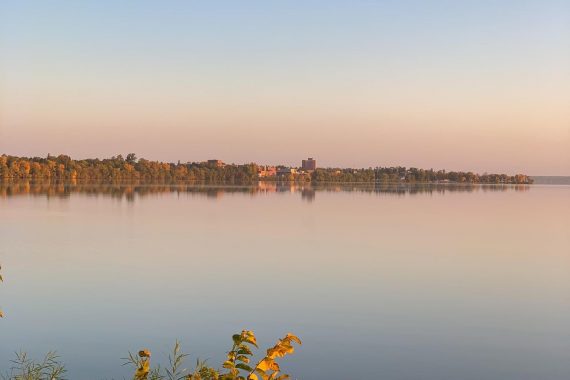 When settling the Bemidji area in 1750, the Ojibwe people named the lake Bemidjigamaag "a lake with crossing waters" because the Mississippi River flows in from the south and exits on the east. It is now called Lake Bemidji and while folk legends claim it was formed in Paul Bunyan's footprint as he logged his way west, BSU professors will tell you it was simply the final result in the last stage of glaciation in Minnesota.
The deep waters of Lake Bemidji are key to Bemidji State's academic curriculum, acting as a laboratory for the Aquatic Biology program and a backdrop for Studio Art classes. It is a calming presence for quiet walks and a roiling mass during the summer months, when tourists, students and locals alike enjoy Northern Minnesotan lake life.
With Lake Bemidji State Park sitting along its northern shore, the lake is a popular recreational and resort destination. In summer, locals and tourists gather for sailing, swimming and fishing. When winter comes and the lake freezes over, you'll find folks bundled up for skating, hockey, curling and, yes, more fishing. All year round, our community gathers at the lake to enjoy its natural beauty and bounty.
Small Town
Bemidji State University is nestled among the pines along the shores of Lake Bemidji, several blocks from a thriving downtown community. In this Northwoods setting, students, staff and faculty have a variety of activities available at their fingertips. Possessing all the charm and character of a college town, Bemidji remains a tight-knit community of good neighbors and engaged citizens who always come out to cheer for the Beavers. Bemidji, named after the Ojibwe Chief Shaynowishkung (nick-named Bemidji), is the central hub for a diverse population of over 15,000 people. Located between three American Indian reservations – Leech Lake, Red Lake and White Earth – students at Bemidji State University have the opportunity to experience a dynamic local culture and history. Bemidji also sits at the center of the legends of Paul Bunyan and Babe the Blue Ox. The famous statues of Paul and Babe greet students as they drive in from the south along Lake Bemidji.
Though quaint and historic, the city offers the urban conveniences upon which college students rely. Bemidji State is conveniently located minutes away from affordable restaurants, cozy coffee shops, grocery stores, city parks and more. Small, locally-owned shops and art sculptures line the streets of downtown Bemidji, while national chains can be found in and around the Bemidji area.
The thriving downtown community presents ample opportunities for engagement off-campus. Among other things, there are fine-dining restaurants, cafes and a natural foods coop in downtown Bemidji. The historic Paul Bunyan Playhouse has a calendar of classic shows, restaurants offer weekly live music performances, the First Friday Art Walk provides a tour of new monthly art exhibits and annual festive events bring the community together. Some local favorites are the Loop the Lake Festival, the Dragon Boat Festival, the Blue Ox Marathon and The Minnesota Finlandia.
For those who love the outdoors, there are wooded, multi-use trail systems within minutes of campus and community parks with walking trails, playgrounds and a skate park. Lake Bemidji State Park is located directly across the lake from BSU with trails leading to notable sights and there is a downhill ski area with transportation options during the winter months. Further, the Mississippi River Headwaters is a mere 45 minutes from Bemidji.
Visit Bemidji's official website to learn more.
Environmental Stewardship
With the Sustainability Office leading the way, we've been named one of America's greenest colleges and universities by The Princeton Review. As part of our institutional commitment to environmental stewardship, our entire community is dedicated to keeping our campus and our environment pristine. Bemidji State University's mission for sustainability is to promote awareness and instill passion for the Earth through research, projects and leadership. At BSU, there is a unique understanding of and commitment to sustainability that emphasizes personal wellness along with social equity, economic feasibility and environmental responsibility. The Bemidji State sustainability mission and perspective has been greatly influenced by the Ojibwe culture, recognizing the symbiotic relationship between Earth and humanity.
Sustainability On Campus
The Sustainability Office serves as a facilitator in the University's commitment to sustainability, acting through a collaborative group involving staff, students, faculty and administrators whose goal is a more ecologically and economically sustainable campus community. The office is responsible for the education, communication, planning and management of environmental issues on campus and also participates in community environmental initiatives. They organize campus activities throughout the year, maintain the campus "Free Store," implement recycling campaigns and perform waste audits for Beltrami County in an effort to reduce waste throughout the region. Additionally, during the academic school year the BSU Sustainability Office holds weekly presentations on relevant topics related to environmental and sustainability issues. Each month focuses on a different theme, such as wildlife habitats, weaving, canning and preservation or native foods.
In April, Bemidji State celebrates Earth Month with a full schedule of events, including the annual Stride into Spring 5/10K, panel discussions on genetic engineering, electronics collection drives and bike maintenance workshops.
Education & Advocacy Programs
BSU offers numerous academic programs that focus on the environment and prepare students to live green, sustainable lives. Visit the Department of Environmental Studies or in the Aquatic Biology program to learn more about the sustainability-related studies at Bemidji State.
Bemidji State has also partnered with the surrounding community on many educational projects including the efforts to earn Minnesota GreenStep City recognition in 2012. The MN GreenStep Cities program is a voluntary challenge, assistance and recognition program to help cities achieve their sustainability and quality-of-life goals. It is a continuous improvement program that is free and open to all Minnesota cities. With the help of Bemidji State sustainability representatives, the City of Bemidji reached recognition step three of five in June 2015. Take a look at Bemidji's MN GreenStep City profile.
Community Engagement Council
The Community Engagement Council is a partnership between the university, the public and private industry to share knowledge and facilitate volunteering, community improvement and address public concerns.
Northwoods Queer Outreach
The Northwoods Queer Outreach is an initiative that aims to increase queer and transgender representation, support and acceptance across campus and within the Bemidji community.