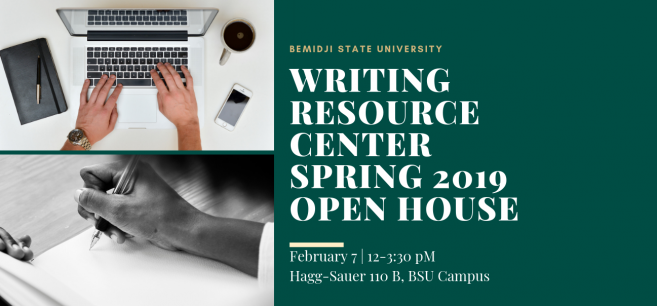 Bemidji State University's Writing Resource Center (WRC) will host an open house on Feb. 7 for all students, faculty and staff. Attendees will learn about services provided by the WRC and have an opportunity to meet the peer mentors who assist students with their writing while enjoying a nacho bar from 12-3:30 p.m. in Hagg-Sauer Hall, room 110B.
About the Writing Resource Center
The Writing Resource Center is a helpful tool for BSU students, faculty and staff to utilize on campus.
"It is the only place on campus where students can come and get feedback on their writing assignments," Prabin Lama, director of the Writing Resource Center and assistant professor of English, said. "The ultimate goal is to help students become better writers. We ask the right questions to help them refine their own ideas."
At the WRC, peer mentors provide support and feedback on writing during any part of the brainstorming and editing process. Tutors can provide assistance with all types of writing assignments including papers, applications, homework or essays. Students can also visit the WRC for help with generating ideas, starting thesis statements or arguments, organizing ideas or revising and citing sources.
"Peer mentors add a fresh perspective to a piece of writing that may differ from a professor," Rissa Bolles, a senior peer mentor at the WRC, said. "We really focus on each student and try to help them find something interesting within their writing assignment. Because when they are interested, they can improve their writing and end up with a better paper in the end."
Anyone in need of writing assistance can walk in anytime to Hagg-Sauer 110B or schedule an appointment online. Appointments are 30 to 60 minutes in length and can be conducted in person or online through a text or voice chat function.
WRC Spring Hours
Mondays, 9 a.m. – 4 p.m.
Tuesdays, 10 a.m. – 6 p.m.
Wednesdays, 9 a.m. – 4 p.m.
Thursdays, 10 a.m. – 4 p.m.
Fridays, closed
Contact
Writing Resource Center; (218) 755-3919
Links

Bemidji State University, located amid the lakes and forests of northern Minnesota, occupies a wooded campus along the shore of Lake Bemidji. Enrolling more than 5,100 students, Bemidji State offers more than 80 undergraduate majors and eight graduate degrees encompassing arts, sciences and select professional programs. BSU is a member of the Minnesota State system of colleges and universities and has a faculty and staff of more than 550. The university's Shared Fundamental Values include environmental stewardship, civic engagement and international and multicultural understanding. For more, visit bemidjistate.edu or find us at BemidjiState on most of your favorite social media networks.
---
2019-B-091