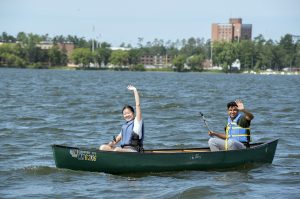 Go for a swim, paddle out onto the lake, learn yoga, camp, climb, run. You can do it all here.
The Gillett Wellness Center, our intramural sports programs and our nationally recognized Outdoor Program Center are here to keep you busy and active all year around. The OPC is a gateway to adventures in northern Minnesota and beyond. Want to go on a sea kayaking trip to Mexico? Think it's time to learn how to mountain bike? You don't even have to leave campus to find a thrill. You can also summit our 30-foot rock climbing wall, one of the tallest indoor walls in northern Minnesota
Intramural sports at BSU are all about variety. Get your friends together and form a soccer team. Learn the nuances of dodgeball. Whether you're looking for a competitive or recreational league, a new sport or a familiar one, you won't be short on options.
Be part of the roar inside the Sanford Center and cheer on your Beavers. Our varsity sports teams are competitive regionally and nationally, and are a source of pride for the Bemidji community. We compete year-round in 15 sports across NCAA Division I and II. At BSU, school spirit doesn't have an off-season..
No matter what you want kind of activity you want to do, we're here to help you make it happen.