Ana Lopez-Aguilera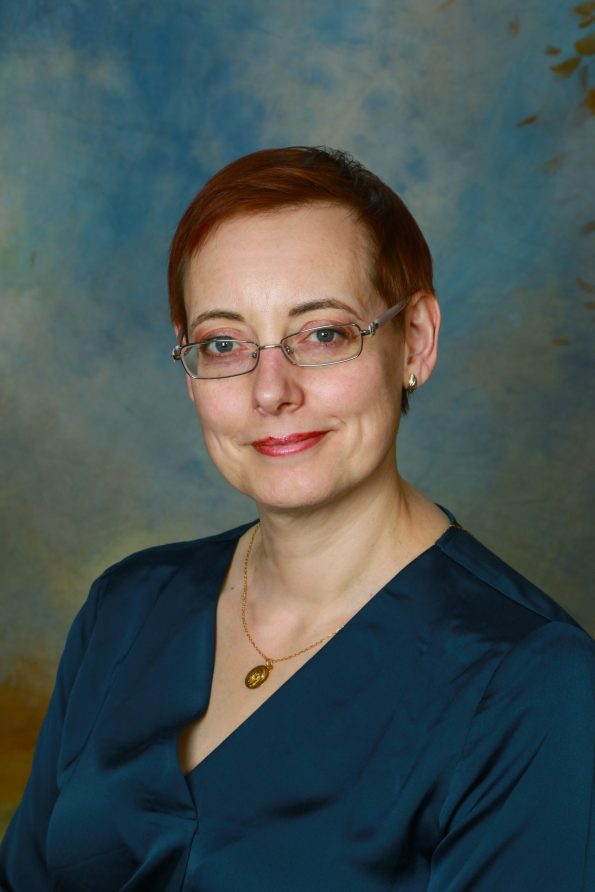 Ana M. Lopez-Aguilera (Ph.D. Univ. Nebraska-Lincoln) studied Translation, Interpreting and Pedagogy in Málaga (Spain) and she obtained her Ph.D. in Spanish at the University of Nebraska-Lincoln with a dissertation on Spanish novelist Belén Gopegui. In 2019, Dr. Lopez-Aguilera joined Bemidji State University where she teaches Spanish language and Hispanic Cultural Studies. She regularly incorporates high-impact practices into her teaching.
Her research and teaching interests focus on cultural products that show a strong civic commitment, environmental humanities and translation and interpreting for the community. López-Aguilera has published literary and movie reviews in different journals, as well as teaching tips and activities on how to bring a critical analysis of visual products and environmental topics into the Spanish language class. Currently, she is working on an anthology in Spanish of ecofeminist texts by Latin American and Spanish authors.
---
Eric Berg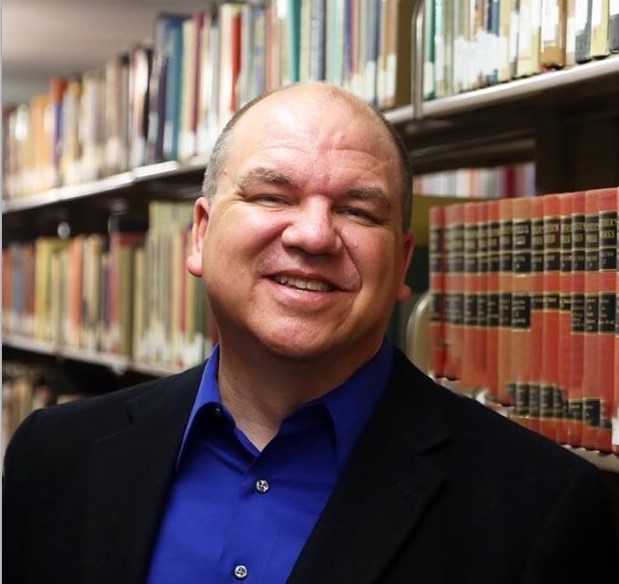 Teaching at BSU has become somewhat of a homecoming for Eric as he is a graduate of Minnesota State University, Moorhead with a double major in Political Science and Philosophy. After MSUM, Dr. Berg graduated from Luther Seminary in St. Paul with a Master of Arts in Theology and Doctrine. His final stop was The University of Kansas for a Ph.D. in Philosophy writing my dissertation on Soren Kierkegaard, and to facilitate writing this he was a residential research fellow at the Hong Kierkegaard Library at St. Olaf College.
He taught at MacMurray College, a wonderful small liberal arts college in western Illinois for 15 years until it closed in 2020. He was the last President of the Faculty at this 174-year-old institution, and it was a wonderful run of 15 years. While at MacMurray he developed two strong, but disconnected, research areas: 20th Century French Philosophy, specifically Albert Camus and the philosophy of sport and athletics, specifically baseball.
---
Mitchell Blessing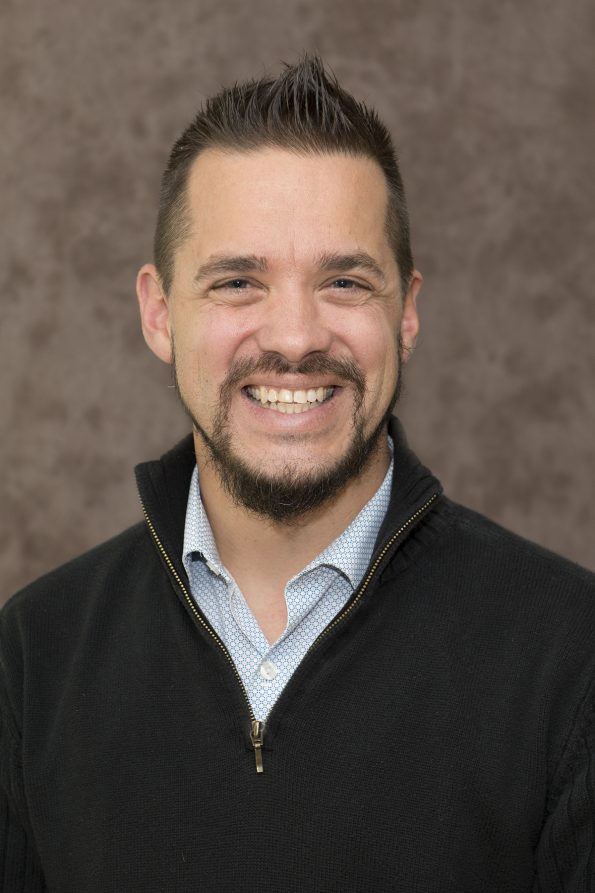 A sculptor and designer, Mitch has been a student of visual communication his whole life. As an art scholar, he studied in Spain and England before returning home to Bemidji to earn his BFA in Sculpture. He then went on to receive his MFA in Sculpture and 3D Design at the University of Miami, Coral Gables. After nearly 10 years as an entrepreneur and an advertising agency Creative Director, Mitch is now in his fifth year following his life goal of teaching art and design in higher education here at BSU.
---
Season Ellison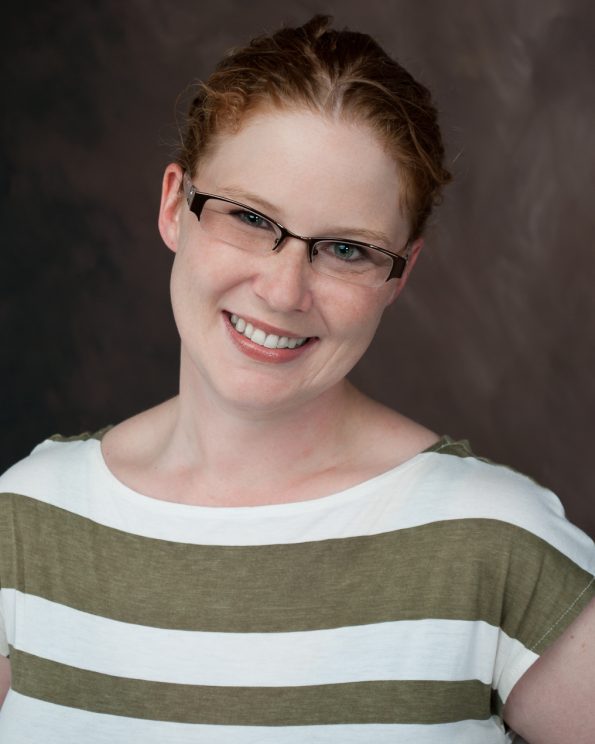 Season Ellison (PhD, Bowling Green State University) directs the Honors and Liberal Education Programs at Bemidji State University. She produces and directs new plays, both on campus and across the nation, with various organizations. Her research explores the intersections of daily life performance, theatre performance, tourism, American popular culture and "wild west" mythology. She is a long-time member of the National Collegiate Honors Council Place as Text (PAT) Committee, which explores experiential educational pedagogy. She has authored two book chapters about PAT education that will be published in Fall 2021 and Spring 2022. Other publications appear in Theatre Journal, Theatre Annual, Theatre Survey and Theatre Southwest.
---
Stephen Hamrick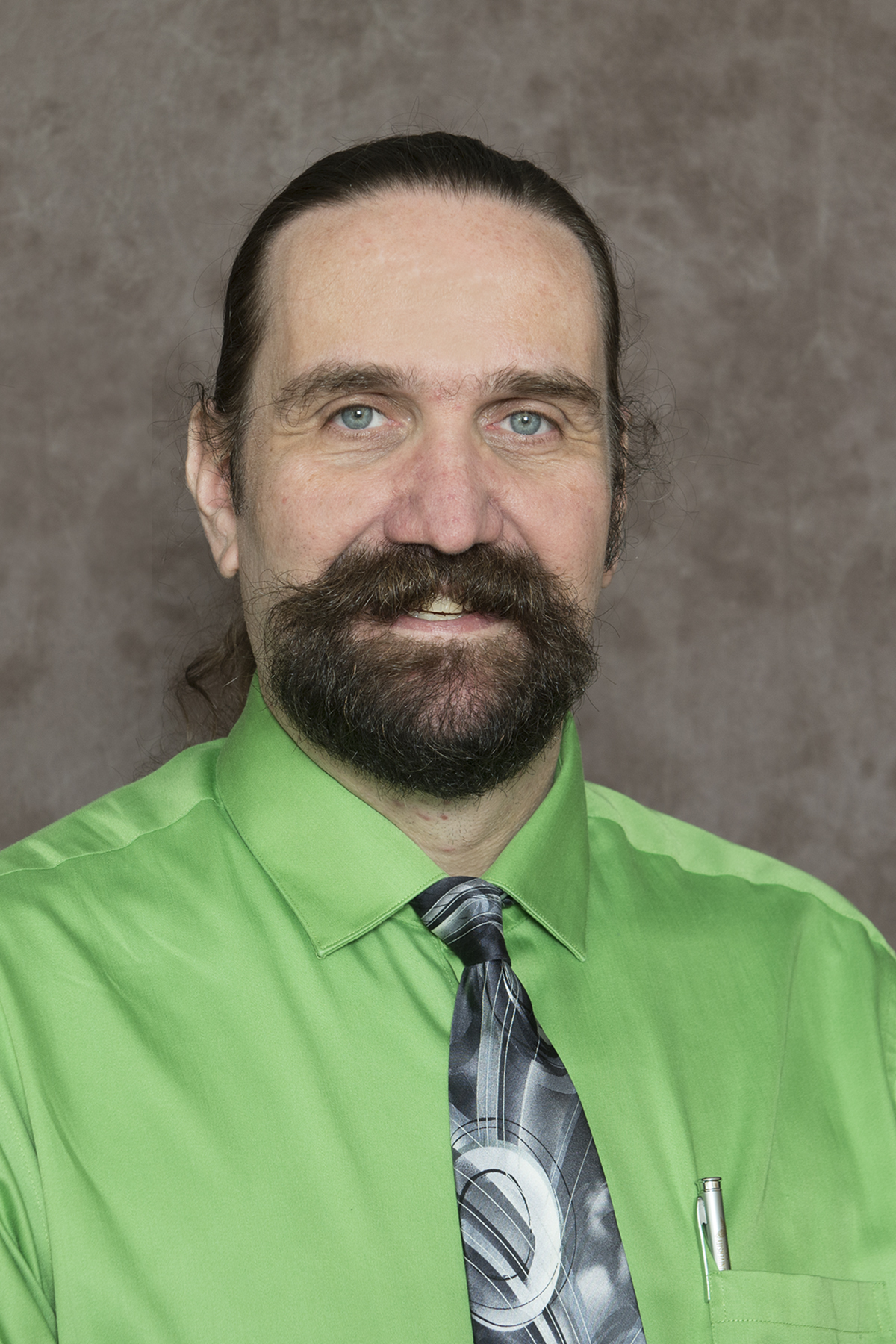 Professor Stephen Hamrick teaches early British and American literature, religion and literature, speculative literatures, religious studies and writing. In addition to work on the literatures of the English Reformations, Hamrick has published on early modern poetry, religion, racism and comedy. He has edited two collections, George Gascoigne (2008) and Tottel's Songes and Sonettes in Context (2013) and is the author of The Catholic Imaginary and the Cults of Elizabeth, 1558-1582 (2009) and Shakespeare and Sexuality in the Comedy of Morecambe and Wise (2020).
---
Patrick Leeport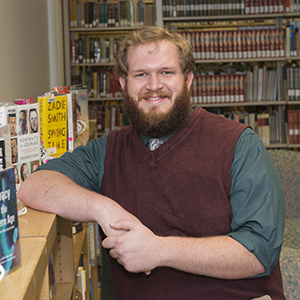 Patrick Leeport is an Assistant Professor of Library and Library Services. His current work as the Research and Instruction Services Librarian at A.C. Clark Library includes assisting students from a variety of disciplines in identifying information sources appropriate for their research. His own current research interests include critical information literacy pedagogy and exploring issues of power within information structures. He received his degree (MA) in Library and Information Studies from the University of Wisconsin-Madison in 2015.
---
Jenna O'Dell
Jenna O'Dell is an Associate Professor in the Mathematics and Computer Science Department. She teaches classes for both the Education and Mathematics Department. She specializes in training preservice teachers to teach mathematics. Her research is focused on how K-8 students learn, feel and think about mathematics. She also works with preservice teachers on social emotional learning. Jenna received a Ph.D. in Mathematics Education from Illinois State University in 2017.
---
Sue Rickers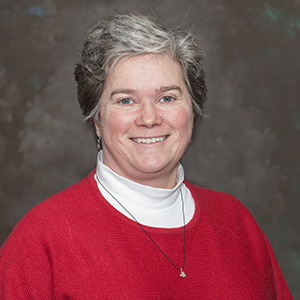 Sue is an Associate Professor and Department Chair in Social Work. She enjoys teaching a variety of courses at BSU and interacting with future social workers. Sue has a range of work experiences working with diverse populations and in a variety of settings. Sue is interested in the experiences of social work practitioners, social work education and holistic approaches to well-being.
---
Shaawano Uran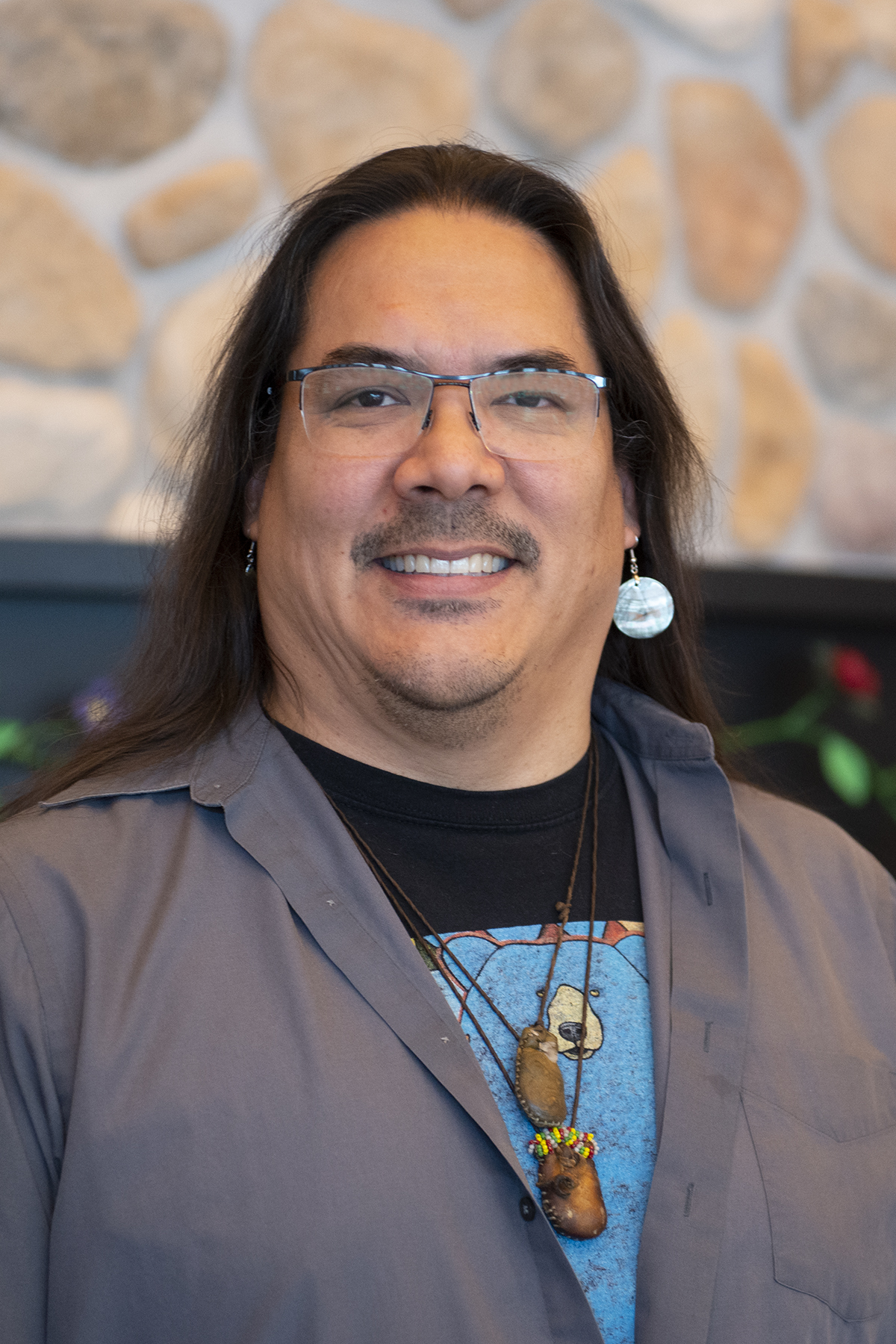 Shaawano Uran (White Earth Anishinaabe), Associate Professor of Indigenous Studies, earned his PhD in Anthropology in 2012 from the University of Iowa. His undergraduate work in Anthropology and American Indian Studies was completed at the University of Minnesota. He is an artist and quilter, electronic music and instrument maker, hunter, guitarist, drummer and horror fan.
His research areas are: Indigenous language revitalization, language and identity, American cultural studies, language ideologies, Indigenous sovereignty, critical theory, Indigenous studies and coloniality. He also known for applying Indigenous critical theory to zombie films and literature.
---
Miriam Webber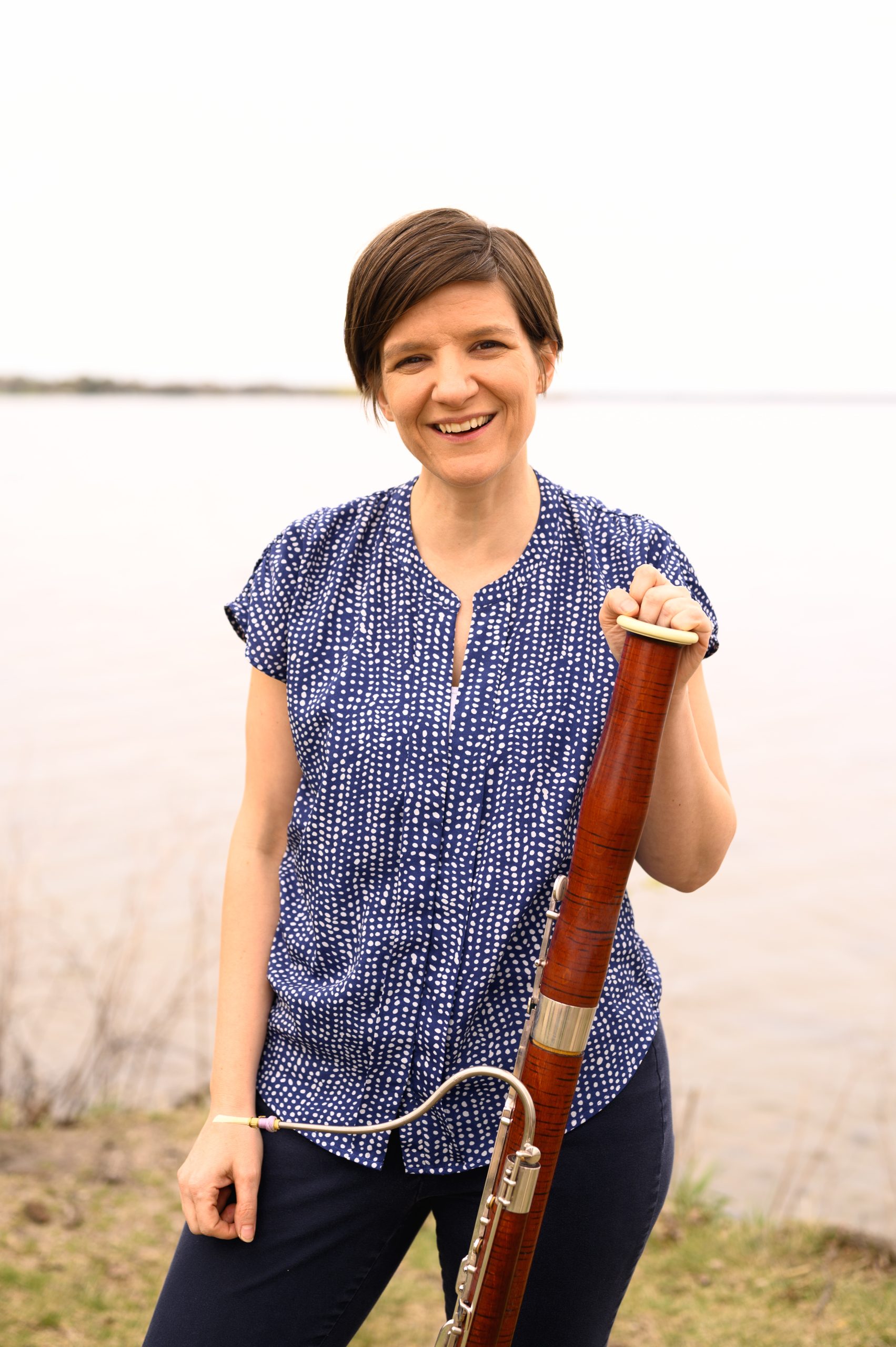 Bachelor of Music from Ball State University in Bassoon Performance, and Master of Music from McGill University and the University of Kansas in Bassoon Performance and Music Theory, respectively and a PhD candidate at the University of Kansas.
Her master's thesis analyzed the late works of Dmitri Shostakovich according to post-tonal and Tonnetz-based methodologies. Her dissertation research investigated narrative processes within Shostakovich's works as these processes relate to Soviet literary theory. Other research interests include emotion, pedagogy and performance studies. She has presented several papers at university events and international conferences. She has also recently published an article in the International Double Reed Society's The Double Reed.
In 2019, Dr. Webber co-founded Silent Voices Project, a large-scale project formed to help create opportunities for women and non-binary composers engaging in compositional pursuits of writing, publishing, performing and recording western art music for chamber woodwinds. Initially funded through a Bemidji State University New Faculty Scholarship and Innovation Fund grant, Silent Voices Project believes strongly in the need for a more diverse representation of composers in the current classical repertoire. As a collective of women professionals, they are committed to fostering a project culture of respect, collaboration and encouragement.
Recent and upcoming opportunities for Silent Voices Project include recording a chamber music album and performances at the International Clarinet Association's annual ClarinetFest, Mississippi University for Women's annual Music By Women Festival and a Fall 2022 tour and artist residency in Kansas. Silent Voices Project has commissioned and premiered new works at a number of national and international conferences, including those hosted by the International Double Reed Society, International Clarinet Association, Music By Women and the Meg Quigley Symposium.
Currently principal bassoonist of the Bemidji Symphony and Heartland Symphony Orchestras, Dr. Webber has performed with orchestras across the country, including Northern Lights Music Festival, Simphonietta Memphis, Symphony of Northwest Arkansas and Muncie Symphony, Kokomo Symphony, Southeast Kansas Symphony, Fort Hays Symphony, Springfield Symphony, St. Joseph Symphony, Springfield-Drury Civic Orchestras. She is set to release her first album, "Silent Voices," and was recently named Region 2 Arts Council Artist Fellow for 2022–2023.
---