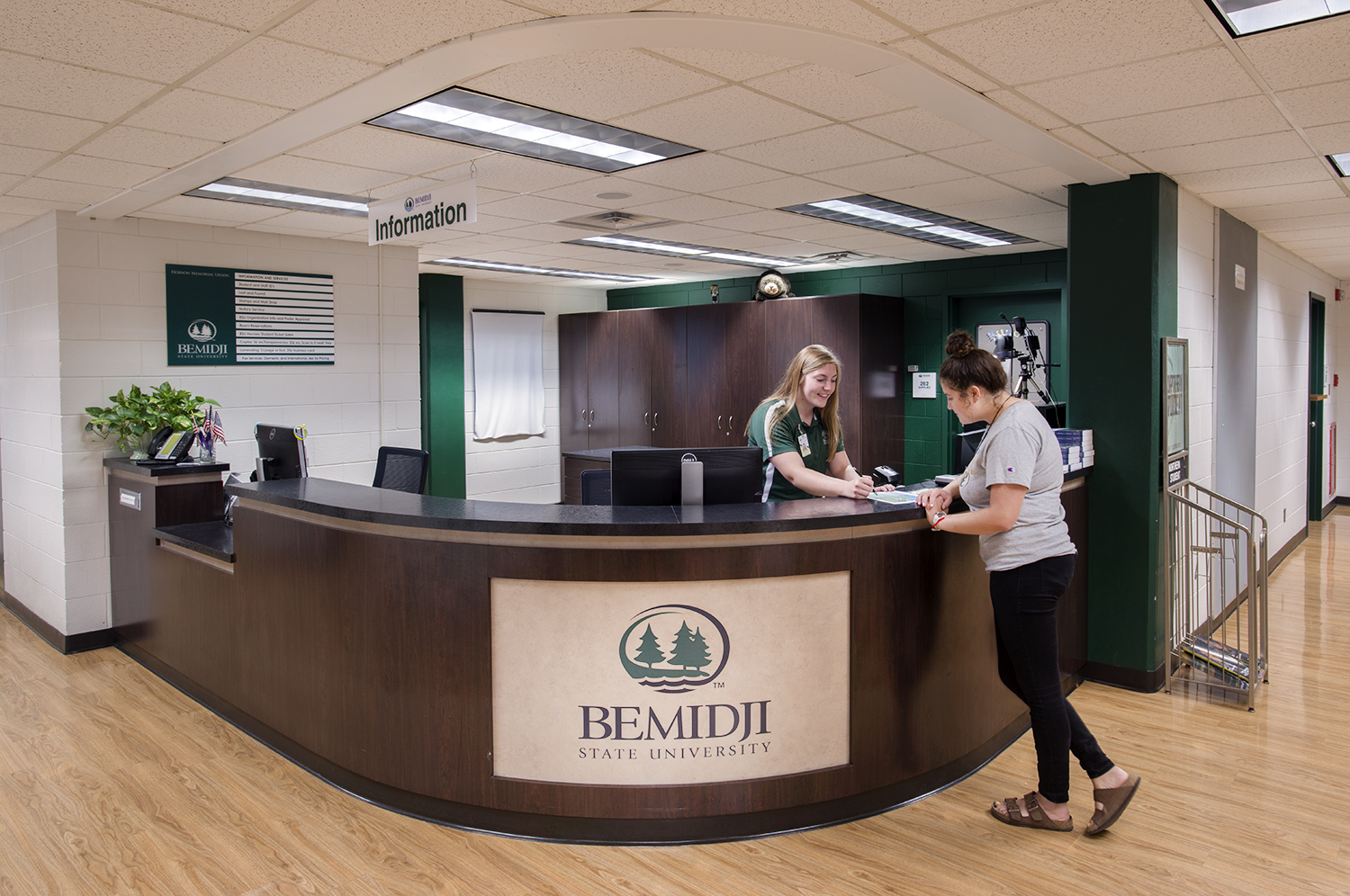 Services
The information desk is an essential part of the student union operation. Located in the Upper Union, students can get information about campus events, including student programs, musical performances and workshops, as well as learn about room reservations and BSU clubs and organizations. We also provide student guides, student directories and athletic schedules. In addition to general campus information, the information desk provides the following services:
Copy Service
Letter- and legal-size copies: $0.05 per page
Letter-size transparencies: $0.25 per page
Laminating
Business card size: $0.25
Letter and legal size: $1 per page
Anything larger: $1 per foot
Scanning to Email or USB Drives
Free!
Student, Faculty & Staff ID Cards
ID cards can be made when the desk is open. Your first ID card is free; replacement IDs are $20.
Poster Approval
Twenty-one (21) bulletin boards are available for postings at BSU and one (1) at Northwest Technical College. All postings must be approved in advance by the Hobson Union Information Desk and may not exceed 14″ X 22.″ Posters will be displayed for two weeks. Non-BSU related posters are considered personal and must also be approved. Personal posters will be hung on the two bulletin boards in the student union that are specifically for personal use. BSU clubs and organizations may also have banners approved for hanging in the lower Lakeside Food Court and in the library tunnel.
Every BSU poster needs to have the following content:
Sponsored by [name of BSU club/group/department]
"If you need an accommodation for this program/event, please contact the Accessibility Services Office (Decker Hall 202) at (218) 755-3883. If an interpreter is needed, two weeks' notice is requested."
For more information, consult our Campus Posting Policy.
Mail Drop
Stamped letters or intra-campus mail only. Mail is brought to the BSU mailroom at 11 a.m. Monday – Friday.
We currently sell U.S. postage stamp books for $12.
Lost and Found
Items found in the student union and surrounding areas are brought to the information desk.
For more information, read our Lost and Found Policy.
Notary
Free notary service.
Note: The Hobson Memorial Union no longer accepts cash. We will accept VISA, Mastercard or Discover credit or debit cards only; $1 minimum purchase.