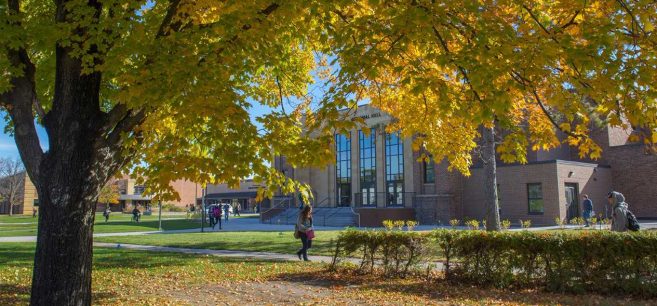 Bemidji State University gives students and working professionals looking to pursue an online master of business administration program a flexible course schedule, at an affordable price. The online MBA is a 30-credit curriculum designed to teach students the advanced skills and understanding to achieve higher-level goals in today's global business environment. Geared to emphasize strategic leadership and professional development, Bemidji State's online MBA is an academically rigorous program that offers personalized enrichment experiences and advanced coursework.
In May, the website Best College Reviews ranked Bemidji State fourth on its list of the nation's top 25 online MBA programs.
"The fully online MBA offered by Bemidji State University ranks highly due to its flexible nature and affordable price point," the site said.
The program offers ultimate flexibility. Students are able to start the program during any semester and take courses at a pace that works for them. The versatile course schedule allows students to complete the online MBA in as little as a year, as well as the ability to spread the coursework out to meet student's personal and professional needs.
Bemidji State alumna Kiki Schnackenberg completed the online MBA program in 13 months.
"With the entire program online, it gave me the opportunity to study before and after going to work, while holding down a full time job," Schnackenberg said. "I could study over the weekends. It was stressful, but it was a positive stress."
The complete online program includes 10 courses offered in six- to eight-week blocks taught by experienced, full-time Bemidji State business faculty.
Doug Leif, professor of business and coordinator of BSU's online MBA program, says the program offers students with an affordable, high-quality option for pursuing an MBA.
"The same on-campus faculty who are in our classrooms, delivering our accredited undergrad program, also serve as our MBA faculty," Leif said. "We don't hire independent adjuncts off campus to fill a need for classes."
BSU's professional faculty are located on campus and readily available for one-on-one feedback, guidance and a personalized learning experience whether students are on campus or online.
Living in Bemidji, Schnackenberg was able to receive in-person support by visiting faculty on campus, but added that the faculty offered "tremendous virtual help" when she was online, as well.
"The instructors were very helpful," she said. "I tend to be particular and critical of my own work, and whenever I didn't understand something they were always open to listen and help."
Schnackenberg said her overall experience with Bemidji State's online MBA program was fantastic.
"The group of students I was with in class challenged me," she said. "I am still in contact with most of them, even though we've never met apart from virtually. Strong bonds were created, even within a program that's online. It's a real neat thing that happened."
Schnackenberg is employed by Sanford Health Bemidji as a talent advisor and believes her MBA makes her more marketable and able to advance into new positions later in her career. And, she's personally proud of her milestone achievement of completing a graduate degree.
"The amazing amount of knowledge I gained in the program has benefitted me no matter what," she said."Looking back at my young, 18 year old self and my drive to complete an education, I never would have dreamed to have done it."
ABOUT BSU'S ONLINE MASTER OF BUSINESS ADMINISTRATION PROGRAM
Bemidji State's online master of business administration program is a 30-credit curriculum designed to teach students the advanced skills and understanding necessary to achieve higher-level goals in today's global business environment. The complete program includes 10 courses in areas such as Corporate Social Responsibility, Global Business and Statistical Analysis. Students can complete the MBA in as little as a year or spread the coursework out over more time. Bemidji State offers in-state tuition rates to all students, and financial aid available to qualifying students. Students receive dedicated, professional faculty located on campus who are readily available for one-on-one feedback, guidance and a personalized learning experience. BSU's online program is ideal for rural and urban students who, for various reasons, cannot attend a fully on-campus program. Students who complete the online MBA program will receive a degree from a well-repeated, fully accredited institution of higher learning.
ABOUT BEST COLLEGE REVIEWS
Best College Reviews evaluated nearly 200 programs against three equally weighted criteria:
Academic quality — the strength of the parent institution — measured by factors such as average class sizes, number and quality of support services, quality of faculty and quality financial aid.
Measures of the breadth and quality of flexibility-enhancing components of a program, including the number of specializations, the ability to accelerate or decelerate programs, prior learning or transfer credit opportunities and unique presentation options.
Affordability, as measured by estimated out-of-state tuition per-credit-hour rate, if applicable.
Best College Reviews provides aspiring students with information to support their college choice decisions through college rankings, reviews of college features, blog articles and infographics covering a variety of subjects.
Contact
Mr. Douglas Leif, chair of business administration, Bemidji State University online MBA program coordinator; (218) 755-2754, dleif@bemidjistate.edu
Links
Bemidji State University, located amid the lakes and forests of northern Minnesota, occupies a wooded campus along the shore of Lake Bemidji. Enrolling more than 5,100 students, Bemidji State offers more than 80 undergraduate majors and eight graduate degrees encompassing arts, sciences and select professional programs. BSU is a member of the Minnesota State system of colleges and universities and has a faculty and staff of more than 550. The university's Shared Fundamental Values include environmental stewardship, civic engagement and international and multicultural understanding.