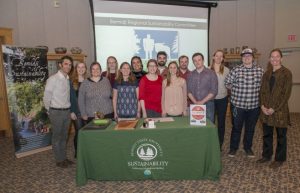 The Sustainability Office serves as a facilitator in the University's commitment to sustainability, acting through a collaborative group involving staff, students, faculty and administrators whose goal is a more ecologically and economically sustainable campus community.
The office is responsible for the education, communication, planning and management of environmental issues on campus and also expected to participate in community environmental initiatives.
Our MISSION is to promote awareness and instill passion for the Earth through our leadership in operational, academic, wellness, and community and cultural activities.
Our VISION for sustainability is to exemplify and create a culture that can exist indefinitely while in balance with the rest of nature.
"When the power of love overcomes the love of power, the world will know peace."
~ Jimi Hendrix
---
Erika Bailey-Johnson
Sustainability Director
Office: Hobson Memorial Union Box #31
Phone: (218) 755-2560
Email: erika.bailey-johnson@bemidjistate.edu
Jordan Lutz
Sustainablity Project Manager
Office: Hobson Memorial Union 124 Box #31
Phone: (218) 755-2979
Email: jordan.lutz@bemidjistate.edu