Sustainable landscaping should include an attractive environment that is in balance with the local climate and requires minimal resource inputs, such as fertilizer, pesticides and water.
Sustainable landscaping begins with an appropriate design that includes functional, cost efficient, visually pleasing, environmentally friendly, and maintainable areas.
Migrating Butterfly Rest-stop & Outdoor Classroom
We hope to break ground for this innovative use of space between Memorial Hall and Upper Hobson Memorial Union. Maintaining the turf grass in this space entails carrying a lawnmower across Centennial Plaza and up a flight of stairs. Instead, we envision a garden of native plants nestled around a circular paver patio.  The native plants will support butterflies during their international migrations while the patio will provide an outdoor space for classroom instruction.  The students who designed the space during their TAD Applied Project Management course also integrated hammock posts for enjoying study breaks.
We are currently raising funds for this project, estimated at $20,000 total.  We are grateful to the student body and a couple key donors for generously committing $11,000 toward the effort.  We also have many donors to thank for contributing $1,600 during BSU's recent Day of Giving.  If you would like to help create this space for pollinators and people alike, visit the BSU Alumni & Foundation website, choose 'Other' designation, and specify the 'Butterfly Rest-stop & Outdoor Classroom.'  Thank you!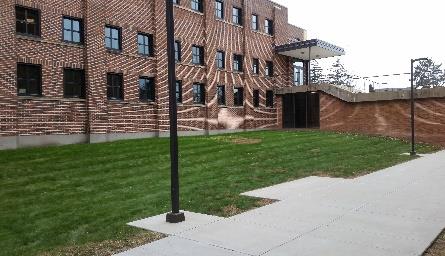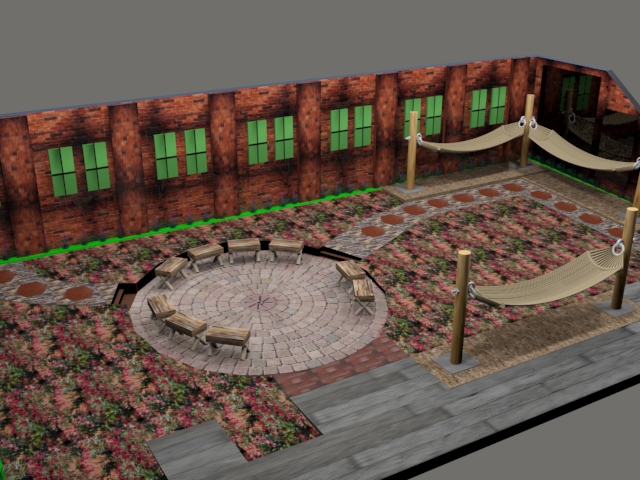 Native Landscaping
BSU currently has four native plant areas. One is a buffer zone by the lake, which helps with soil erosion and run-off from nearby parking lots and buildings. Another is by the library and upper union. This bed, known as the Early Bloom Garden, has many native plant species that bloom in early spring. The third is a native Monarch butterfly garden between the lower union and Sattgast.  Our fourth and newest is the Centennial Garden, on the south end of Centennial Plaza between Memorial and Sattgast.  Planted by students in the summer of 2018, this native bed features a rock garden to better manage water runoff.
We are currently working on making more native plant gardens around campus. Native plants are beneficial to an area because they require less watering, mulching, or continuous mowing. The cost is generally less over time in terms of maintenance and buying new plants every growing season. These landscapes do provide potential habitat and refuges for wildlife, especially birds. Native grasses protect soil while their root systems spread and grow deep for excellent erosion control.
Trees
The Sustainability Office spent the summer of 2013 planting a variety of trees on campus! 25 trees were planted including white pine, red pine, burr oak, sugar maple, crab apple, apple, plum and cherry trees.
In the summer of 2019, 5 trees were planted in front of Hobson Memorial Union and Memorial Hall. The trees were paid for by Students for the Environment and planted by Sustainability Office staff. There were 2 autumn blaze maples, a willow, an apricot tree, and a flowering crab tree. There were also 5 maple trees planted by Oak Hall in collaboration with Housing & Residential Life and the grounds' crew.
Gitigaan Campus Garden
The very first campus garden first got up and running in summer 2011. A group of students got together and decided that BSU needed a campus garden so students could have the opportunity to grow their own organic food. There are a total of 28 plots, with additional area outside the fence for planting extra seeds for the public to enjoy for free. Lots of manual labor was put into it by students, faculty, and staff. Bemidji State's Gitigaan Campus Garden is located across from the campus library at the corner of Birch Lane and 16th.
The cost for renting one of the 28 garden plots (dimensions approximately 11' x 12') is only $5 for students ($10 for all others).  In addition to the plot rental fee, we ask gardeners to pay a $5 weeding deposit.  If gardeners maintain their plot throughout the season and prevent weeds from taking hold, they will be eligible to receive their deposit back at the end of the season.  So, for $10 total, students have the ability to grow their own vegetables and develop their green thumb.
Every plot rental entails access to gardening tools (nope, gardeners don't need to provide their own trowel!), a compost pile for recycling inedible organic matter, easy access to water from the Glas Scholars House, and access to the wealth of knowledge held by fellow gardeners.  If you feel you lack a green thumb, gardening in Gitigaan is a great way to learn from those fellow gardeners, some of whom hold decades of experience working the soil.
Submit a plot rental application today! Campus Garden Plot Agreement 2023
Low-Mow Pilot Project
In the fall of 2011, the Sustainability Office, with the help of Students for the Environment and People in the Environment, started the Low-Mow Pilot Project. Between the upper union and Memorial/Sanford, students laid down wet newspaper to kill the grass and let it decompose back into the ground, and then added 4-5 inches of compost over that.
Our goal of the project was to get more native, low-mow grasses on campus. We want to reduce the amount of lawn mowing, watering, and chemical use on the campus grounds. In the Spring of 2012, the Sustainability Office planted two different varieties of low mow grasses. The site was selected by our grounds crew because it was difficult to mow and had little visibility.
The low mow grass seed was purchased from a nursery in Minnesota. One is a drought resistant, warm season mixture of Blue Grama and Buffalo Grass. These grasses are slow to green up in the spring, but will stay green in the hot, dry summer months. The other type is a fescue mixture. Fescues are cool season grasses, but also tolerate dry soil.
We had many problems with weeds coming out and competing with the grass. In retrospect, we should not have used a local farmer's compost mix without first heating the soil to kill existing weed seeds. If this project gathers support of BSU faculty, staff, and students, we hope to begin a plan to replace traditional turf with low mow grass across campus as part of the Sustainable Landscape Master Plan.