BSU has done a good job reducing waste so far, but there is always room for improvement. As a part of the Climate Action Plan, BSU's goal is to be carbon neutral which means little to no waste.
Reusable Water Bottles and Mugs
Starting in fall 2009, the Sustainability Office offers free mugs or water bottles to all incoming freshman and transfer students. At the end of the fall semester, if there are any bottles or mugs left, we open it up to all students. The purpose of this is to reduce the use of plastic bottled water and paper/styrofoam coffee cups. Providing a container for students to reuse, will give more of an incentive to reduce and reuse!
Free Store
The Free Store is a place in the Sustainability Office where everything is free! It's all student, faculty and staff donations that people can come in take. Everything from clothes, kitchen supplies or school supplies are available. The purpose of the Free Store is to reduce the amount of products that people buy. We want to encourage people to reuse items when they are in perfectly good shape. It's been very successful!
Hagg-Sauer Waste Audit
Every fall semester for a decade the Sustainability Office performed a waste audit in Hagg-Sauer. This academic building was chosen for both its high degree of foot traffic and number of faculty offices. Performed over a 5-day period, the audit sought to determine the degree to which our community properly disposes of trash, recyclables, and compostable material.  By sorting contents of our waste stream, we determined whether additional progress could be made toward diverting recyclables from landfill and to recycling facilities. The data shown below depict the contents of trash bins and indicate the percent of our waste stream that could have been recycled. As can be seen, the community effectively increased its recycling rate over the eleven year study period.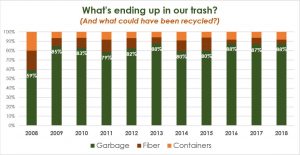 Renovation of Hagg-Sauer Hall began in 2019 and prevented further auditing of the waste stream.