Bucky's Bikes
Students may rent a Bucky Bike for only $25.00 per semester ($40 for the summer).  The orange three-speed bikes feature a basket, front and rear lights, fenders, and a bell.  Each bike also comes with a sturdy u-lock for securing the bike when not in use.  To rent a bike, follow these steps:
1.) Download and fill out a Fall-2022-Rental-Agreement-Liability-Waiver;
2.) E-mail your completed form and waiver to BuckysBikes@bemidjistate.edu;
3.) Pay the rental fee by calling or visiting the BSU Cashier's Office (218-755-2045 or 2nd floor of Deputy Hall);
4.) Watch for an e-mail from us to schedule an opportunity to pick up your bike.
Interested faculty and staff may also rent Bucky Bikes for the semester ($35) or summer ($50).
A single-speed mountain bike with studded tires is also available for weekly rentals throughout the year – but is particularly intended for winter riding!  Contact the Sustainability Office to learn how you can experience commuting and exploring trails despite snowy, icy conditions.
We encourage renters to check out this interactive map of local destinations accessible by bike.  The routes indicated were chosen based on their safety, with many featuring dedicated bike lanes.
Bus Stop Shelters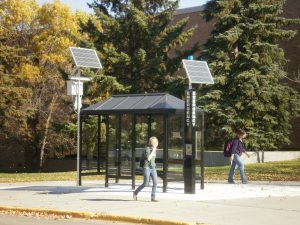 In Fall 2010, BSU installed two new bus shelters on campus. The first is right on Birchmont Drive, which goes right through campus, by the library. This shelter has a solar panel attached to it for keeping it lit at night.  Though this shelter does not receive regular bus service, it serves as a great location for scheduling pickups for personal rides and as a safe space for conducting transactions.
The second shelter is located by the dining center, Walnut Hall, and serves as the on-campus pickup location for Jefferson Lines bus routes.
Commuter Survey
The Sustainability Office administers a commuter survey every couple years to see how students, faculty, and staff travel to and from campus.  Results of this survey help us better understand transportation trends and motivations so we can work to reduce the impact on the environment caused by our commuting habits.  Watch for your opportunity to participate in the next commuter survey.
We completed our most recent commuter survey in the spring of 2022. The following are interesting takeaways:
Responses received from students (n=180; consisting of ~35% on-campus residents), faculty (n=53), and staff (n=118) indicate the mean distance our colleagues and students travel from home to campus (ie. one-way commute) is approximately 13 miles (SD=18.23).  Yet, a majority of respondents (n=204; 75% students, 81% faculty, 64% staff) travel this distance or less. We primarily rely on single-occupancy cars and trucks for transportation, with an average fuel efficiency of 24.7 miles per gallon. Students who live on campus are an exception, most of whom choose to walk.
The relatively short distance (<30 miles round trip) a majority of respondents travel to and from campus suggests electric vehicles are a viable alternative to internal combustion engines (ie. gas, diesel) for our daily commuting needs. Yet, the number of electric vehicle (EV) charging stations accessible on campus is a motivating factor for only a minority of respondents (24% of students, 37% of faculty, 19% of staff).  This may change as auto manufacturers continue releasing additional EV options at varying price points.
Though a minority of respondents were aware BSU is a bronze level Bicycle Friendly University (~30%), nearly nine out of ten are in favor of continuing to support and expand bike infrastructure on campus. The Sustainability Office has recently explored, in partnership with students enrolled in the TAD Department's Applied Project Management course, options for a semi-covered bike shelter on the academic side of campus in support of bicycling through all four seasons.  Though there is no definitive plan, the Sustainability Office will continue exploring this and other bicycle-friendly projects.