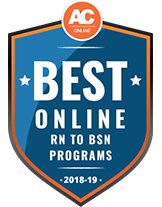 Check out Bemidji State's RN-BS Nursing program here.
AffordableCollegesOnline (AOC) recently ranked BSU's RN-BS Nursing program very high in the top 50 RN-BS programs in the country – ahead of any other Minnesota, North Dakota, or Wisconsin school.
Our RN-BS program is designed for working RNs as well as for students who just completed their RN training and are ready to continue on to the Bachelor of Science in Nursing. The program requirements can be completed in as little as a calendar year, or students can work, raise families, or just attend at a slower pace by taking a course or two each semester. This structure allows the most opportunities to advance as possible.
To learn more about the ranking process, please follow this link to AOC
https://www.affordablecollegesonline.org/degrees/nursing-programs/rn-to-bsn/#4-year-best-college-ranking