Bemidji State University offers online courses and programs to a wide array of learners, across the region and our nation, and is accredited by the Higher Learning Commission of the North Central Association of Colleges. BSU is also member of NC-SARA (National Council for State Authorization Reciprocity Agreements), which means we share a reciprocity agreement with all states who are part of the NC-SARA group.
To find out if you live in a state that has joined this consortium, check out the NC-SARA map. If you don't see your state listed as NC-SARA approved, fear not. We anticipate that all states will be participating soon. BSU has a separate agreement with Wisconsin, in addition to the NC-SARA authorization.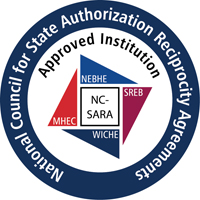 Bemidji State University has been approved by the State of Minnesota to participate in the National Council for State Authorization Reciprocity Agreements. NC-SARA is a voluntary, regional approach to state oversight of postsecondary distance education.
If you live outside of Minnesota, but plan to enroll in a BSU distance program or classes
State and federal laws require colleges and universities to be authorized to offer online degree programs in States other than their own, the District of Columbia, and U.S. Territories. Prospective students from locations outside Minnesota are encouraged to discuss their educational intent with BSU Extended Learning prior to starting their program. Please check our Program Licensure Disclosures for students residing outside Minnesota.
Programs requiring a field experience or internship
Some programs require that the field experience is completed in Minnesota. When field experience placement is available in other states or territories, placements may be limited to no more than ten students from an individual academic program simultaneously at any one clinical or practicum site.
Follow the rules for YOUR state
Distance Minnesota manages a list of state contacts that will help you decide whether a BSU program or classes are eligible for meeting the requirements of your state's professional license, certification, or field experience requirements. Check the state-by-state contact list here.
Note to Residents of Florida
Florida residents who enroll in completely online degree-completion programs from Bemidji State do so under an authorization exemption granted by the Florida Commission for Independent Education (see SHEEO web reference here). BSU programs that result in licensure or certification eligibility require a student to check with the licensure or credentialing agency pertinent to their discipline in the state of Florida, as additional authorization may be needed.